UPDATE: Missing Lompoc teen found safe in Vandenberg Village
---
Earlier story: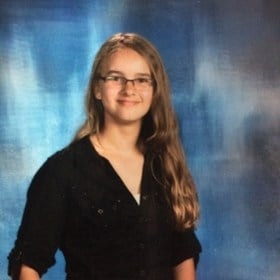 Krystal Jongsma, 16 (photo courtesy Lompoc Police Dept.)
The Lompoc Police Department is getting the word out about a teenager who officers say has gone missing.
Investigators say 16-year-old Krystal Jongsma was last seen at 7:30 a.m. Tuesday, walking toward the library at Cabrillo High School in Vandenberg Village, but she did not attend any of her classes.
Jongsma was last seen wearing dark colored pants, a dark colored sweatshirt, and an olive green backpack, according to police.
Lompoc police shared this information about Jongsma on Tuesday evening after speaking with her family and neighbors. They say her safety may be at risk.
"We're looking for any leads. This is out of the ordinary for her," said Cpl. Sergio Arias.
Utilizing Facebook, community members began organizing a search effort late Tuesday night. They said they would be bringing flashlights and dogs to look for Jongsma near Cabrillo High into early Wednesday morning.
If you see Jongsma or know where she is, call the Lompoc Police Department at 805-736-2341.