The Santa Maria Fire Department has new bulletproof vests. The city says 20 replacement vests were bought with taxpayer money at a price tag of $22,000.
Firefighters say they need them because they are responding to more high-risk situations, like shootings.
The vests weigh about 30 pounds. They have soft armor all around, including front and back, which can protect against handgun rounds. However, two steel plates were also added to each vest to help stop high-caliber assault rifle-type rounds.
Firefighters in Santa Maria say they were using outdated military surplus vests that only protect against small caliber handguns.
"It doesn't meet the needs. It doesn't provide the level of protection that we think we need right now," said Capt. Jim Clayton, Santa Maria Fire Department.
Firefighters are now responding to more dangerous calls, at times rushing into emotionally-charged situations where guns and other weapons are involved.
"Definitely changed, the threats out there have changed. It's not just fires, medical emergencies, the driving hazards we have to deal with," Capt. Clayton said.
Santa Maria Fire Chief Leonard Champion says no one has ever taken a shot at one of his firefighters, but it's happening in bigger cities and he says the department is getting out in front of the issue.
"It's important that they be safe while they are doing their work because they are here to save our people's lives in a time of crisis, so I think it's a great idea," said Marta Cohen, Santa Maria resident.
"It's always 'safety first' in every job. These guys are heroes, basically, so I don't see why not," said Feddy Lomboy, Santa Maria resident.
However, some say that $22,000 worth of taxpayer money could be going other places.
"I would like to know what the necessity of it is because they are already fireproof, they don't need to be bulletproof, that's for police officers. We should do more things for education so we don't have little kids running around with guns, then they wouldn't need bulletproof vests to begin with," said Chastity O'Brien, Santa Maria resident.
"They are shooting at each other. They haven't shot firemen, yet. We don't want it to happen, hopefully it never will, but if the time comes and they have to have them, sure, but right now I don't see a reason," said Manuel Baez, Santa Maria resident.
Even with the extra armor, firefighters who roll up on a high-risk scene must wait to administer aid until police officers give the all-clear.
"Definitely we feel much safer on scene anytime you get a situation like that with police officers, shootings, stabbings, we are much more alert. Having the new vests coming from the old technology that we used to use allows us to go in more confidently," said Orlando Viera, Santa Maria Fire Department.
The captain of the engine will decide whether the group will wear the vests to specific calls.
The vests reportedly last about ten years.
The fire chief also says they will be looking into buying bulletproof helmets which cost around $500 each. In the meantime, they are checking to see if the police department has extras.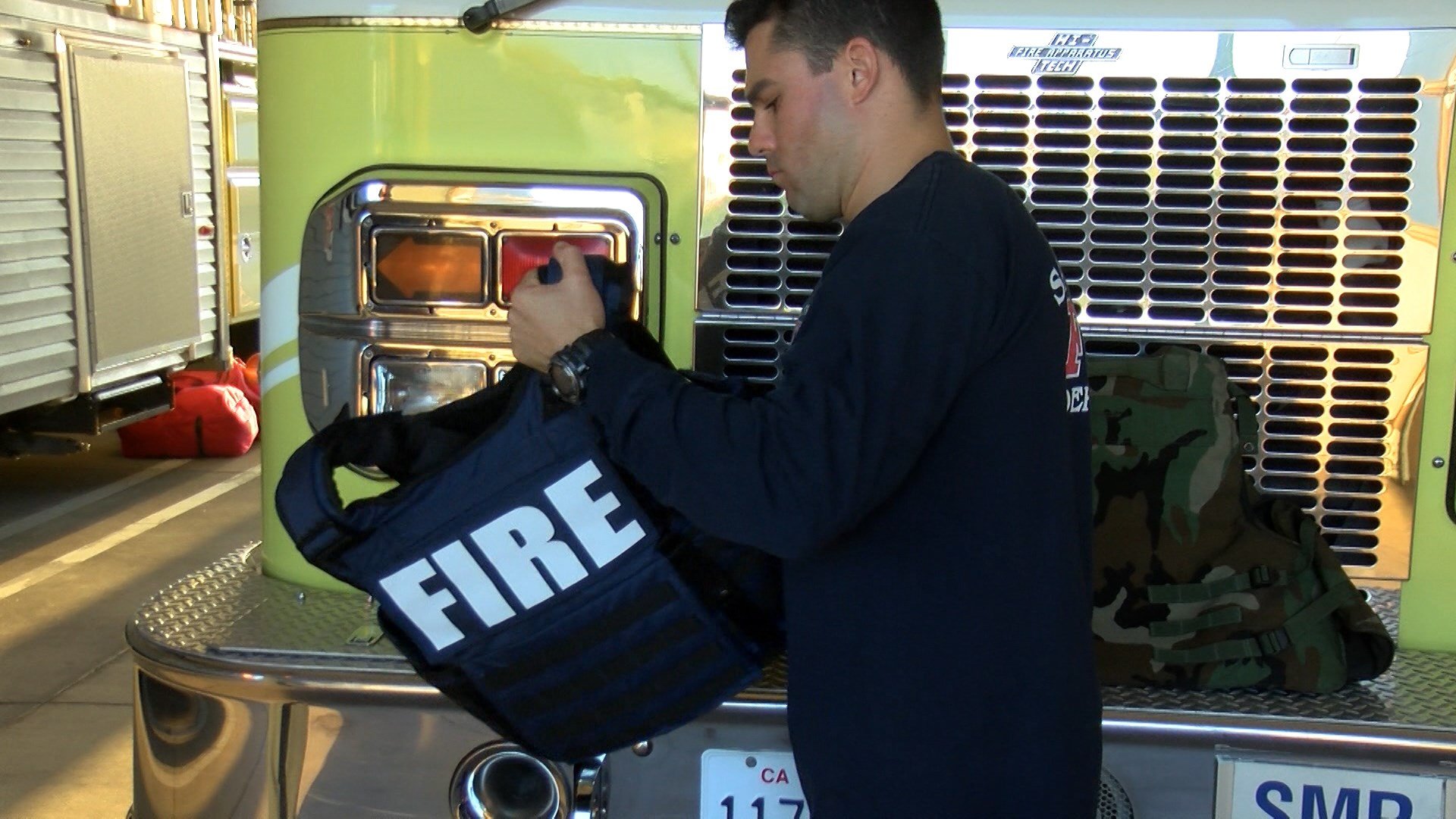 A Santa Maria firefighter shows off the department's new bulletproof vests. (KSBY photo)

One of the steel plates used in the bulletproof vests. (KSBY photo)