Santa Barbara County Sheriff's deputies arrested a man following a pursuit on Highway 154 that reached speeds of more than 100 miles per hour.
Sheriff's officials say it started shortly before 9:30 a.m. on Tuesday when deputies were called to VIP Tobacco in Solvang for a report of a robbery. The store owner was able to provide deputies with a description of the suspect and the car he was driving.
Deputies reportedly spotted that car heading southbound on Highway 154 and began the pursuit. They ended it shortly after because of the suspect's reckless driving.
At one point, officials say the vehicle was involved in a minor traffic accident but kept going. Later, law enforcement noticed a ranch gate along Highway 154 had been rammed and they located the vehicle crashed on the ranch.
The suspect reportedly locked himself inside a pickup truck on the property, but deputies were able to get him out of the vehicle and took him into custody.
He faces charges of providing a false name to a peace officer, shoplifting, reckless evading, felony hit and run resulting in injury, felony vandalism, resisting/threatening a peace officer, vehicle theft, possession of a controlled substance, possession of drug paraphernalia, possession of tear gas by a felon, and driving on a suspended license.
Sheriff's officials say the man, identified as 31-year-old Demetrius Ford of Los Angeles, was also wanted on an outstanding drug-related warrant out of Los Angeles County.
He was taken to the hospital to be treated for injuries related to the incident before being taken to county jail.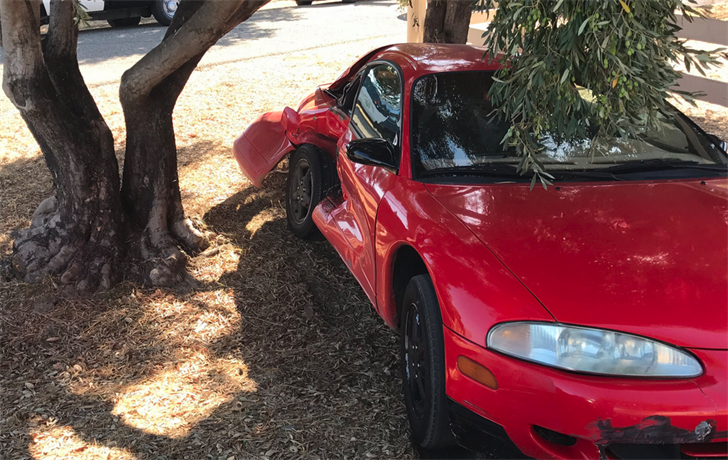 The suspect's crashed vehicle was located on a ranch off of Highway 154. (Photo courtesy Mike Eliason/Santa Barbara Co. Fire Dept.)