The harrowing realities and perils of wildland firefighting are coming to the big screen in a highly anticipated film based on the true story of an Arizona hotshot crew.
Nineteen firefighters died in the Yarnell Hill Fire four years ago, including Sean Misner of the Santa Ynez Valley.
The film "Only The Brave" honors the Granite Mountain Hotshots and features a star-studded cast including local actors Josh Brolin and Jeff Bridges. Both actors have said they wanted to make sure they got this story right.
Family members of the fallen, like Tammy Misner, mother of Sean Misner, say they are grateful for the actors' dedication to accuracy.
"They portrayed our boys, our men so well," Misner said. "I want to thank them for the work and the training and the studying they did."
Sean signed on with the Granite Mountain Hotshots in Prescott, Arizona in 2011.
His mom says Sean came from a long line of firefighters. Joining the hotshots was a dream come true for Sean.
"He loved it. I would talk to him after their first big fire in New Mexico. I said, 'Sean, tell me about it. Was it scary? Were you afraid?'" Misner recalls. "He said 'no Mom, I wasn't afraid. I trust these men I work with, they trust me, so we have each other's back.'"
On June 30, 2013, Misner was one of 19 hotshots who died in the Yarnell Hill Fire.
Only the lookout, Brendan McDonough, escaped the flames and survived.
Sean Misner left behind a wife and unborn baby. His son, Sean Jackson, is now four years old.
"He looks just like his Daddy," Misner said. "As he gets older, I think he'll want to see ["Only The Brave"] and I think he'll be proud of his daddy."
The tragedy inspired McDonough to write a book which has now been made into a movie.
Misner says the film provides a window into the world of wildland firefighting.
"I hope that people take away a better knowledge of how these men and women work, the amount of time that they put into what they do and just how precious life is," she said.
Moviegoers can pick out Sean's character by his signature American flag bandana and socks.
Meanwhile, in Arizona, a memorial hike that leads to the fatality site has become an emotional pilgrimage for those connected to the fire service.
Granite plaques along the trail honor each hotshot.
Tammy Misner says it's there in Yarnell Valley where she feels closest to her son.
"I want to go back at Christmas because I want to hike it on Christmas Day so that I can spend Christmas morning with him."
Sean Misner, once a patriotic kid from Solvang, now a national hero memorialized alongside his Granite Mountain brothers in movie theatres across America.
Tammy Misner and her husband arranged an early screening of the film Thursday night in Buellton.
The premiere is free but donations will be collected for the family of recently fallen firefighter Gary Helming. Proceeds will also go to the Wildland Firefighter Foundation.
The film will start at 7 p.m. at the Parks Plaza Theatre in Buellton.
Before the movie, everyone is invited to Figueroa Mountain Brewing which will donate a portion of the night's proceeds to Helming's family and the foundation.
"Only the Brave" opens nationwide Friday.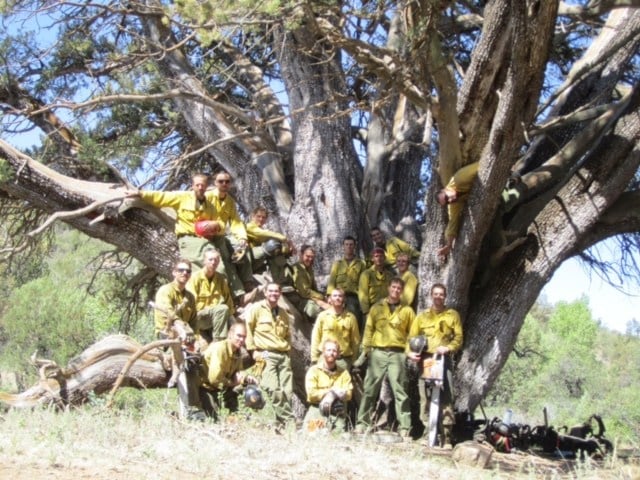 Granite Mountain Hotshots