The new Enos Ranch Shopping Center in Santa Maria will be home to nearly two dozen stores by next spring. A few of those stores open now, and the city and the public have already noticed some traffic issues in the area, especially during rush hour.
The shopping center, which is still under construction, is located along Bradley Road between Betteravia and Battles roads.
The City of Santa Maria Public Works Department says it is making a number of changes in and around the shopping center to help ease traffic.
"We are adding a right-hand turn lane on the southbound off-ramp, removing a sight distance optical on that same southbound off-ramp," said Steven Kahn, City of Santa Maria Public Works Director. "We are also adding capacity to the northbound on-ramp and adding capacity to the left-hand turn onto Bradley Road."
The city hopes these changes will reduce traffic delays and backups.
"What our hope is, that vehicles will not back up onto Highway 101 while they are waiting to get off the off-ramp," Kahn said.
Drivers are also noticing some traffic problems within the shopping center, itself.
"A lot of times, people make a left turn and come into the Costco parking lot and stop, and as a result, the cars back up into the street where the stop light is, and that's not good. It leaves us sitting out in the middle of the street, blocking traffic," said Milo Burgess, Santa Maria resident.
"So as vehicles enter Costco, it's unclear which direction they may go, so they slow down and it is backing vehicles onto Bradley Road," Kahn said. "We are working with Costco so they can do some on-site striping, to make it clearer to the vehicles of which way to turn so they can get to their parking spot quicker, which in turn will allow vehicles not to back onto Bradley Road."
The Public Works Department says it is also working with the stores to make sure traffic is flowing correctly when they open up for business.
"I think they could even use a traffic cop inside the Costco parking lot," laughed Burgess.
The city says it is working with the developers of the Enos Ranch Shopping Center to mitigate traffic problems and say, once the center is fully opened and the public is used to the traffic changes, it will run smoothly.
"As stores open up and there seems to be confusion among the motorists, we will add additional striping or we will take away a turn pocket or add additional signage," Kahn said. "Such as when people leave Costco by the gas station, we added a sign that said right turn only because people were becoming confused and some were turning the wrong direction on Bradley Road."
College Road, which has been under construction, is expected to open on November 20. The city hopes that will lessen traffic impacts, as well.
Most of the stores that have yet to open are expected to be ready for customers between February and March.
"Out of 130,000 square feet for the shopping center, we have one small shop space to lease which is about 3,000 square feet. We are 97 percent leased at Bradley West Enos Ranch Shopping Center," said Jim Sanders, Vice President of Development for Paynter Realty and Investments Inc.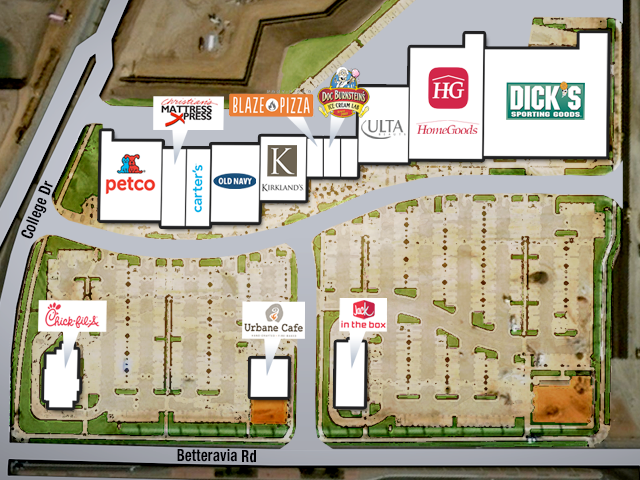 Locations of new stores planned for the Enos Ranch Shopping Center in Santa Maria. (KSBY photo)
The following stores have been confirmed as tenants for the new shopping center:
Costco
Lowe's Home Improvement
Buffalo Wild Wings
Urbane Cafè
Xfinity
Chick-fil-A
Habit Burger
Jack in the Box
CoastHills Credit Union
Cracker Barrel
Home Goods
DICK's Sporting Goods
Petco
Old Navy
ULTA Beauty
Kirkland's Home Dècor
Carter's/Osh Kosh B'Gosh
Christian's Mattress Xpress
Blaze Pizza
Doc Burnstein's Ice Cream Lab
Related coverage:
Construction moving ahead on Enos Ranch development in Santa Maria
More new store announced for Santa Maria shopping center