Wildlife officials are investigating a fatal shooting involving a rehabilitated sea otter in San Luis Obispo County. It comes amidst a string of otter deaths in Southern California.
The sea otter was found shot to death in September, according to the California Department of Fish and Wildlife.
Department staff says this specific otter was known to them because it had been rehabilitated, tagged and released into the wild in July 2016 after it was found tangled in fishing line.

Sea otter MBA-741 was found tangled in fishing line with deep lacerations in its skin. (Photo credit Mike Harris/The Marine Mammal Center)
The otter was reportedly found dead floating in Morro Bay, and a necropsy showed it was shot with a pellet gun.
Officials say this is only the latest in a rash of illegal incidents involving southern sea otters in California.
"The senseless shooting of any sea otter is concerning," said Mike Harris, a CDFW senior environmental scientist who helped with the initial rescue. "But to discover a case such as this, where a team of conservation organizations had already successfully treated the animal for a life-threatening entanglement, is exceptionally troubling and frustrating."
The Marine Mammal Center played a major role in the otter's rehabilitation and said in a statement, "After successfully treating this otter, learning of this outcome is disheartening, and partners at California Department of Fish and Wildlife, the Monterey Bay Aquarium, and Morro Bay Harbor Patrols will all be affected by this loss."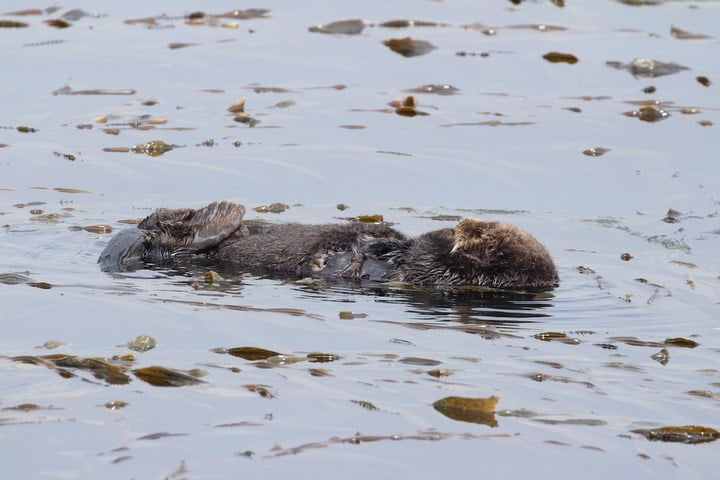 Sea otter MBA-741 (Photo credit Kevin L. Bailey/The Marine Mammal Center)
Three otters were shot and killed in August 2016 near Santa Cruz and another otter was found skinned near San Simeon this September.
These sea otters are a protected species under the Endangered Species Act, the Marine Mammal Protection Act and California law. The department says harming or harassing a sea otter, and removing or possessing a sea otter pelt or parts without a permit are punishable by possible imprisonment and fines up to $100,000.
If you know anything about these cases or other potential incidents, please contact the CalTIP hotline at 1-888-334-2258.