Trailers, crew members and limousines filled the entrance of the Oceano Dunes Tuesday for what State Parks officials say was a film shoot for singer Rihanna.
"Basically, they are filming a campaign here in Pismo Beach," said Demarquis McDaniels, production assistant for the shoot.

McDaniels says he understands people want to know what's being filmed but that the surprise will be worth the wait.

"It's for something coming in the future and we have to keep it discreet," McDaniels said.
That didn't stop curious fans from showing up, hoping to catch a glimpse of a celebrity.
"You don't see celebrities too often, so when you get the chance, we got to come up," said Roberto Chavez, Santa Maria resident.
Police, park rangers and security tried their best to keep fans away.
"We have security everywhere and it doesn't seem to work," McDaniels said.
This is the second shoot at the Oceano Dunes in recent months. In August, Nick Jonas caused a similar stir filming his music video, "Find You."
State Parks officials say on Monday, Jay Leno was also at the Oceano Dunes filming a segment for his show, 'Jay Leno's Garage.'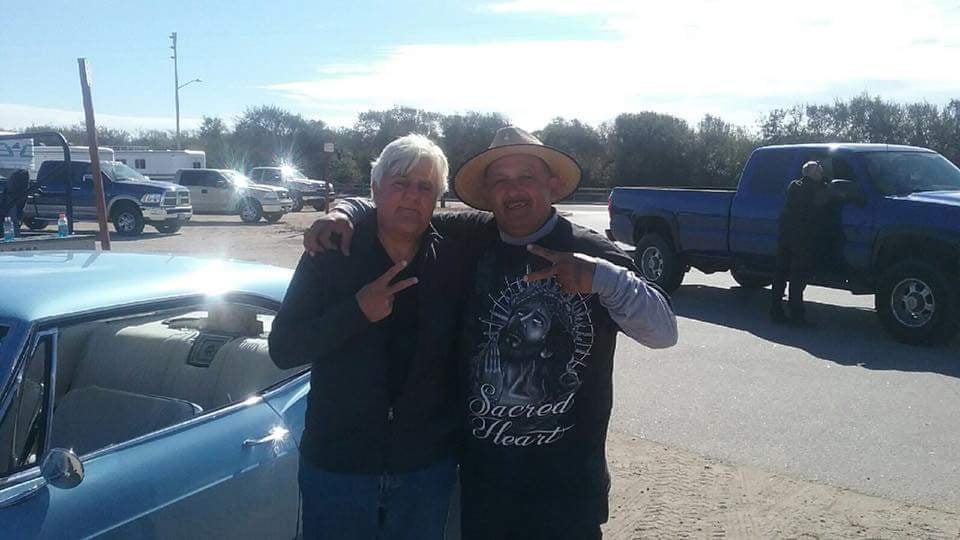 Nick Cano poses with Jay Leno Monday at the Oceano Dunes. (Photo courtesy Nick Cano)
Visit SLO CAL, San Luis Obispo County's tourism agency, says more productions are in the works for the county, and in 2016, more than 85 productions brought $6.3 million dollars into the local economy.