Highway 101 was closed late Wednesday afternoon south of San Luis Obispo while several CHP officers worked to stop and arrest a pursuit suspect.
The arrest was made just before 4 p.m. on northbound 101 north of San Luis Bay Drive following a pursuit from Betteravia Road in Santa Maria through Nipomo and the Five Cities.
CHP Officer Jordan Richards tells KSBY News it all started at around 3:10 p.m. when officers began pursuing the driver, identified as Mack Thavisay of Arkansas, for driving 94 miles per hour and weaving in and out of traffic on Highway 101. After officers tried to stop Thavisay, he sped up to 125 miles per hour, Richards said.
KSBY reporters witnessed the driver moving slowly on the highway, holding up traffic, playing loud music on his stereo and dancing in his seat as he drove through Shell Beach.
At one point, CHP deployed a spike strip, damaging the driver's tires. A CHP officer later performed the PIT maneuver.
"In that PIT maneuver, it spun the Lexus around, he continued to drive and rammed a couple of cars," Richards explained. "In one of the rammings that the Lexus conducted on our patrol vehicles, one of our officers did get injured. He injured his left leg and he was transported to Sierra Vista."
Thavisay ended up boxed in, facing the wrong way in the northbound lanes, surrounded by officers and a K9. He was taken into custody.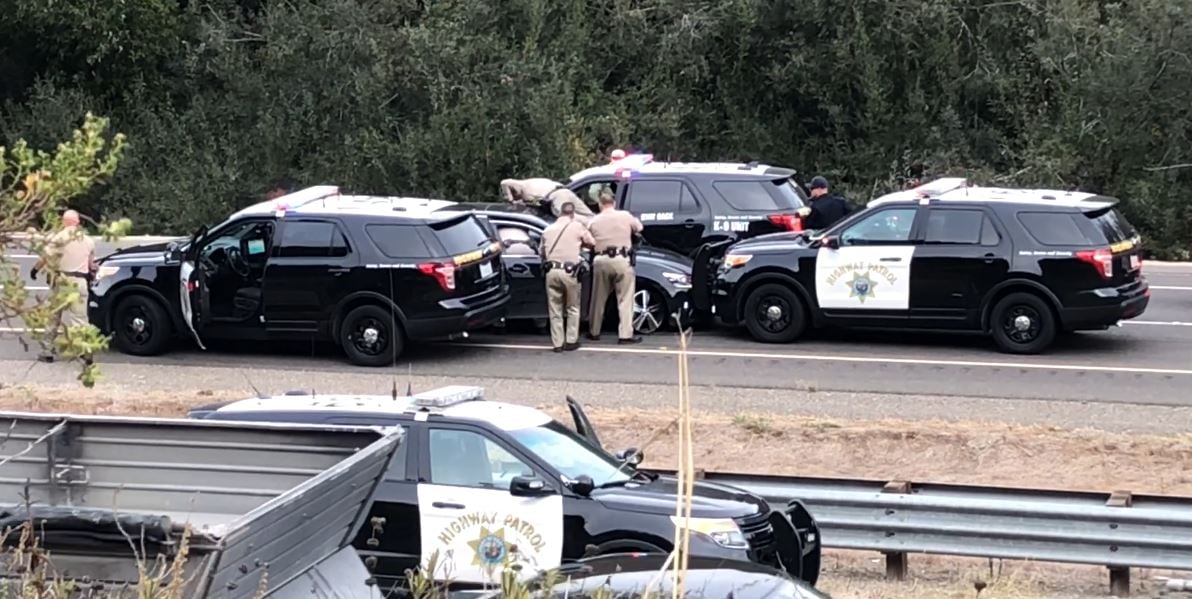 Officers work to pull a pursuit suspect out of his vehicle. (KSBY photo)
"The suspect was eventually drug out of the Lexus and then taken into custody. He did resist arrest and he did do several counts of assault of a deadly weapon causing injury on our officers," Richards said.
Thavisay is also suspected of being under the influence of a drug, Richards added.

Mack Thavisay
Traffic in both directions of Highway 101 was backed up for several miles. Side streets have also been backed up as commuters head home for the evening.