Sea lions on the Central Coast are coming down with a highly contagious bacterial infection known as leptospirosis.
Three sea lions found in Avila Beach, Los Osos and Oceano have been diagnosed with the infection.
"It's being watched very closely," said Diana Kramer, The Marine Mammal Center Operations Manager for San Luis Obispo County.
The Marine Mammal Center says this year, there have been more than 20 cases of the bacterial infection along California's coast.
It's highly contagious and people and dogs can get it, too.
"One of the largest risks for people to catch leptospirosis is in water that has the bacteria in it," said Ann McDowell, SLO County Public Health Epidemiologist.
SLO County Public Health says there have no reported cases of the infection in humans over the past ten years, but dogs are far more likely to get it.
"If it bit into a dead or decaying animal that had been infected, it could then become infected," McDowell said.
If a dog is sniffing around in dirt or sand that has urine from an infected animal, they can become infected that way, too.
The last outbreak of leptospirosis in sea lions along our coast was back in 2013
"We're doing a lot of work to study the disease better and understand both how it works in the population of sea lions and why we see it some years and not others," Kramer said.
Sea lions that are infected may become stranded or be seen tucked up in a fetal position.
"Leptospirosis can cause kidney issues and it can be painful for the animals," Kramer continued.
If the sea lion is drinking water, that's another sign it may be infected.
If not caught and treated in time, the infection can cause kidney damage, renal failure or death.
As for the risk to humans, "If your dog does get infected, it's very, very rare for it to pass an infection onto a person" McDowell concluded.
Of the three cases locally, two of the sea lions have already been treated.
The lepto vaccine is included in a dog's yearly shots. That's the best way to keep your animal protected.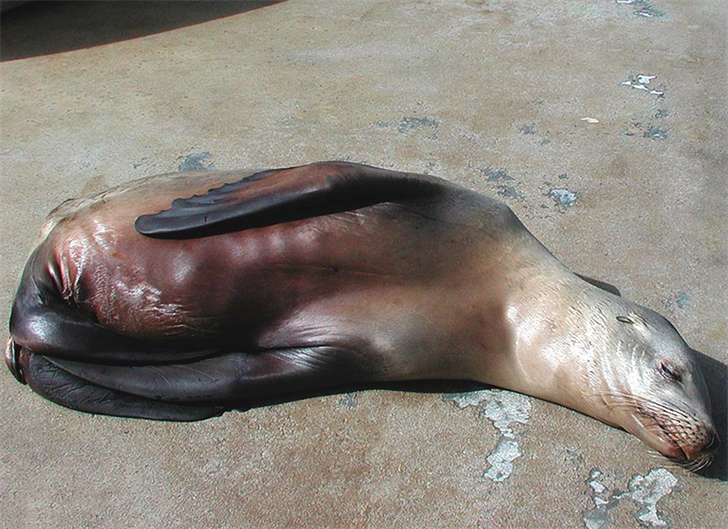 Sea lion infected with leptospirosis. (Photo courtesy The Marine Mammal Center)