Out of the 16 million Americans who served during World War II, only about a half-million are still alive, according to the U.S. Department of Veterans Affairs.
Edward McAdam, 93, is a World War II survivor who has letters of accomplishments on a wall in his Avila Beach home.
Battling submarines, torpedos and fighter planes in the Pacific will get you these letters from the military. But there are other letters, ones he wrote to a woman he'd never met but whose picture he saw from a shipmate while in the middle of the Pacific Ocean.
"We were looking through his album and I saw your picture and asked about you," the letter read. "He asked if I'd like to meet you and I would, but thought it was hardly possible from way out here."
McAdam was always a good storyteller, maybe because his war stories started when he was a kid.
At 16, after the attack on Pearl Harbor, he needed permission from his parents to enlist to join the World War II efforts.

"What did your mom and dad say at the time?" asked KSBY's Scott Daniels.
"They thought like I did and everyone else did that it would take six weeks to go through the schooling," McAdam answered.
But he was shipped off immediately.

McAdam lived on the USS Talbot with other naval members and marines for about four years.

"They had a new group of APD's - all-purpose destroyers - and what they were were World War I destroyers," he said. "They converted them, took the torpedo tools off and kept the depth chargers in case of torpedoes."
Thirteen of the 32 sailors on board didn't survive the journey.
"We never got back to the states," McAdam said.

The ship island hopped from Guadalcanal to Okinawa and every battle in between.
"We really got back just in time instead of being overseas somewhere and the war has ended and you're still there," McAdam said.

He'd then go on to meet the woman to whom he'd written those letters while overseas and marry her.
McAdam worked for L.A. City Fire for 27 years.

He and his wife, Ann, have lived in Avila Beach for 35 years.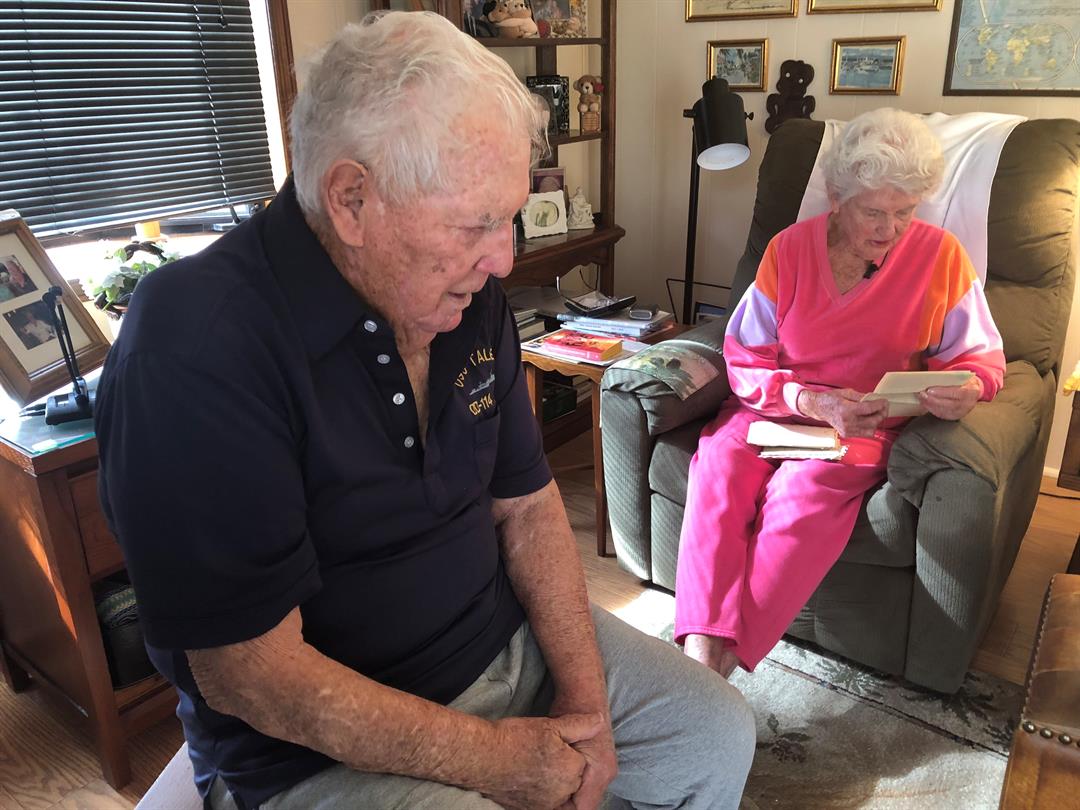 Edward McAdam listens as his wife, Ann, reads over letters Edward sent her during World War II. (KSBY photo)