Sierra Vista Regional Medical Center in San Luis Obispo said farewell Friday to an employee who has been with the organization for more than five decades.
Joyce Amador has been in the medical industry for more than 60 years and first started as an aid on the medical floor. Since joining Sierra Vista, she was part of the materials management department. She says some of her reasons for staying with the hospital for so long include a marriage, a divorce, a child, plus the people she worked with who made it all so enjoyable.
"Jerry is probably my best friend, Jerry and Josh, and we just have so much fun together. They're another reason for staying," Amador said.
Employees joined Amador to celebrate her retirement on Friday with a cake and a party.
Before she made her way to Sierra Vista, Amador worked at the former Valley Hospital in Santa Maria. She says the only places she didn't work in during her time in the medical field were the kitchen, X-Ray and the labs. Other than that, she says she's worked in every department.
Congratulations, Joyce, on your retirement!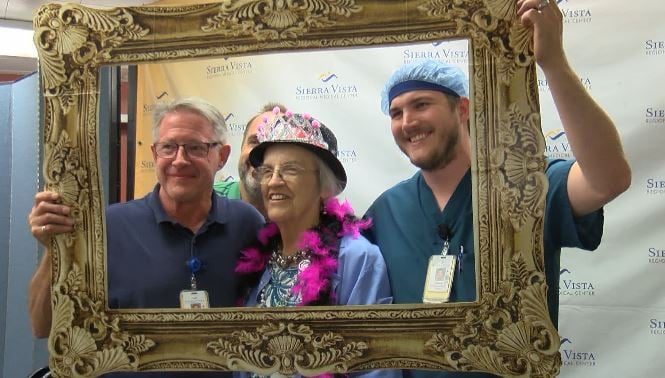 Joyce Amador poses with coworkers at her retirement party. (KSBY photo)