---
UPDATE (6:30 p.m.) - Over 8,000 personnel are assigned to the Thomas Fire. In a press conference Friday evening fire officials say it's cost $96.9 million dollars to fight the blaze, so far.
Friday was a productive day on the fire line. On the north end of the fire, in the wilderness area, the fire continues to back toward the control lines. It's challenged the lines in a couple of places where firefighters have had to take offensive actions.
A planned firing operation is planned when the timing is right.
In the Fillmore area, the fire jumped the Sespe Creek but resources were there and contained it. Resources are on the fire's edge in that region now.
In Santa Barbara, fire officials say they are very concerned about the next 36 hours. They say a lot could happen during that time. Sundowner winds are predicted so they are being proactive about that. Firefighters are continuing with direct attack. They have fire crews working directly on the fire line now to extinguish as much of the hot spots as they can prior to the winds.
Helicopters have been overhead dropping retardant.
To stress the importance of what is going on with the winds for resources on the line, a mid-shift briefing will be held with resources so they can understand what type of winds are coming and what tactics to take.
315 fire engines are assigned to the Santa Barbara County zone including 38 fire crews. There are another 60 fire engines in the staging area ready to go and another 20 engines from the Ventura zone that are ready to move. That's a total of 400 fire engines prepared for this wind event Friday with an additional 100 fire engines prepared on top of that.
For more on the winds click here.
Given the winds predicted, those in mandatory evacuation zones are asked to listen to that order. Those in voluntary evacuation zones are asked to be ready to go at a moment's notice.
Here's a breakdown of structures damaged and destroyed:
City of Ventura
Total structures damaged: 148
Total destroyed: 530
Unincorporated areas of Ventura County
Total structures damaged: 84
Total destroyed: 454
Unincorporated areas of Santa Barbara County
Total structures damaged: 5
Total destroyed: 23
The damage inspection process continues.
---
UPDATE (6:05 p.m.) - As of Friday evening, the Thomas Fire has reportedly burned more than 256,000 acres and remains 35 percent contained.
More than 1,000 structures in Santa Barbara and Ventura counties have been destroyed.
---
UPDATE (5 p.m.) - As of 4:30 p.m., fire officials say 733,000 gallons of fire retardant and 4,000,000 gallons of water have been used to date to fight the Thomas Fire.
The Thomas Fire sits at 252,500 acres, making it the fourth largest fire in state history. If the fire grows another 3,800 acres it will become the third largest fire in state history.
Battalion Chief Chris Childers said that direct attacks on the leading edge of the fire in San Ysidro Creek have been working and that air craft were heavily used Friday to drop water and fire retardant in the area.
While much of the work done was considered successful, fire crews are preparing for a strong wind event expected to pick up around 4 a.m. Saturday morning and extend until 10 p.m. Chief Childers said hundreds of fire engines are parked at and near homes above Highway 192 in the Cathedral Oaks are with 100 more staged at the Polo Grounds in the case the fire flares up due to the wind event.
A red flag warning was re-issued for Santa Barbara County from 2 a.m. to 10 p.m. Saturday.
---
UPDATE (3:20 p.m.) - The evacuation warning for the area south of Highway 192, north of Highway 101, east of Linden Avenue and west of the county line in Carpinteria has been lifted.
---
UPDATE (2:30 p.m.) - As of 2:28 p.m. Friday, fire officials said along with the 8,369 fire personnel assigned to the fire, there were also more than 1,000 engines in the area, 62 water tenders, 32 helicopters, 158 hand crews and 78 bulldozers.
---
UPDATE (12 p.m.) - Mandatory evacuation orders have been lifted in some parts of Carpinteria.
Residents only are permitted to return to the Gobernador, Lillingston Canyon, and Shepard Mesa area beginning at 12 p.m. today. This is the area east of Casitas Pass Road to the County line and north of Highway 192 and was determined safe.
---
UPDATE (9:20 a.m.) - Fire officials say firefighters will continue to build containment lines above Santa Barbara, Carpinteria, Summerland and Montecito. More evacuation warnings or orders could be issued as the fire heads west.
---
The Thomas Fire has now grown to 252,500 acres as the fight to gain control of the massive blaze enters the 12th day.
CAL FIRE announced Friday morning containment had not changed and remains at 35 percent. The fire is now considered the 8th most destructive wildfire in state history and the fourth largest.
Fire crews conducted multiple firing operations in numerous pockets of vegetation in Summerland and Montecito Thursday. The back burn reportedly saved dozens of homes.
Firefighters are now preparing for a major shift in weather conditions Friday night.
New evacuation orders and advisories were issued Thursday night for Ventura County after firefighters announced significant increase in fire behavior above Fillmore.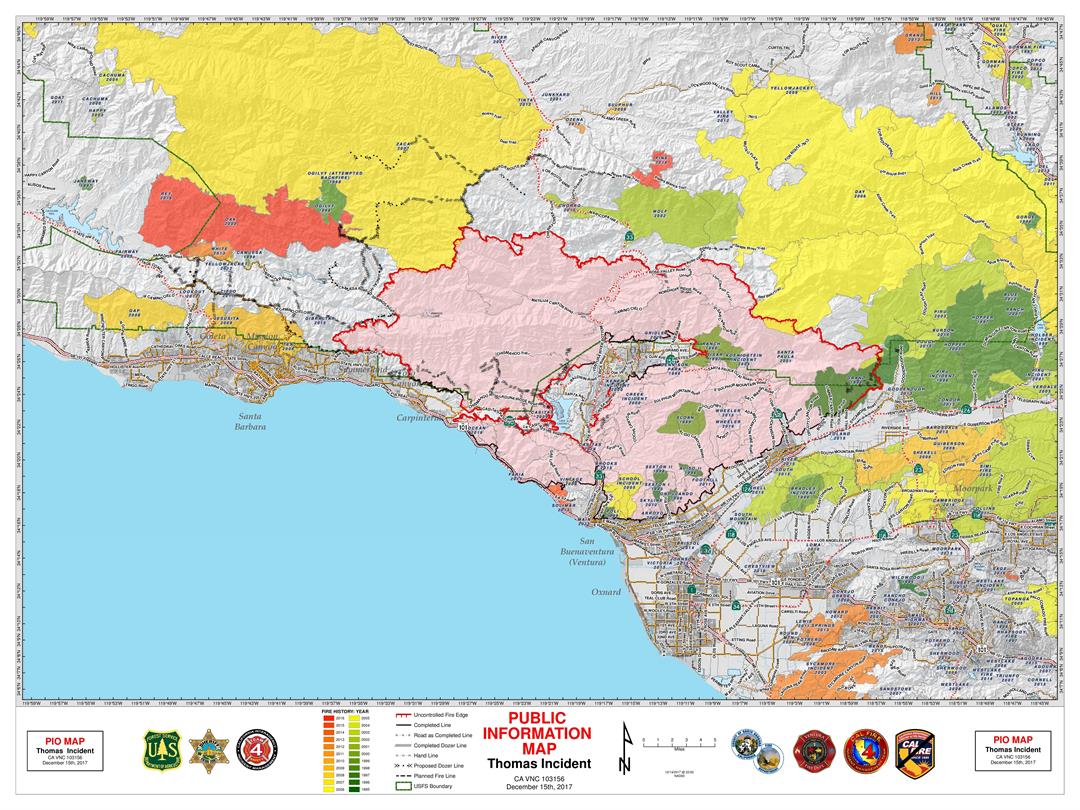 The Ventura County Fire Department reports containment may not come until January 7.
Since breaking out December 4 near Thomas Aquinas College in Ojai, the fire has destroyed more than 900 structures, the majority of them being homes. Hundreds of those were lost in the Ventura area shortly after fire first broke out.
Hundreds of other structures have been damaged and approximately 18,000 remain threatened.
Personnel increased again from Thursday as there are now 8,369 firefighters assigned to the blaze.
At least two firefighters have been injured and one killed. A 70-year-old woman was also killed in a crash while trying to evacuate.
A community meeting is scheduled again Friday at San Marcos High School, 4750 Hollister Ave., in Santa Barbara at 4:00 p.m.
The cause of the fire, which has destroyed hundreds of homes and damaged hundreds more, remains under investigation.
Click here to view a map of the Ventura County evacuation area.
Click here to view a map of the Santa Barbara County evacuation area.