UPDATE ( 9 a.m.) - All evacuation orders and warnings related to the Thomas Fire in Santa Barbara County have been lifted as of 9 a.m.
Those who have animals in shelter care are also reminded to pick up their pets.
County officials provided the following guidance for those returning home after wildfire:
When entering your property, check for trees, brush, rocks, and debris. Trees may be weakened or destroyed as a result of the fire. Be on the lookout for utility poles which may be weakened.
As you walk around your property, check for fire or fire damage. Hot embers may be seen in rain gutters, on the roof and under overhangs, under decks and in crawl spaces. You may see marking tapes or placards on your mailboxes or home. These were used by first responders and can now be discarded.
If your services are off, check for burned service equipment and facilities. If there is visible damage, DO NOT attempt to repair or turn on these services. Call your local utility companies.
Once you have secured the outside of your home, check inside for fire or fire damage. Check for embers in the attic which may have entered through vents. If electricity is off, turn off all appliances before turning it on. Check if the phone is working. Check if security systems and alarms are working.
If you discover fire or other emergencies on your property, call 911. If you discover damaged utilities, report them to your local utility provider.
Anyone with questions can call the Thomas Fire Information Help Line at (805) 681-5542.
---
Fire officials say the Thomas Fire grew slightly overnight to 272,200 acres but remains 60 percent contained.
Predicted high winds swept through the burn area Wednesday evening but did not appear to blow embers and ignite spot fires.
The winds though did kick up a lot of ash in the area, limiting visibility, fire officials said.
Now that the fire has been "wind tested," confidence in containing the fire early in the New Year has increased.
There are now 5,655 personnel currently assigned to the fire working to establish containment lines and mop up. That number is down by almost 3,000 from just a few days ago and more crews are expected to head home Thursday.
Damage assessment teams will continue to look for structures that were damaged by the fire.
More evacuation warnings and orders may soon change now that the fire is under control.
The fire has destroyed more than 1,060 structures, about 750 of them are homes. It is now the second largest fire in recorded California state history.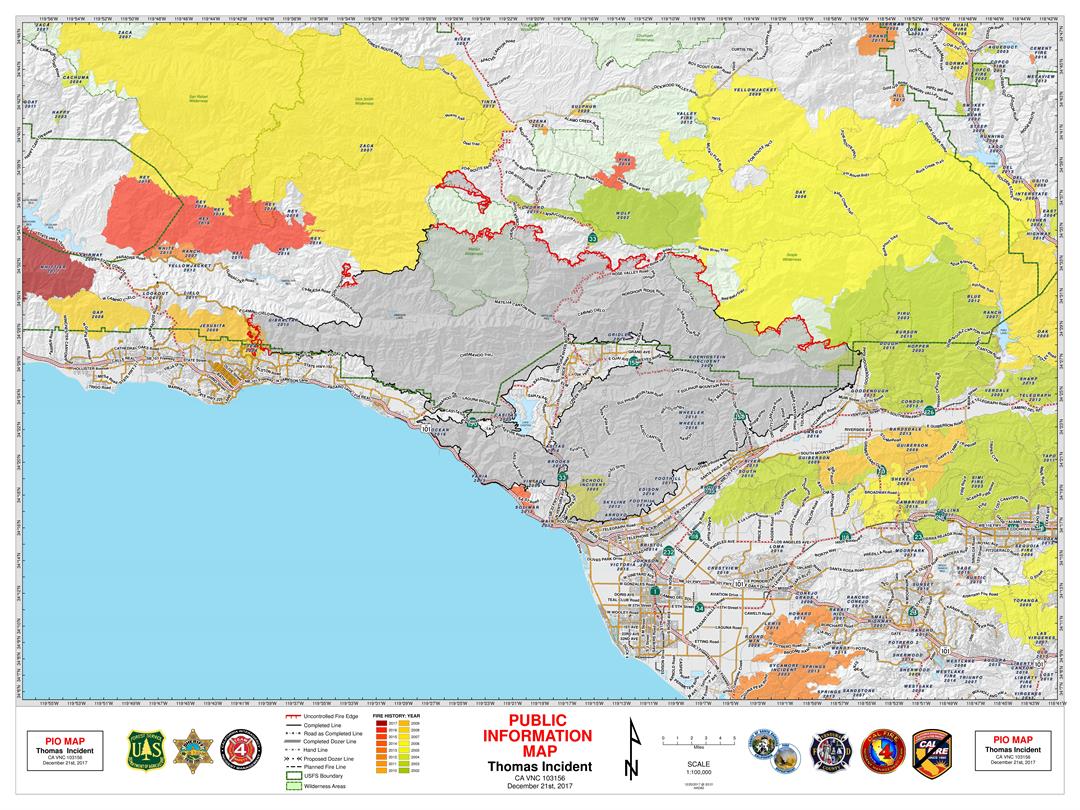 The latest map of the Thomas Fire, which was 60% contained as of Thursday morning.