The California Department of Public Health (CDPH) is partially lifting the health advisory for lobsters caught in waters on the south side of Santa Cruz Island in Santa Barbara County and the north side of Anacapa Island in Ventura County. Recent tests revealed that domoic acid has declined to low or undetectable levels in lobsters caught in the area and they are now safe to consume.
While various levels of domoic acid can be found in the lobster's viscera, consumers can avoid exposure by practicing the correct preparation techniques. When the lobster is boiled, the toxin is filtered out of the viscera and into the cooking liquid, which should be disposed of. This cannot destroy the domoic acid in the viscera or meat of the lobster.
Symptoms of domoic acid poisoning may include vomiting, diarrhea, abdominal cramps, headache and dizziness. In severe cases, the victim may experience trouble breathing, confusion, cardiovascular instability, seizures, excessive bronchial secretions, permanent loss of short-term memory, coma or death. Symptoms can occur within 30 minutes to 24 hours after eating toxic seafood and last for several days.
CDPH will continue to work with the California Department of Fish and Wildlife (CDFW) and the fishing community to collect and test lobster samples from the impacted area until domoic acid levels have dissipated.
The October 24th advisory still remains in effect for lobsters caught in state waters south of Anacapa Island and north of Santa Cruz Island.
For more information about shellfish poisoning and quarantines, call CDPH's toll-free "Shellfish Information Line" at (800) 553-4133. For additional information visit CDPH's Domoic Acid webpage.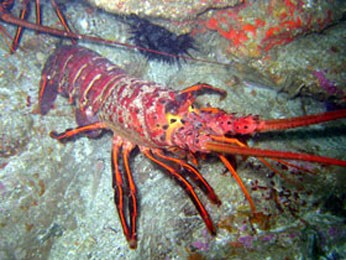 Spiny lobster (California Dept. of Fish and Wildlife photo by Derek Stein)