Orcutt Boy Scout, Joseph Andrade of Troop 95, wants to keep the written word alive and well.
His hope is to raise $3,800 to build a library inside the Harvest Community Center (619 N. Railroad Avenue). The library would house English, Spanish and Mixteco literature.
"I just want to do my part to promote literacy in the Santa Maria Valley," said Andrade, "Reading is they key to a better future. Good deeds are just cool."
Andrade said that he chose Harvest Community Center, a small nonprofit that focuses on ending hunger and serving the community, because of its work toward helping the homeless and promoting education.
To donate to Joseph Andrade's Eagle Scout Project, visit his Go Fund Me page: https://www.gofundme.com/josephandrade
Facebook: Joseph Andrade's Journey to Eagle Scout
Email: Josephandrade49@gmail.com
The following supplies are also needed:
Books (ages 3 to 13)
Book cases
Paint
Supplies
Wall pictures
Rugs
Bean bags
Puzzles
Games
Tables and chairs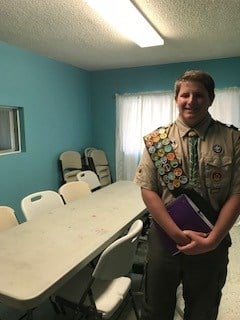 Orcutt Boy Scout, Joseph Andrade (Photo courtesy SMJUHSD)