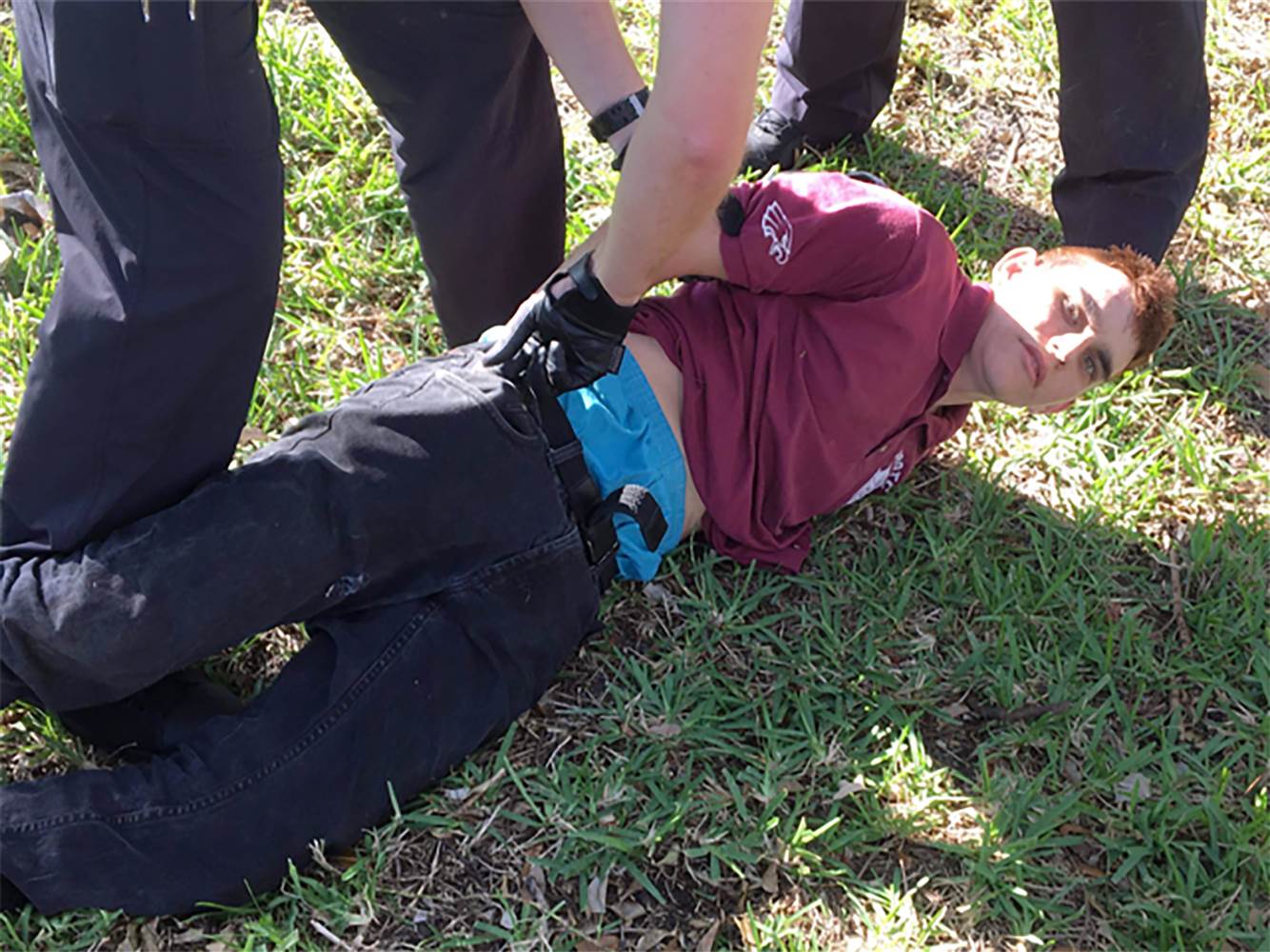 Nikolas Cruz during his arrest after a fatal shooting Wednesday at Marjory Stoneman Douglas High School in Parkland, Florida. (Courtesy NBC News)
---
UPDATE (7:20 p.m.) - Broward County Sheriff Scott Israel says the 19-year-old suspect in the deadly school shooting, Nikolas Cruz, had been expelled from Marjory Stoneman Douglas High School for "disciplinary reasons."
Israel says he doesn't know the specifics of what happened.
But Victoria Olvera, a 17-year-old junior, says Cruz was expelled last school year after a fight with his ex-girlfriend's new boyfriend.
School officials haven't confirmed such accounts, but say Cruz was attending another school in Florida's Broward County after his expulsion.
One 17-year-old junior, Dakota Mentcher, says he used to be friends with Cruz but hadn't seen him in more than a year after his expulsion. He says of Cruz: "He started progressively getting a little more weird."
A law enforcement official says Cruz posted highly disturbing material on social media before the shooting rampage.
Sheriff Israel says investigators are dissecting the suspect's social media posts and found material that is "very, very disturbing." He didn't elaborate.
An ex-schoolmate recalled Cruz posting on Instagram about killing animals and said he talked of doing target practice in his backyard with a pellet gun.
A student who escaped the deadly shooting at a Florida high school says he knew the suspect when he attended the school, describing him as a "weird kid" and something of a "loner."
Student Daniel Huerfano told The Associated Press he remembers seeing Cruz walking around the school with his lunch bag, adding, "He was that weird kid that you see ... like a loner."
A school superintendent, Robert Runcie, told reporters he didn't know of any concerns raised about Cruz.
Florida Gov. Rick Scott joined law enforcement agents near the site of the deadly school shooting and offered his condolences to the victims' families and survivors. He says the attack that claimed at least 17 lives "is just absolutely pure evil."
Scott told reporters Wednesday evening he can't imagine what the families of the victims are going through. He also said he would be visiting hospitalized survivors.
Sheriff Scott Israel of Broward County also said at the news conference that 12 of the dead have been identified but some weren't carrying identification and that slowed confirmation efforts. The families are being notified.
Florida Attorney General Pam Bondi says the state will cover funeral expenses for the victims and counseling for survivors.
Sen. Marco Rubio of Florida says he is "devastated and saddened" by the deadly shooting attack on a high school in his state.
The Republican senator says he remains ready to assist state and local officials and "anyone impacted by this horrible tragedy." He also said in his statement Wednesday that he hopes authorities can find out in coming hours and days more about why and how the killer "carried out this carnage."
Meanwhile, Congresswoman Debbie Wasserman-Schultz of Florida has also issued condolences. She called the attack in Parkland, Florida, "another senseless school shooting ... this time in our community."
---
UPDATE (5:30 p.m.) - Former Congresswoman Gabrielle Giffords says the deadly school shooting in Florida should "strike fear into all Americans.
The Democrat from Arizona was shot in the head and survived a shooting attack in 2011.
She said in a statement Wednesday that her heart goes out to the victims and survivors of the school shooting that claimed 17 lives in Parkland, Florida. She called it the latest attack in an epidemic of gun violence that continues "days after deadly day."
She also says in a statement that the latest in a series of deadly U.S. shootings should stir fresh resolve in Congress to "find the courage to pass the laws we need to protect our children."
---
UPDATE (5:15 p.m.) - Sen. Bill Nelson of Florida says the shooter in the attack on a high school in his state wore a gas mask and had smoke grenades.
The Florida Democrat said in an interview with CNN that he was briefed on the attack by the FBI.
Nelson says the attacker "set off the fire alarm so the kids would come pouring out of the classrooms into the hall. And there the carnage began."
Nelson says he did not know if the gunman had used the smoke grenades but he assumed that's why he had a gas mask on.
---
UPDATE (5 p.m.) - California Governor Jerry Brown and Assemblyman Jordan Cunningham (R - Central Coast) have issued statements on the shooting:
---
PARKLAND, Fla. (AP/KSBY/NBC News) - The sheriff reports that the 17 people were killed, several more people were injured in the Florida shooting.
A federal official has identified the Florida school shooting suspect as 19-year-old Nikolas Cruz. Cruz was taken into custody around 1:45 p.m. after a shooting at Marjory Stoneman Douglas High School in Parkland, Fla., Wednesday afternoon.
The official spoke to The Associated Press on condition of anonymity. The official says he had been briefed on the investigation into the shooting at the South Florida high school but was not authorized to discuss it publicly. Broward County Sheriff Scott Israel says Cruz is a former student.
The number of victims is likely to change as more information becomes available.
Coral Springs Police said on their Twitter account Wednesday that Marjory Stoneman Douglas High School was locked down and that students and teachers inside should remain barricaded until police reach them.
The male shooter, approximately 18, was a student at the school at one time but was not at the time of the shooting, Broward County Sheriff Scott Israel said. He said the shooter was outside and inside the school at points during the attack, and taken into custody "without incident" about an hour after he left the school. Israel said police were waiting for the SWAT team to give them the all-clear so that they could go inside.
Len Murray's 17-year-old son, a junior at the school, sent his parents a chilling text around 2:30 pm: "Mom and Dad, there have been shots fired on campus at school. There are police sirens outside. I'm in the auditorium and the doors are locked."
A few minutes later, he texted again: "I'm fine."
Television footage showed police in olive fatigues, with weapons drawn, entering the school, then dozens of children running and walking quickly out. A police officer waved the students on, urging them to quickly evacuate the school.
Some students exited the building in single-file rows with hands raised overhead to show they carried no weapons. Others held onto other students as they made their way out past helmeted police in camouflage with weapons drawn.
Congressman Salud Carbajal sent out this statement on the shooting:
My heart goes out to the victims and to all those affected by the school shooting in Parkland today. Images of students huddled on classroom floors and evacuating buildings with their hands up are horrifying to watch as a parent. Today, we are once again reminded that Congress has a responsibility to change things. Parents should not have to send their children to school each day wondering if they will return home that night. We owe these families more than just our thoughts and prayers – we owe them sensible laws that protect our children from needless gun violence.
This story will be updated as more information becomes available.
KSBY News and NBC 6 contributed to this report.