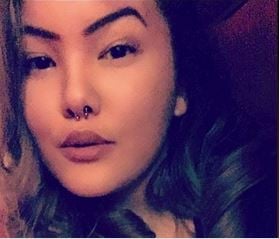 Chelsea Windsor, 24 (Courtesy: Lompoc Police Dept.)
The Lompoc Police Department released information Wednesday night about a missing woman.
The missing woman is 24-year-old Chelsea Windsor. Police say her mother is concerned because she has not heard from Windsor for several months and, the last time they spoke, Windsor was living on the streets.
Compounding the concern are Windsor's diagnoses of bipolar disorder, depression, and anxiety, police say.
Windsor is described as 5'3" and 123 lbs with a pierced nose and tattoos of a Hello Kitty bow on her left wrist, Harry Potter glasses on her right wrist, a diamond on her neck and a rose on her abdomen.
Police say Windsor was last seen at the Lompoc ER on Dec. 16. She reportedly moved out of her home in the 300 block of North K St. in late December. There are unconfirmed reports she may be in the Los Angeles area.