The Santa Barbara County Sheriff's Office is issuing a Mandatory Evacuation Order for areas of Extreme Risk of debris flows due to a strengthening storm system expected to arrive in southern Santa Barbara County Tuesday morning.
The order was announced Monday afternoon and went into effect at 8 p.m. that night.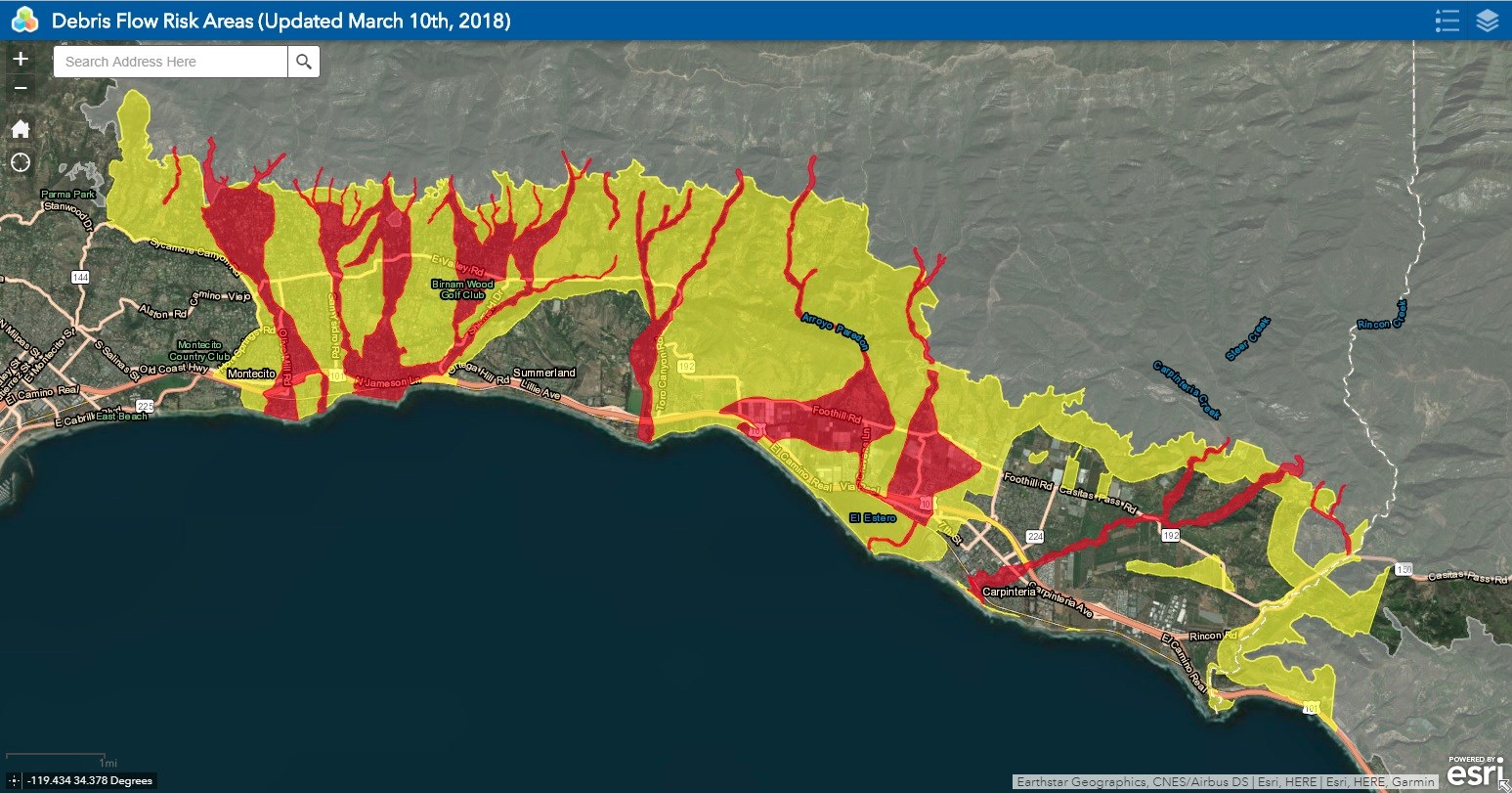 The National Weather Service has issued a Flash Flood Watch for the Thomas, Whittier, Sherpa, and Alamo fire burn areas from 7 a.m. until 2 p.m. on Tuesday. It says rainfall rates up to .70 inches per hour are possible with this storm. Officials say that amount of rainfall has the potential to trigger debris flows.
A Mandatory Evacuation Order means there is an extreme risk for loss of life and property and people living in Extreme Risk areas should relocate to safer locations.
People living in High Risk areas will be under a Recommended Evacuation Warning. Emergency officials urge those residents to also relocate to safer areas as there is a high risk for loss of life and property.
"Those hills are filled with silt, rocks, boulders," said Santa Barbara County Sheriff Bill Brown. "There is plenty more up there that could come down and, in fact, the condition may be even more precarious than it was before the first storm."
The Red Cross has established an evacuation center at the Goleta Valley Community Center, located at 5679 Hollister Ave. People needing help evacuating large or small animals can call Santa Barbara County Animal Services at (805) 681-4332.
The California Highway Patrol is reportedly working with the National Weather Service and other public safety agencies to determine whether Highway 101 will need to be closed. If CHP determines public safety is at risk and the highway does need to be closed, officials say it would happen immediately without notice.
Because the storm is expected to arrive during the morning commute, the CHP is urging everyone to avoid Highway 101 through the Montecito area in case the storm does cause debris flows requiring the highway to be closed.
County officials say the decision to issue evacuations is based on:
projected amount and intensity of rainfall
capacity of debris basins and creek channels at the time of a predicted storm
status of potential obstructions that can change the direction of water flow
level of ground saturation
risk of damage to basic utilities
They say lessons learned from recent storms are helping them prepare for upcoming rain events and they recently made changes to the county's interactive Debris Flow Map (linked above). County officials say some areas in Carpinteria were changed from Extreme Risk to High Risk.
For additional resources and to sign up for Aware and Prepare Alerts, visit the Santa Barbara County Ready website.