Schoolyard scuffles broke out Wednesday as tensions between students at Paso Robles High School boiled over.
One fight was caught on cell phones during the school lunch period and posted to social media. It shows female students scuffling with others as bystanders look on and administrators move in to break it up.
Paso Robles Unified School District Superintendent Chris Williams says the violence began well after a peaceful, 17-minute demonstration took place as part of a nationwide student walkout to protest gun violence.
However, one student who witnessed the lunchtime fight said it involved members of a group who held a pro-gun rally on campus to counter the anti-gun violence protest.
Some in the group carried a Gadsden flag and a Trump campaign flag. One wore what looked to be a "Make America Great Again" hat. Another carried a sign that read "black rifles matter."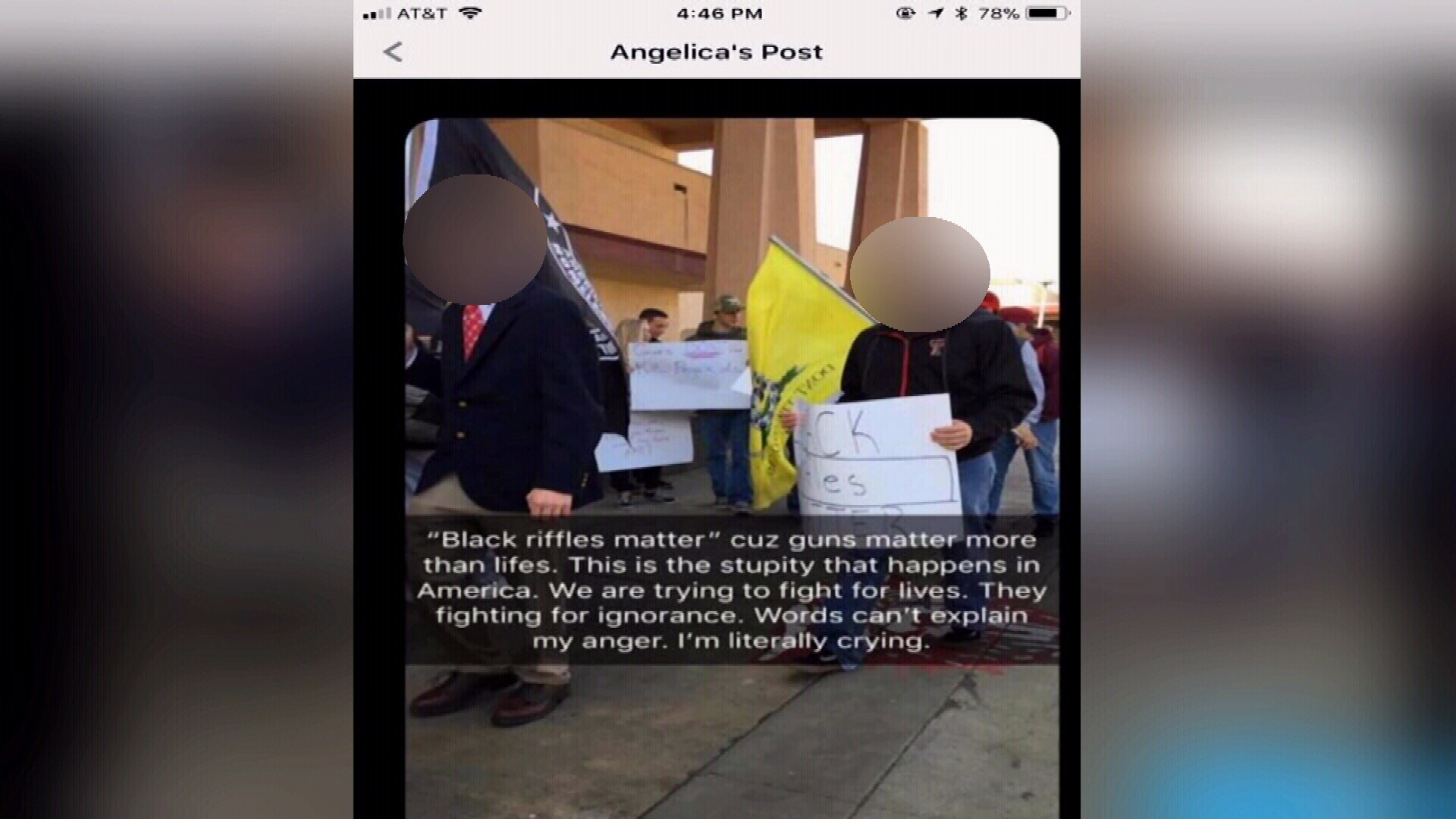 (Photo by Krysta Newton)
A student at the high school spoke with KSBY News and said the fight started over racial slurs.
"It honestly really hurts me because I am mixed and I feel like there is too much racial comments made and it's just not right," said student Angelica Lewis.
She also said there were multiple fights during lunch and she's concerned for her safety.
"It makes me feel like our school is not safe at all because they shouldn't be happening, all these fight and it's something that really happens constantly and usually is over race."
KSBY News also spoke with a teacher who helped break up the fight and heard there were other, similar fights but did not witness any firsthand.
Paso Robles Unified School District Superintendent Chris Williams sent a letter home to parents and released this statement:
Our student leaders provided a number of opportunities this morning to honor and recognize the recent tragedy and loss of students in Florida.

Students also attended assemblies and a number of students participated in student-led activities during the 17 minute break.

Students provided multiple viewpoints in a peaceful manner with a high level of maturity, without incident before returning to classes as scheduled.

Unfortunately, we had an unrelated incident during the lunch break. This incident was not in connection to the assembly, student-led activities, or any political stance. The incident was resolved immediately and the students were disciplined within the guidelines of Ed Code.

The unrelated incident should not in any way overshadow the collaboration and prior planning that students, faculty, and administration engaged in. As a result of their work and an incredible student body, they were able to provide a safe platform for students to express their viewpoints as well as an opportunity to become informed on important
Related content:
Atascadero High School threat prompts lockdown at Righetti High School
Hundreds gather at Arroyo Grande High School quad for national walkout
San Luis Obispo High School takes part in peaceful nationwide protest
In Lompoc, a peaceful high school walkout to protest gun violence