(UPDATE 12 p.m.) - By noon, the crowd had dispersed on campus and the morning protest had ended. Open House preparations and activities continue on campus ahead of Friday night's rodeo, which kicks off at 7 p.m.
(UPDATE 10:30 a.m.) - A protest at Cal Poly that was supposed to wrap-up at 10 a.m. is still going on. Students have been marching around campus since gathering at about 8 a.m. They're calling for change from the university following the recent blackface incident at Lambda Chi Alpha fraternity.The students feel the student responsible for that should be expelled and also want the university president to resign.
While the protest has so far been peaceful, protesters are vocal, chanting various things from "Silence is violence," to "Black lives matter."
The protest was planned during Cal Poly's open house weekend, when prospective students and their parents are at the university to get a first-hand look at what the campus has to offer.
Some parents of prospective students are fairly receptive to the protests, saying they are happy to see students speaking out about what they believe in. Others said that if the president and administration does not take a bigger stance on the issues at hand, it may deter them from choosing Cal Poly.
This is the first of a handful of protests planned this weekend.
---
(UPDATE 9:50 a.m.) - The University says it has no comment related to students calling on President Armstrong to resign. An estimated 500 students were said to be taking part in Friday's protest. So far, police say there have been no major issues. San Luis Obispo police officers are assisting University police.
---
(UPDATE 9 a.m.) - Cal Poly students continue marching through the Cal Poly campus, calling for change. The protest began in the Rec Center parking lot before students marched onto Grand Avenue and through the Open House set up. They will be heading to Dexter Lawn next. The students say they feel President Armstrong should resign because they don't feel he has addressed the issue and has propagated a culture of hate and intolerance on campus. The University has not yet responded to the students' comments. About 500 students were involved in the protest.
---
(UPDATE 8:25 a.m.) - An estimated 300 students were in attendance shortly before 8:30 a.m. for the protest. They planned to take the protest to the streets and march down Grand Avenue.
---
Hundreds of students are expected to turn out Friday for a protest following the recent blackface incident at Lambda Chi Alpha fraternity.
The 2-hour protest, called, "Open House Day of Action," began at 8 a.m. in the Rec Center parking lot. As of 8:20 a.m., things remained under control.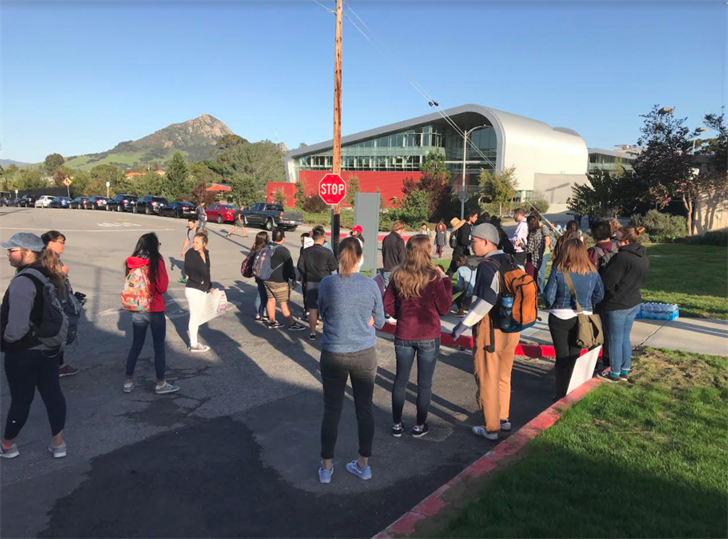 Students began to gather in the Rec Center parking lot on the Cal Poly campus Friday morning for the planned protest. (KSBY photo)
Cal Poly President Jeffrey D. Armstrong arrived at the protest prior to its start and could be seen speaking with student leaders.
While the protest comes just days after a photo of a fraternity member with his face painted black, taken at a brotherhood event last weekend, sparked outrage in the campus community, event details state the protest is about more than just that.
"With Milo Yiannopoulos coming to campus, students doing black face, serial rapists walking free on campus, tuition and fees rising endlessly, and 1 in 4 students hungry--enough is enough," reads the Facebook post. "Join current students and their allies as they show prospective students and their families that they are not okay with campus climate, or how Armstrong's administration has handled the past year's crises. Bring a reusable mug, a sign if you have one, and your energetic self."
As of Friday morning, nearly 400 people had RSVP'd.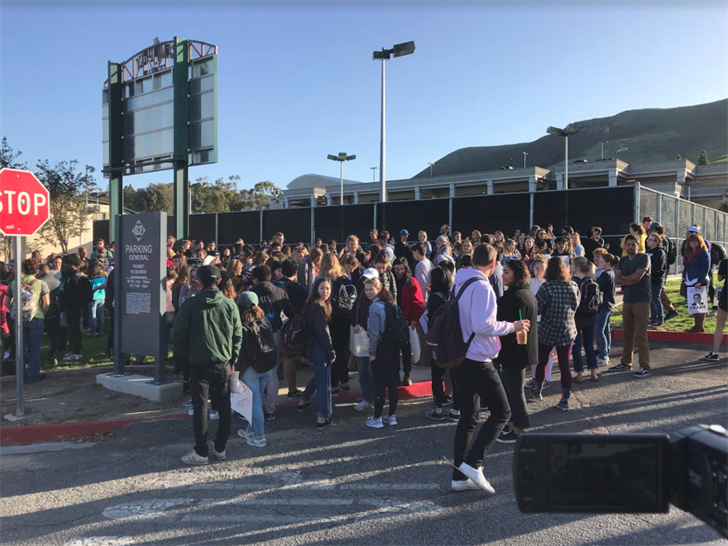 Student pack the Rec Center parking lot during Friday morning's protest. (KSBY photo)
The event is co-sponsored by Cal Poly Democrats, Cal Poly MEXA, Cal Poly Queer Student Union, Cal Poly Students for Quality Education, Comparative Ethnic Studies Student Association and Triota Feminist Activist Community.
Thursday night, Armstrong hosted a student forum to address student concerns following the recent blackface incident.
Hundreds of students filled the Performing Arts Center to address Armstrong and other campus leaders. Armstrong also addressed them.
"We're sorry that this happened and I wished we had done some things differently to have prevented this from happening," he said.
Armstrong also said it's unlikely the student from the blackface photo will be expelled since his act will presumably fall under protected free speech.
Those who spoke expressed concern about the diversity on campus and the university allowing Milo Yiannopoulos to speak again.
Friday morning's protest is the first of a handful of protests planned for the coming days on campus as Open House events get underway.
Related content: