Santa Barbara County Public Health officials are investigating an increase in Valley Fever cases.
They looked into whether the increase was related to the Thomas Fire and the January mudslide in the Montecito area, but found only one out of the 56 patients whose cases were reviewed was a first responder and only four patients lived in the southern part of the county. Of those four, two of the patients had traveled outside the area to other areas where cases of Valley Fever are more common.
Health officials say the increase appears similar to the statewide increase in Valley Fever cases seen since 2015, which is believed to be related to heavy rains following the drought.
Valley Fever is caused by inhaling the spores of a fungus that exists in the soil. The spores can become airborne when dust is stirred up by the wind or dirt is disturbed, such as during construction.
Most infected people do not show signs of illness. Symptoms are similar to other illnesses like the flu or pneumonia, so Valley Fever is not always recognized. Sometimes, people can develop more severe disease such as infection of the brain, joints, bone, skin, or other organs.
Santa Barbara County saw a spike in Valley Fever cases in October 2017, which closely followed a spike seen statewide. There was also an increase in December and January, around the time of the fire and mudslide. Reported cases have dropped off since January.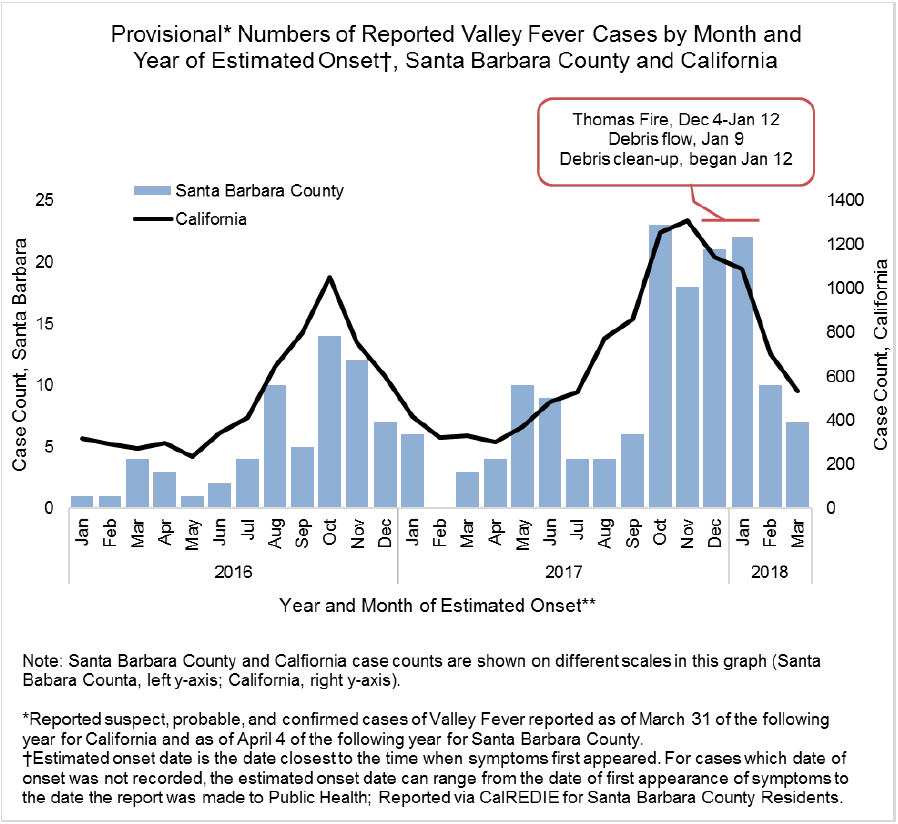 Health officials say most of the Valley Fever patients lived in northern or central Santa Barbara County.
San Luis Obispo County has also seen an increase in Valley Fever cases over the past couple of years. In 2015, there were 53 reported cases in SLO County. That number increased to 257 cases in 2016 and 368 cases in 2017. Between January and March 2018, there have already been 200 reported cases of Valley Fever and at least two deaths in SLO County related to the infection.
Local Valley Fever survivor Sherry Martinez is organizing a "Valley Fever Recovery, Support and Awareness Family Picnic Day in the Park" on Sunday, May 20 from noon to 4 p.m. at Tidelands Park in Morro Bay. Martinez says it will be a chance for survivors to connect with other survivors and learn about the recovery resources that are available to them.