UPDATE (12 p.m.) - Fire investigators tells KSBY News a couple lived at the home where the fire broke out Wednesday night. The woman reportedly woke up and alerted the man to the fire. Fire officials say she ran out, but the man tried to fight the fire. His body was found when firefighters arrived and began their firefight. His name has not yet been released.
Investigators say while the cause is still under investigation, they do not believe the fire was intentionally set.
Damage was minimal to neighboring homes.
For more on this story, watch KSBY News at 5 and 6 p.m.
---
UPDATE (11:30 a.m.) - Fire crews returned to the home late Thursday morning to walk the homeowner through it. The home was boarded up and caution tape remained around it following Wednesday night's deadly fire.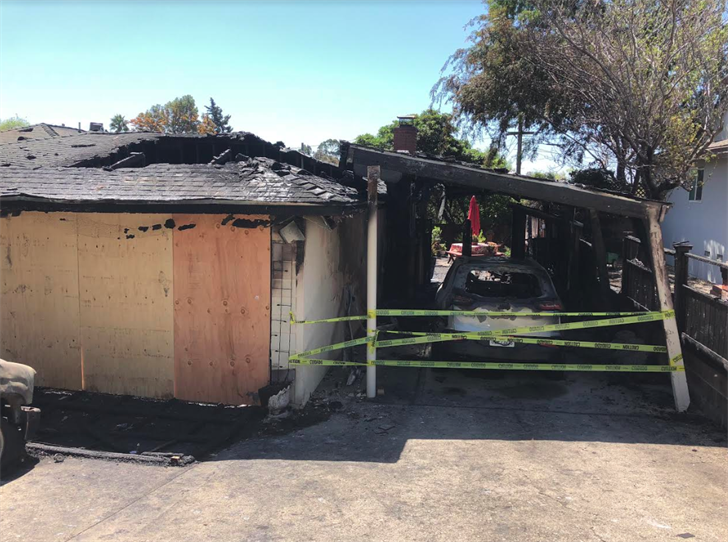 (KSBY photo)
---
UPDATE (12:50 a.m.) - San Luis Obispo Fire Chief Garret Olson says one man died in the house fire.
---
UPDATE (12:30 a.m.) - A man who lives next door to the house on fire tells KSBY News he rushed to get his kids to safety because the fire was so hot. He noticed the headlights on his car had melted from the intense heat. He also said he heard explosions coming from his neighbors' garage. It sounded as if their cars were exploding.
The house fire broke out approximately 20 hours after a large rail-car fire began on railroad tracks just a few blocks away from Rich Ct. near Sinsheimer Park. Thousands of railroad ties inside the rail cars burned for hours.
---
UPDATE (12:05 a.m.) - A concerned neighbor said a woman who lived in the home told firefighters she feared her husband was inside the burning house.
There were initial, unconfirmed reports that someone was trapped inside. Firefighters were tasked with going through the house in search of potential victims. The results of their search remain unclear. We're awaiting word from the fire chief.
---
UPDATE (11:55 p.m.) - Dozens of firefighters with the San Luis Obispo Fire Department and other first responders were working a house fire late Wednesday nigh on the corner of Rich Ct. and Augusta St. in San Luis Obispo.
Fire crews were working on top of the house as flames shot through the roof. Additional crews were moving through the smoke-filled home, looking for anyone who may have been inside.
An ambulance crew was staged outside the home with a gurney at the ready.
The firefight has been going on for an hour so far. No word on how the fire started or if anyone was injured.
---
ORIGINAL STORY - San Luis Obispo firefighters responded to a house fire Wednesday night.
The fire broke out just before 11 p.m. on Rich Ct. off of Augusta St. near the Terrance Hill Open Space.
The home was fully involved with flames shooting through the roof of the structure.
Several fire engines responded along with an ambulance. Rescue crews were called in to help.
Bishop and Augusta streets were blocked off to aid first responders.
KSBY News has a crew on scene and will be updating this story throughout the firefight.