For the fourth year, the San Luis Obispo City Fire Department and the American Legion have come together for a September 11 memorial service at Fire Station 1.
"A Day of Remembrance World Trade Center" brought in dozens of spectators from youth to military veterans. The event started with the honor guard, which was followed by a march by Central Coast Pipes and Drums. City officials from the San Luis Obispo County Sheriff's Office, San Luis Obispo Police Department, and Cal Poly ROTC were also in attendance.
"It's really special to us because we see the youth turn out," said Fire Chief Garret Olson.
Speakers at the event included Laguna Middle School 8th grader Lucy Reed, who was born after 9/11 happened. She read her winning essay on the theme of the event, commitment.
"Commitment is what firefighters and policemen showed when they ran into the World Trade Center on September 11, 2011, knowing that they might not ever return," Reed read aloud to the crowd.
"I think it's important that younger kids are here and they're getting impacted by this too," Reed said later.
On a day when Americans say "never forget," a younger generation is learning to understand the meaning and impact this day made on the United States of America 17 years ago.
At Fire Station 1, attendees placed white roses on a 1,500-pound steel I-beam that came from the twin towers. Surrounding the beam are 403 vertical rods that symbolize the 403 first responders that lost their lives that day.
"It is an intimate, tactile, very emotional experience here," Olson said.
The touching memorial remembers the tragedy and celebrates heroes, linking an older generation to the youngest.
"This event is about 9/11, but it's centered on our youth and our future leaders so that we can help instill in them a context of 9/11 that's more than in a page in a history book," Olson said.
The memorial is open to spectators any day of the week. It's located at 2160 Santa Barbara Avenue.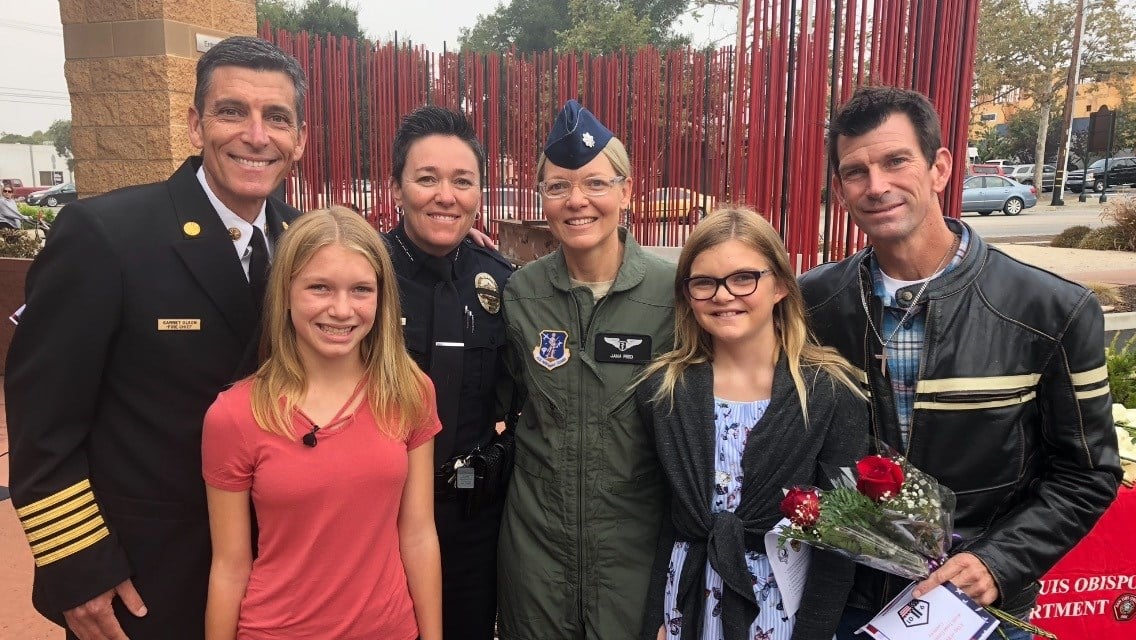 Lucy Reed (in orange) poses with her family, Fire Chief Garret Olson, and San Luis Obispo Police Chief Deanna Cantrell at the fire station's World Trade Center Memorial. (KSBY photo)
Winning essay by Lucy Reed, 8th grade, Laguna Middle School
Commitment - What it means to me:
Commitment is more than just a word. It is an act; an act that says I will never give up, I will never lose faith. It means I will persevere through everything that is thrown at me because I am committed! It is an act that says I am committed to my duty, my job, my family, and my country. Commitment is what the firefighters and policemen showed when they ran into the World Trade Center on 9/11/2001, knowing that might not ever return. Commitment is what military soldiers show when they volunteer for battle. Commitment is what family members show when they leave everything behind to be with their loved ones. Commitment is an act of love and loyalty and sacrifice.
So when somebody is committed to something, whether it be a sport, career, or relationship, show them how much it means to you. Express that you honor their commitment, and show how much of an impact it actually makes. Show that you honor the brave firefighters and policemen on 9/11, when they risked their lives for civilians and our country. Second Timothy 2:7 says "I have fought the good fight, I have finished the race, I have kept the faith." To be committed means to keep your promises until the very end, just like many brave soldiers, firefighters, and policemen do every day. Thank you.