A rare chance to turn back time and unearth pieces of history occurred over the past two weeks near Guadalupe.
Ninety-four years ago, the famous "The Ten Commandments" movie set was buried in the sand in Santa Barbara County. Now, archaeologists are digging up Director Cecil B. DeMille's set and bringing it back to life for enjoyment and educational purposes.
The Guadalupe-Nipomo Dunes Center says it's the only set left from that time period and is a gem of the Central Coast.
Over the past two weeks, archaeologists have been working to unearth portions of the set that were buried in the sand. They've uncovered a plaster sphinx face that they say is in great condition.
The 1923 movie set recreated the biblical story of Exodus, paired with a modern story of two brothers and their views of the Ten Commandments.
"There were about 3,500 staff people, extras, and actors who worked on this film, so a small industry town popped up here in the dunes," said Doug Jenzen, Guadalupe-Nipomo Dunes Center Executive Director.
The movie was a box office hit.
"The original movie set has 12-story tall buildings, lined with 21 sphinxes, so what we are attempting to do is excavate one of the sphinxes," Jenzen said.
Archaeologists say it's an incredibly methodical process dealing with plaster.
"It's a really fragile medium, you have to excavate it really slowly, let it dry and then continue and do that in gradual steps," said Ryan Wendel, the site's Historical Archaeologist Field Supervisor. "So the Sphinx was believed to be pushed on its side with its left shoulder to be sticking up, so day one and day two we removed the left shoulder."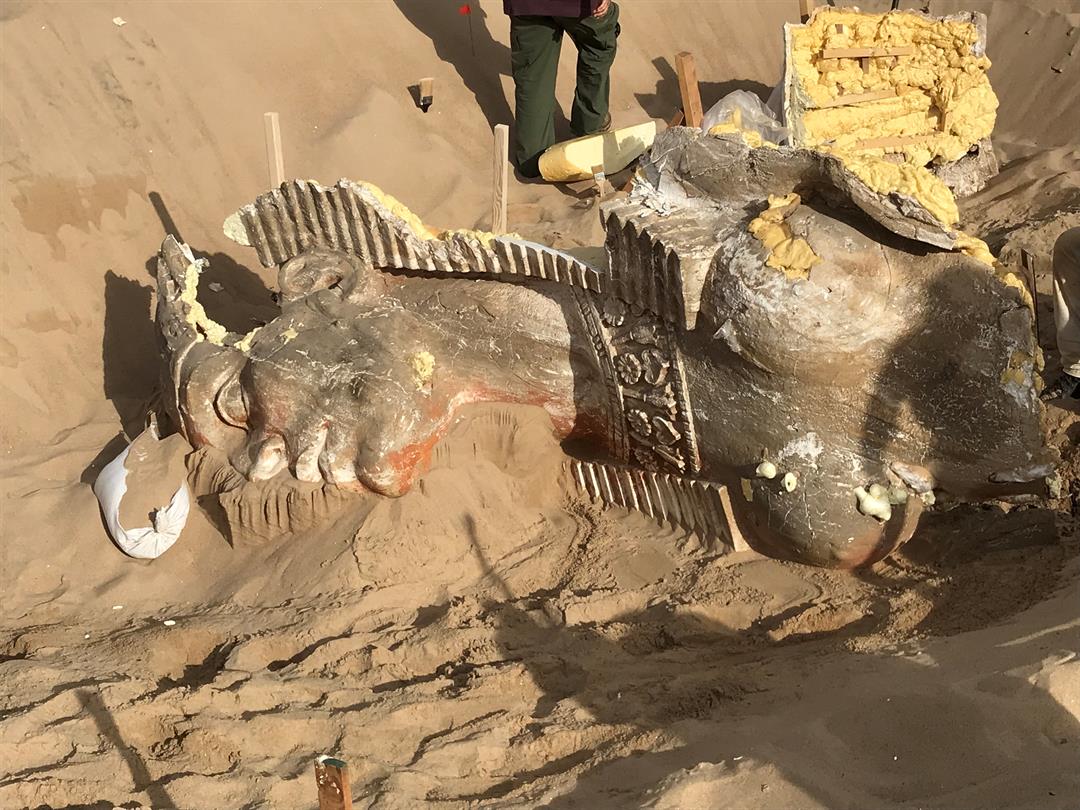 Archaeologists uncovered a plaster sphinx in the Guadalupe Dunes. (Photo courtesy Guadalupe-Nipomo Dunes Center)
Twelve long days later, excavating inch by inch, six feet underground, the team found the sphinx's face in all of its glory. Removing this mythical creature was no small task. The piece is large, 10 feet tall and 15 feet long.
Archaeologists say the sphinx face is now at an off-site storage location where it will dry for several months as artists work to restore it. Its final resting place will be above ground at the Dunes Center, which is home to another sphinx remnant. According to staff, there will be a big reveal party there next summer and the public is encouraged to attend.
As for the other sphinxes, Dunes Center staff believe any others left in the sand have fully disintegrated.
WEB EXTRA: Archaeologists describe the other items they found during excavation of the movie set:
On Saturday, November 4th the Dunes Center is hosting a special screening of Peter Brosnan's new documentary, "The Lost City of Cecil B. DeMille," at the Far Western Tavern in Orcutt. Click here to purchase tickets.