Following the death of Andrew Holland at the San Luis Obispo County Jail in January, several questions were raised about how mentally ill inmates are treated at the jail.
Holland, 36, suffered from schizophrenia and was restrained in a chair for 46 hours over the weekend of January 21. He died shortly after being released from the chair.
His death was followed by an FBI investigation to determine if there are any civil right violations at the jail. According to FBI spokeswoman Laura Eimiller, the investigation is still pending.
In July of this year, San Luis Obispo County officials released details about changes that were made within the jail as well as the county's mental health facility. Two of those changes included discontinued use of the restraint chair and changing policies at the county's Psychiatric Health Facility to transfer mentally ill inmates if they are a danger to themselves.
Information obtained through a public records request to the San Luis Obispo County Sheriff's Office show that in the last three years, three inmates at the SLO County Jail were placed in a restraint chair. Of those, Holland was there the longest. Following his death, a coroner's report said Holland's manner of death was natural and that he died from a right intrapulmonary embolism.
However, the Holland family hired a separate coroner who determined Holland died from deep vein thrombosis, linked to being immobile for so long, according to Holland's mother, Sharon.
"When you have a son who has been killed, you begin to ask for more," Sharon said during an interview with KSBY in October.
For much of his adult life, Holland lived with schizophrenia, a disease that does not discriminate. Over the course of nearly two decades, he lost friends and spent time in and out of jail and mental health services. All of these symptoms trickled into his family life, too.
"It's not a behavioral issue, it's a brain disease not unlike a disease like diabetes," said Carty Holland, Andrew's father.
Nearly ten months after their son's death, Sharon and Carty Holland are still adjusting to their new normal but advocating for change. In July, a $5 million settlement between the County and the Holland family was reached. Now, the family is moving toward helping those who may find themselves in the same situation as they were with their son, by starting the "Andrew Holland Foundation."
"If we could have a situation where they were identified and separated and taken to treatment instead of incarceration, it's not an issue of behavior, it's an issue of brain disease," Carty said.
County's progress
Simultaneously, the County is working on a separate endeavor known as the "Stepping Up" initiative. It's a national program aimed at reducing the number of mentally ill inmates who end up in jail. SLO County District 3 Supervisor Adam Hill says he wants there to be a public commitment so the public can see the county is seriously taking steps to make sure something like Holland's death doesn't happen again.
"It's not different in terms of the way it should be addressed in a general sense of a physical problem," Hill said. "If you don't take care of a problem that you're having, cancer or anything else, you're going to get sicker. If you don't treat mental illness and try to get to it as early as possible, it gets worse."
The initiative was approved by the board in October. At the Board of Supervisor's meeting on December 5, a full plan for the initiative is expected to be presented by a task force with the San Luis Obispo County Sheriff's Office.
SLO County Sheriff's Office on making changes
It's been stated that the San Luis Obispo County Jail is not equipped to treat mentally ill inmates, which is why Sheriff Ian Parkinson says he formed the Sheriff's Task Force, a group that has evolved into the planning group for the Stepping Up initiative.
Currently, medical and mental health professionals who provide medical services to inmates work for the Public Health Agency.
"So as they come in, they come in through a medical screening, and if they have mental illness issues or they've had prior contacts for that, they're seen by mental health therapists in the jail and that therapist connects with both county mental health services and or maybe even public services that are appropriate for the inmate when they get out," Parkinson said.
Parkinson says his plan to bring the initiative to the county started in January when several officials from the Sheriff's Office attended a conference on it hosted by the California State Sheriff's Association. Coincidentally, it was the same weekend Andrew Holland died.
"This is a problem that's not only experienced in all of the counties in California but it's nationwide, so it's a nationwide drive to look at ways to keep people out of jail suffering from mental illness," Parkinson said.
The county jail is not designed to treat mentally ill inmates. Still, out of the 600-700 inmates, around 40 percent suffer from a mental illness, according to Parkinson. That's roughly 250 men at any time. Parkinson says he wants to expand the facility to create a mental health unit that could potentially hold up to 48 inmates.
"The idea is to kind of remove that jail environment, turn it into a treatment environment and we have the facility for that. It's going to take some remodeling, which will be underway very soon because this is obviously a problem that can't wait," Parkinson said.
Plans and proposals for funding the facility will be presented at the December 5 Board of Supervisors meeting.
SLO County's Psychiatric Health Facility
Holland was in jail several months before his death. He had been in custody since September 2015, charged with resisting arrest with force, battery on a police officer, battery, and a probation violation.
Reports show that on the weekend of January 21, Holland was placed in the restraint chair because he wouldn't stop striking himself.
The jail wasn't the only facility in the county that could have taken him. However, logs obtained by KSBY through a public records request show that the SLO County Psychiatric Health Facility was full that weekend.
There's not much room there to begin with. There are only 16 beds to treat patients coming from hospitals and the jail. KSBY asked Anne Robin, SLO County Behavioral Health Administrator, why the facility didn't take Holland.
"Many people had different pieces of information and we didn't all collectively have the same information and that's where some communication broke down to really facilitate what might have been a different process that weekend," Robin said.
Since Holland's death, Robin says the process to get inmates into the facility has been expedited.
"Since then we have sped up and anyone who is declared incompetent to stand trial who has a misdemeanor within generally 24 hours," Robin said.
Moving forward
KSBY asked Sheriff Parkinson had these changes been in place prior to Holland's death, would he still be alive today?
His answer: "Sure. I think that's the purpose of the changes. You never want to make changes based on something tragic that happens."
Carty and Sharon Holland support the county's changes, particularly the proposed installation of a mental health facility at the jail, even though they'll come too late for their son.
"Actually, he'd be home right now," Sharon said.
Since he can't be, his family will continue to advocate for those who have a chance at coming home.
"We're not the only ones who have suffered and we know that," Sharon said. "But we don't want this to be lost either."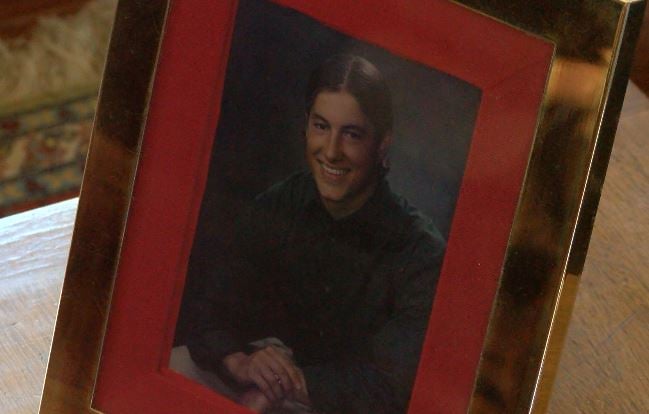 Andrew Holland died after spending 46 hours in a restraint chair at the San Luis Obispo County Jail. (KSBY photo)