A building that was set to be turned into a transitional shelter was destroyed in a fire early Sunday morning in Santa Maria.
The owner, Jeff Jeffery, says the building, located at 819 W. Church Street, was supposed to be a safe transitional living home for more than 13 people at a time. Construction on the clean and sober living facility was reportedly in its final phases.
GoPro footage from first responders caught Sunday morning's firefight in action.
"We don't always pull up on a fully engulfed structure," said Battalion Chief Mike Farmer, Santa Maria Fire Department. "This fire had been burning for some time before it was reported so it was different for our crews when they showed up."
Firefighters tried to save what they could as Jeffery watched from the sidelines.
"I was numb," said Jeffery, of D&J Counseling and Support Services. "I never expected in a million years that this would be something I would be talking about or dealing with."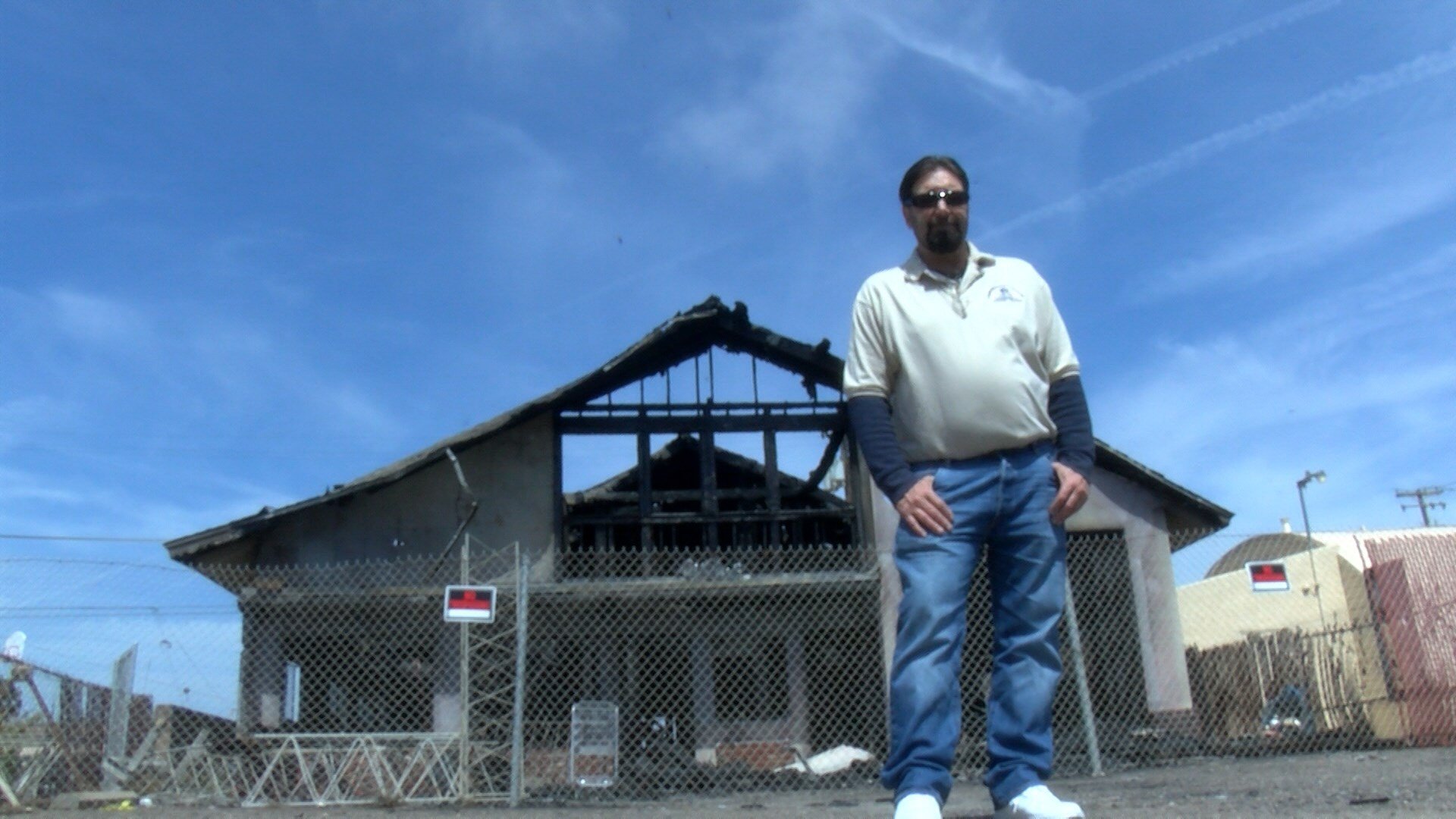 Jeff Jeffery stands in front of the burned building he planned to turn into a transitional shelter. (KSBY photo)
Crews dumped thousands of gallons of water on the property, but it was deemed a total loss.
"It's tough. No one plans on waking up that day and finding out you are starting from scratch," Jeffery told KSBY News. "The day before, we had evicted some homeless people that had broken in and set up camp. We did it politely and as nicely as we could."
The cause of the fire is still unknown and under investigation; however, Jeffery says the group of transients had moved back in that same night, leaving their belongings burned in the ashes.
"They had their shopping cart, bicycle frames, living compartments upstairs," Jeffery said. "But this has not deterred us in the least. The irony of the whole situation is the fact that this was going to be transitional living for homeless, for the reentry people coming out of prisons and jails and for the substance abusers in the community."
Jeffery says the setback won't stop him from helping the people who need it the most. He plans to rebuild.
"It was a priority and now it's of the utmost importance," he said. "We are not discouraged, we are not put back, we are probably going to take a significant loss, but the community wins if we stay on track."
When Jeffery does rebuild, he says residents would be those who are non-violent offenders in recovery from drugs or alcohol. The facility would be staffed 24/7.
To read more about the plans for the property, click here. However, these plans may change now that the building will have to be demolished.
Jeffrey also runs two other shelters in Santa Maria. He has set up a GoFundMe account to help pay for the cost of rebuilding the burned-out building.