A large beehive and the thousands of bees that called it home were removed from an apartment complex in Pismo Beach on Tuesday.
The hive, which was estimated to be about three feet long and a foot wide, was removed from a tree at the Sea Haven Apartments on Addie Street.
It's believed the hive had been in the tree for a year or two. Apparently, nobody noticed until a large swarm of bees was seen leaving the tree on Monday.
Bee steward John Hupp says it's likely one group of bees was moving out of the hive and another group was moving in.
Hupp was called in to remove the hive and the bees.
"These bees don't need to be killed," Hupp said. "In our area, there's very low incidents of Africanized bees. These bees are obviously very gentle even though I've just taken their house completely apart and moved it into a box."
The box, also known as a Langstroth hive, can hold as many as 40,000 bees. Hupp says it will be moved to a local apple orchard where the bees will have plenty of apple blossoms.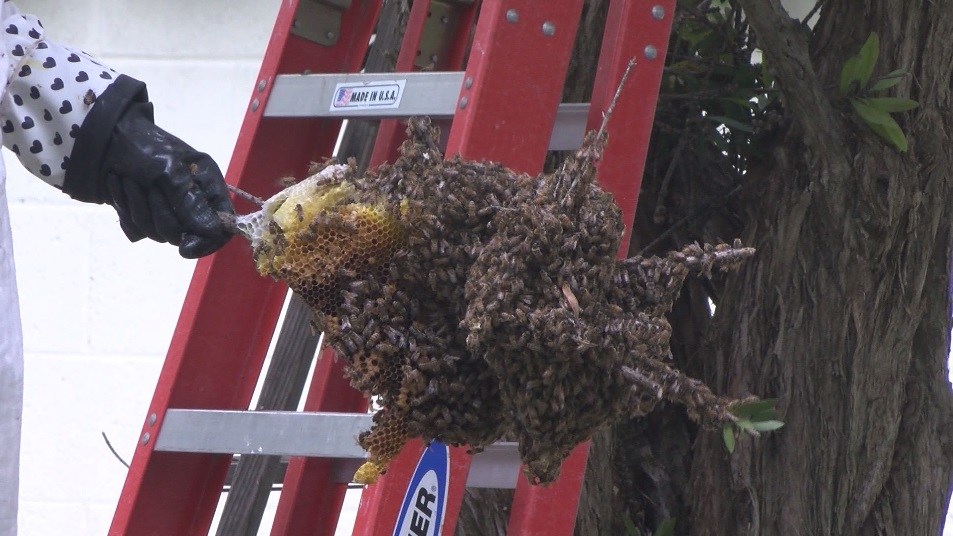 Part of a beehive removed from a Pismo Beach apartment complex. (KSBY photo)