Monday afternoon, Cal Poly announced the temporary suspension of the Lambda Chi Alpha fraternity after a photo depicting a member with his face painted black at a fraternity event went viral on social media.
Fraternity members were called into question over the weekend, which was also the Poly Cultural Weekend, after it and a second photo from the event were widely shared.
"You can paint your face red, you can paint your face blue, but if you paint your face brown or black, it is blackface," said Anika Kokatay, a junior at Cal Poly. "It's very, very, very obvious when someone paints their face black, like, they know exactly what they're doing."
"I really didn't think that thing would kind of still happen around here," said Sachin Shenoi, a junior at Cal Poly.
Both students identify as belonging to the population of minority students on campus, and both were shocked when they saw the photo shared online.
A statement from Lambda Chi Alpha, shared with KSBY by a student, states the fraternity was taking part in a brotherhood event.
"This event was a competition between teams in which each team was represented by a different color (i.e. Red, Blue, Green, Black, Yellow)." As part of representing his team's colors, the member painted himself black.
Many students think otherwise.
"It was very obvious. At least, I think anyone could look at that and think, 'OK, this was definitely not some, like, colored sports-themed party that they were claiming it to be,'" Kokatay explained.
The fraternity apologized in their statement saying, "We take full responsibility for the lack of regard when dressing up for our most recent event."
But many students have a hard time accepting that.
"I did see this other picture where they were all dressed up as like gangsters, you know, saying it was a gangster party. So that kind of makes that (statement) less believable," he said.
In that second photo, the caption reads, "she want a gangster not a pretty boy."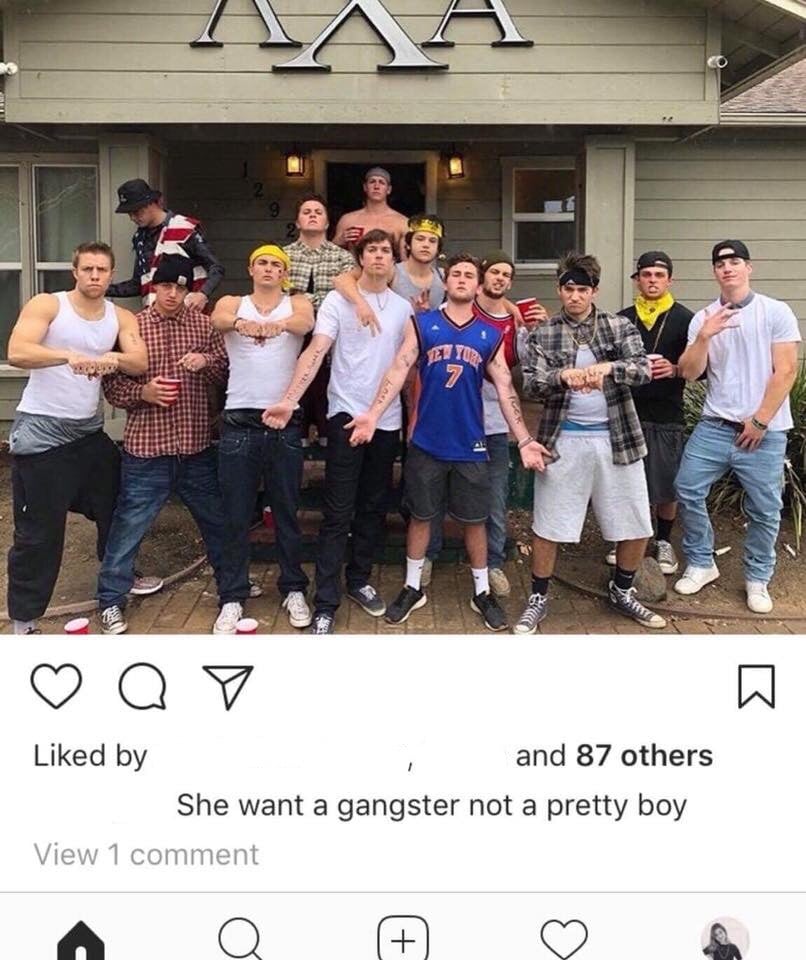 "They probably should have just owned up to it instead of saying that, and now to have this whole gangster party thing coming out just makes it look worse for them," Shenoi said.
A statement from the university regarding the photos states:
"The university finds deplorable any acts that would seek to hurt, offend, intimidate, or frighten any member of our campus community. The university is aware of the posting and is investigating the matter at this time."
To read the full statement from the Cal Poly Lambda Chi Alpha chapter, click here.
To read the full statement from the president of Cal Poly, click here.
Related content:
Fraternity apologizes for controversial photo taken at brotherhood event