The man accused of being the Golden State Killer did not enter a plea during his first court appearance on Thursday.

Joseph James DeAngelo, 72, was arraigned Friday in Sacramento County Superior Court on two counts of murder.

He was handcuffed in a wheelchair and five police officers surrounded him as he listened to the judge with his eyes barely open.

A court official read the details of the charges that DeAngelo is facing and a judge asked if he had a lawyer. In a frail voice, DeAngelo responded, "I have a lawyer." An attorney from the public defender's office was with him in court.

Joseph James DeAngelo appears in a Sacramento courtroom for his arraignment on murder charges. (NBC photo)

DeAngelo appeared in a wheelchair and was wearing an orange jumpsuit.

He has been denied bail.
The Sacramento County sheriff says DeAngelo is on suicide watch and has been talking to himself.

Sheriff Scott Jones said Friday that DeAngelo was being held in a psychiatric ward of the county jail and has said little. Jones says there's been "quiet reflection" and mumbling.

Jones says investigators are sifting through every item, receipt and piece of paper from DeAngelo's home. They're searching for any possible clues to tie him to more than 170 crimes authorities believe he may have committed.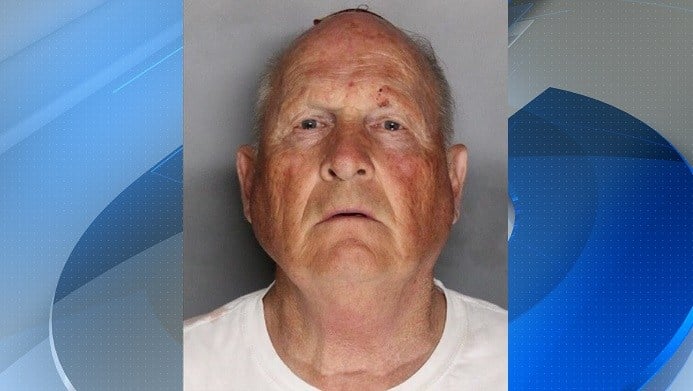 Joseph James DeAngelo

Investigators suspect DeAngelo is responsible for the deaths of at least a dozen people and rapes of 50 women from 1976 to 1986.
Jones declined to discuss the DNA method used to identify DeAngelo. However, one of the main investigators in the case says his team used a public DNA matching website.

Lead investigator Paul Holes tells the Mercury News in San Jose, California, that one of his team's biggest tools was GEDMatch, a Florida-based website that pools DNA profiles that people upload and share publicly.

GEDMatch is a free site where users who have DNA profiles from commercial companies such as Ancestry.com and 23andMe can expand their search for relatives.
Major companies, such as 23andMe and Ancestry, do not allow law enforcement to access their genetic data unless they get a court order.

Holes says officials did not need a court order to access GEDMatch's large database of genetic blueprints.
The company says it had no idea its service was involved in the hunt for one of California's most elusive serial killers.
GEDmatch said in a statement Friday on its website that it was never contacted by law enforcement or anyone else about the case or the DNA profile that was used.

GEDmatch says it has always informed users that its databases can be used for purposes other than genealogical research.