Police say it's a growing problem in Santa Maria — transients breaking into private property.
One Santa Maria family just bought a new house and came to find that someone had broken in and made themselves at home before they were able to move in. Neighbors say they caught trespassers multiple times leaving crack pipes and other belongings behind.

Santa Maria police say they've been responding to vacant home break-ins two to three times a week, consistently over the last several months. Officers have to kick the people out and arrest them. Meanwhile, homeowners often finding drug paraphernalia and a mess to clean up.
The Butterfield family says they fear the person who broke into their house will come back again when they are home.
"It just creeps me out that somebody was in their rooms, walking through the house. They know the floorplans and they just know our house a little too well," said Stephanie Butterfield, homeowner.
Butterfield is the new owner of a home off of Santa Maria Way. Her family has been remodeling it. The day after the sale, they found someone had broken in.
"It looks like she went around the house and took off every possible screen she could take off and ended up finding the one window that was unfortunately not locked," Butterfield said. "She had belongings in my bathroom. All of our drawers were filled with makeup, necklaces, soaps, shower head, shampoo and conditioner, and her clothes were hanging in the closet and we just found shoes scattered throughout the house."

Personal items left in a drawer of the Butterfield home. (Photo courtesy Stephanie Butterfield)
"Over the last several months all over the city we've seen individuals moving into vacant residences to kind of inhabit at random," said Lt. Russell Mengel, Santa Maria Police Department.
"My dad and my kids were here on Easter morning and we were letting them explore and play," Butterfield told KSBY News. "My dad was in the playhouse with the kids and he came walking out with a crack pipe, which was really disturbing to me because that's where my children are playing."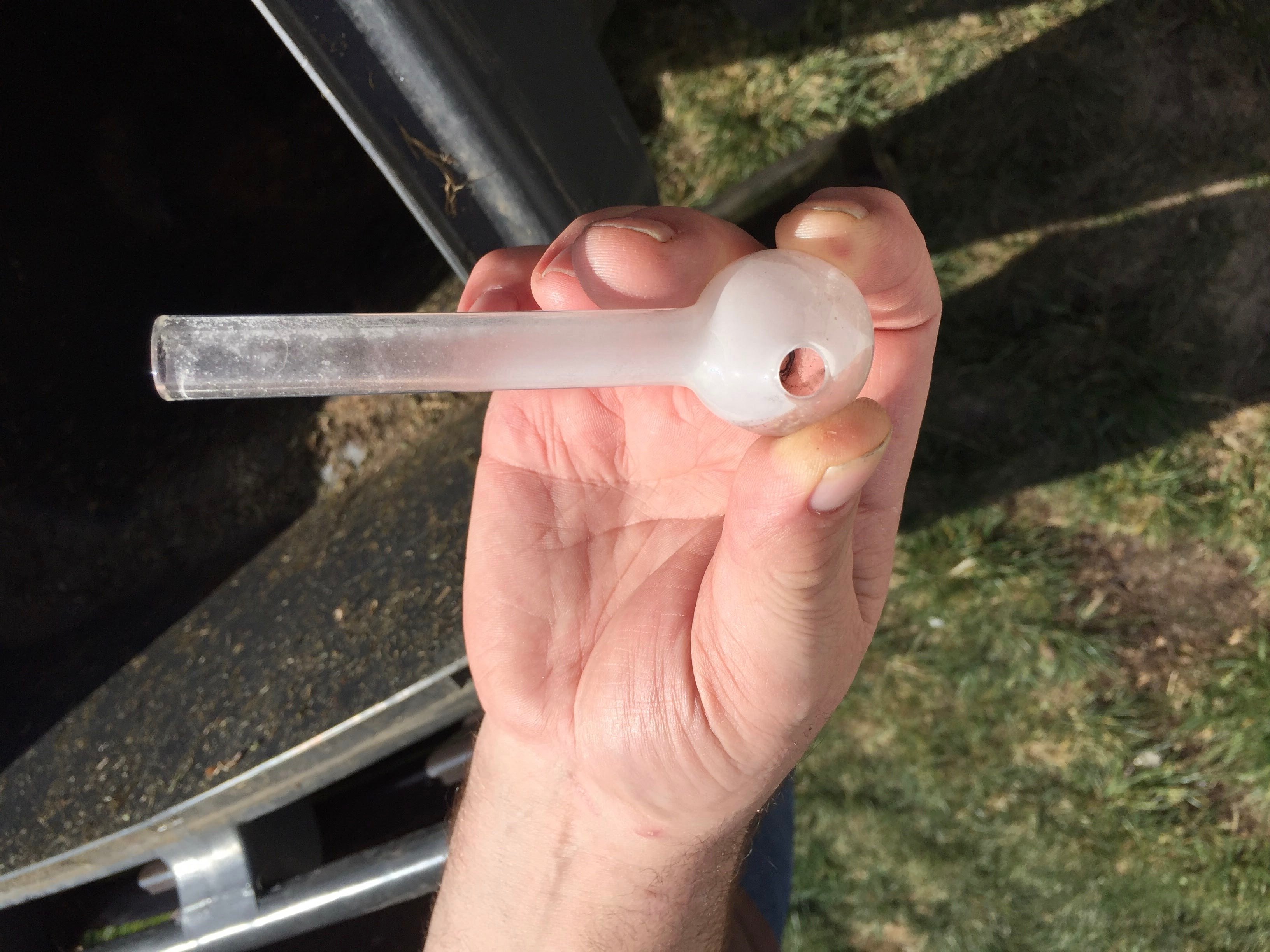 A crack pipe found in the children's playhouse. (Photo courtesy Stephanie Butterfield)
Butterfield's neighbors say they caught a woman, pushing an empty stroller, attempting to break in three more times. She was unsuccessful in those attempts because everything was locked up.
"We have the security system now so any door or window that's opened, the police will be alerted," Butterfield said.
They are also investing in security cameras.
Just yesterday, Butterfield says the woman came back while she was painting inside alone. Neighbors caught her on video.

Neighbors captured video of a woman apparently trying to enter the Butterfield home.
"She walked right up to my door and I was standing on the other side of the door," Butterfield said.
Police would go on to arrest the woman for trespassing for the fourth time in two months. They say this is happening to many empty homes in Santa Maria.
"Most of them have some type of substance abuse issue so they don't qualify for other housing options in the city, but it's a lifestyle choice," Lt. Mengel said.
Butterfield is also pushing for more options for mental health assistance around the city.
"It hits close to home and it's a difficult situation," she said. "I feel for the lady but she's also put fear into my family."
The family got a restraining order against the woman. Police say when they do arrest these individuals, they're often just cited for a misdemeanor and return back to the street, the pattern continuing.
"I'm fearful because my kids are here and I'm afraid somebody is going to go through their window, cause them some fear that they don't need in their lives," Butterfield said.

Police say you should always close and lock your windows, even if you're home, when you're done using them. You can also call the Santa Maria Police Department to be added to the extra patrol list.
"Give us a call, we can add it to the extra patrol list and we send officers by to check the residence and to make sure someone hasn't moved in," Lt. Mengel said.
Santa Maria police also say the transient population in Santa Maria has actually decreased.