San Luis Obispo County voters will decide on June 5 who they want as their next sheriff.
KSBY hosted a live debate between incumbent Ian Parkinson and his challenger Greg Clayton Wednesday night to discuss key issues for the community, including recent inmate deaths in the county jail.
After Andrew Holland's death inside the San Luis Obispo County Jail, Sheriff Parkinson and Clayton agree on one thing: change needs to happen.
"It's time to stop the deaths. It's time to stop the lawsuits. It's time to stop the million-dollar payoffs," Clayton said.
"We need to change our system. We have over 900 people in county jails that have been ordered to state hospitals today and cannot go there," said Sheriff Parkinson.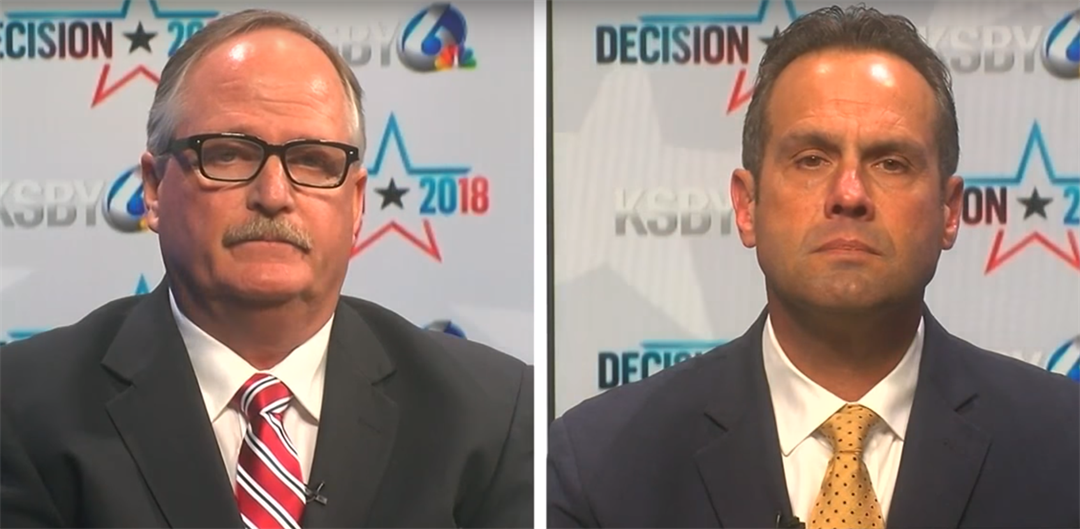 Challenger Greg Clayton and incumbent Sheriff Ian Parkinson (KSBY)
Clayton, a former police officer, says that change requires new leadership.
"I'm not a career politician. I've never before sought local office. I'm a local citizen who had the courage to stand up to address the issues that are facing the department," said Clayton.
Sheriff Parkinson claims Clayton doesn't have the experience necessary to run the sheriff's office.
"He has no history of supervision or management that would support that he has knowledge of any of this stuff," Parkinson said.
The two discussed changes in jail protocol after the death of Holland, a schizophrenic inmate who had allegedly refused medication.
"We got our first ever chief medical officer that reports directly to me. This brought it down to one person in charge of mental and medical. I think that was a huge step. We have received almost $3,000 to help create a mental health unit in the jail and, most importantly, how we increase our staff with a number one goal from the county of providing better and more appropriate service under one control, and that is under the sheriff," Parkinson said.
"The Stepping Up Initiative was launched nationwide in 2015. By December 2016, 26 California counties have adopted the initiative and implemented the changes. A month later, Andrew Holland is dead. Why? San Luis Obispo was late to the show. They had not adopted the Stepping Up Initiative in January of 2017 after 26 other counties have led the way – a little too late for saving Andrew Holland," Clayton said.
In closing, the two explained why they deserve your vote.
"We need to treat people with respect. We need to treat them fairly. We need to make sure, when people are being incarcerated, that they are treated with care because they are in our custody," Clayton said.
"If you look on my website, you'll see the things we've accomplished. Saving taxpayer money, doing things that increase service. I've just taken over 100 employees taking over jail medical, mental health. I'm very excited about it because I think we can really make a difference," Parkinson said.