Math and physics are key elements to figuring out what happened in a crash investigation, but not every officer is able to solve the case.
A small, elite California Highway Patrol crash investigation team has a big impact on how major crashes are reviewed. They're based in San Luis Obispo and cover seven different counties, supporting more than two dozen police departments.
They're called the Multidisciplinary Accident Investigation Team (MAIT). These specialized CHP officers have to go through very intensive training to learn how to specifically break down what happened in a crash. There are only 40 full-time MAIT investigators in California.
They've responded to multiple incidents in our area, including the death of firefighter Ryan Osler near Lompoc and multiple crashes along highways 46 and 166. Recently, they were called to the Nojoqui Grade, where a crash involving a CHP officer shut down Highway 101 for more than 8 hours.
"When people run into us, they've never seen our emblem, they've never heard of MAIT," said Rob Grindy, MAIT Investigator.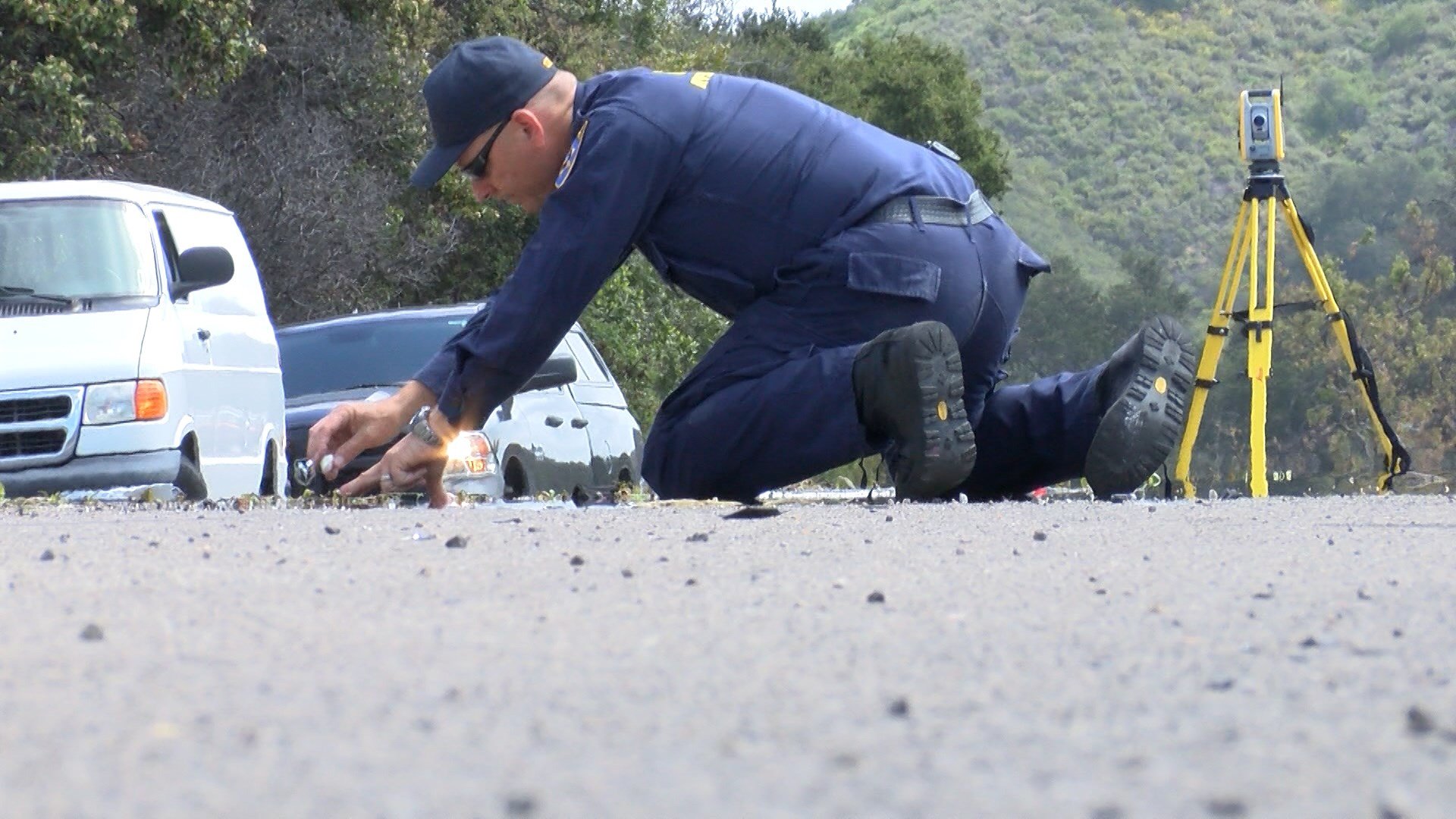 A MAIT investigator at the scene of a crash on the Nojoqui Grade. (KSBY photo)
These CHP investigators crawl underneath cars, snapping photos at every angle and chalking tire skid marks in the middle of a highway, all for an in-depth look at a scene. These elite officers solve cases other officers can't.
"This is a craft that not a lot of people have a stomach for or have the tenacity for," said Scott Peterson, MAIT Investigator. "It's very technical. We spend a lot of time reading and studying. You have to be physics-minded, mathematically minded."
They only respond when it's something big, maybe five active crash scenes a year.
"There's a narrow set of criteria that we respond to instantly," Peterson said. "Officer-involved pursuits or fatals, officer-involved shootings, officer-involved deaths, plane crashes or anything that exceeds the local area to handle."
A small team is based in San Luis Obispo. They respond to crashes from the Los Angeles County line north to the San Jose city limits, covering more than 300 miles. They are the state experts in collision reconstruction.
This group of five investigators includes one Motor Carrier Specialist, one CHP sergeant, two or more CHP officers, and one Senior Transportation Engineer from Caltrans. CHP has eight MAIT teams across the state.
"My expertise is the mechanical aspects of the vehicles. I perform in-depth mechanical inspections on the vehicles that were involved in the crashes," said Larry Iunker, MAIT Motor Carrier Specialist.
"We look at the skid marks, the gouges of the asphalt, where the glass is located and ultimately where the vehicle has ended up," said Sgt. Jason Bronson, MAIT Investigator. "Once you apply everything measured accurately on a physical evidence diagram, then you can take that vehicle and plot it along the evidence. The evidence will show you what that car did through the collision sequence."
According to MAIT officials, there are 7,600 uniformed personnel across the California Highway Patrol and only 100 certified investigators with the MAIT team, just a little above 1-percent.
"I love figuring out exactly what happened," Grindy told KSBY News. "As a road officer, you get to show up to the scene, help people and do the community services aspects. You can figure out kind of what happened with the crash and who was at fault. With MAIT, you get to figure out the how and why."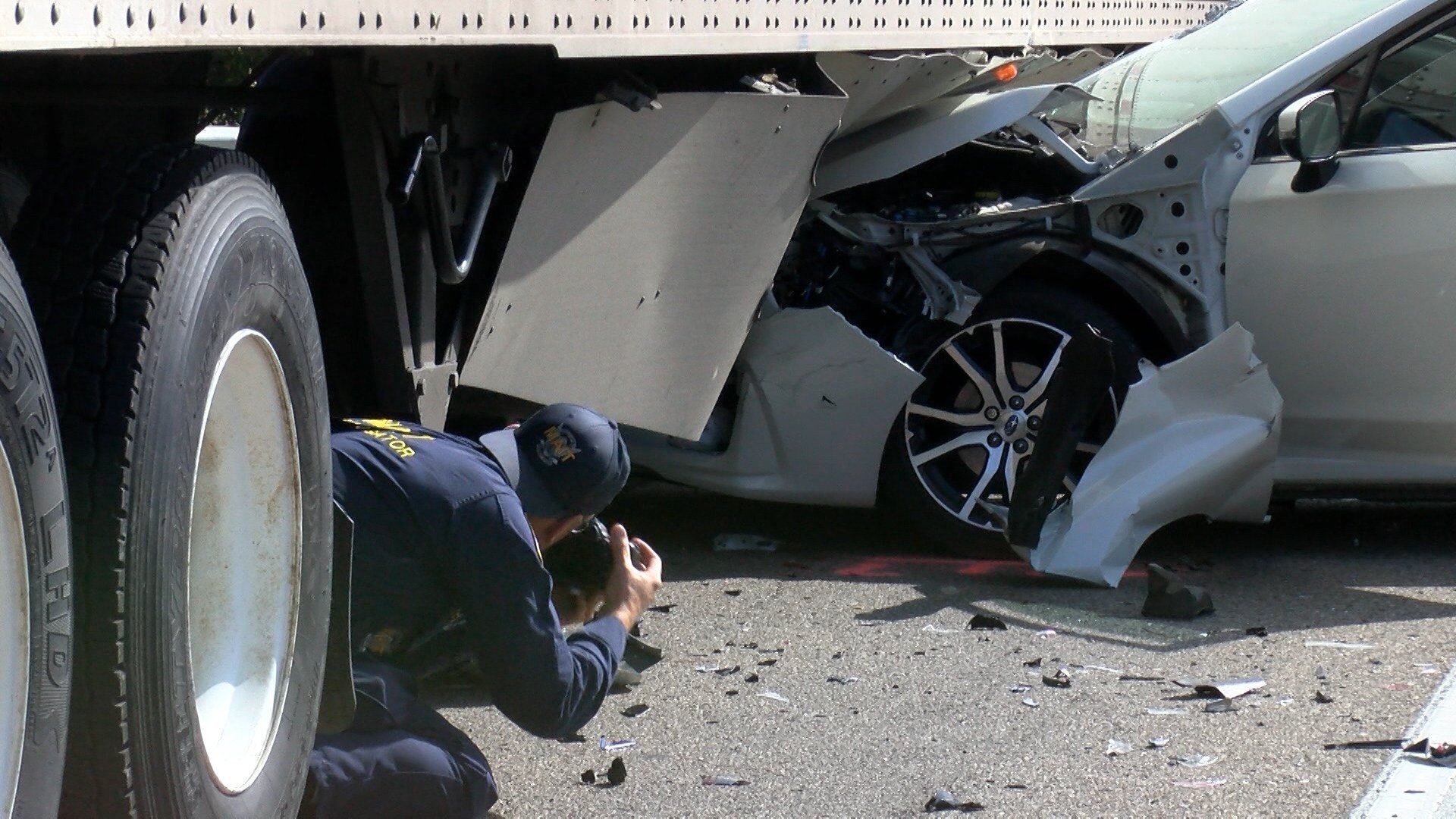 A MAIT investigator takes pictures of a crash scene on the Nojoqui Grade. (KSBY photo)

"We spend a lot more time taking photos, looking at the roadway marks, the evidence, the scars, the skids so we can put it together to formulate an opinion," Peterson said.
They analyze everything using math and physics, then offer an opinion to the district attorney's office, often testifying to juries.
"We are geeks, we are dorks, we like math and physics, things that other people don't necessarily want to spend the time on and shy away from," Grindy said.
They don't write tickets, they don't give life-saving aid but they do help get justice for families who are hurting.
"The end result of being able to put people away for a long period of time when they have committed a crime and are guilty of it, there is the satisfaction that comes with that," Grindy said.

This group can figure out if someone was wearing a seatbelt, how fast they were driving, or if something happened with the car's motor functions. They also respond to cold scenes, so when a county wants to go to trial years after an event, they go back and recreate the scene.
The MAIT investigators go through twice the amount of training that a normal CHP officer would, including yearly training for weeks at a time.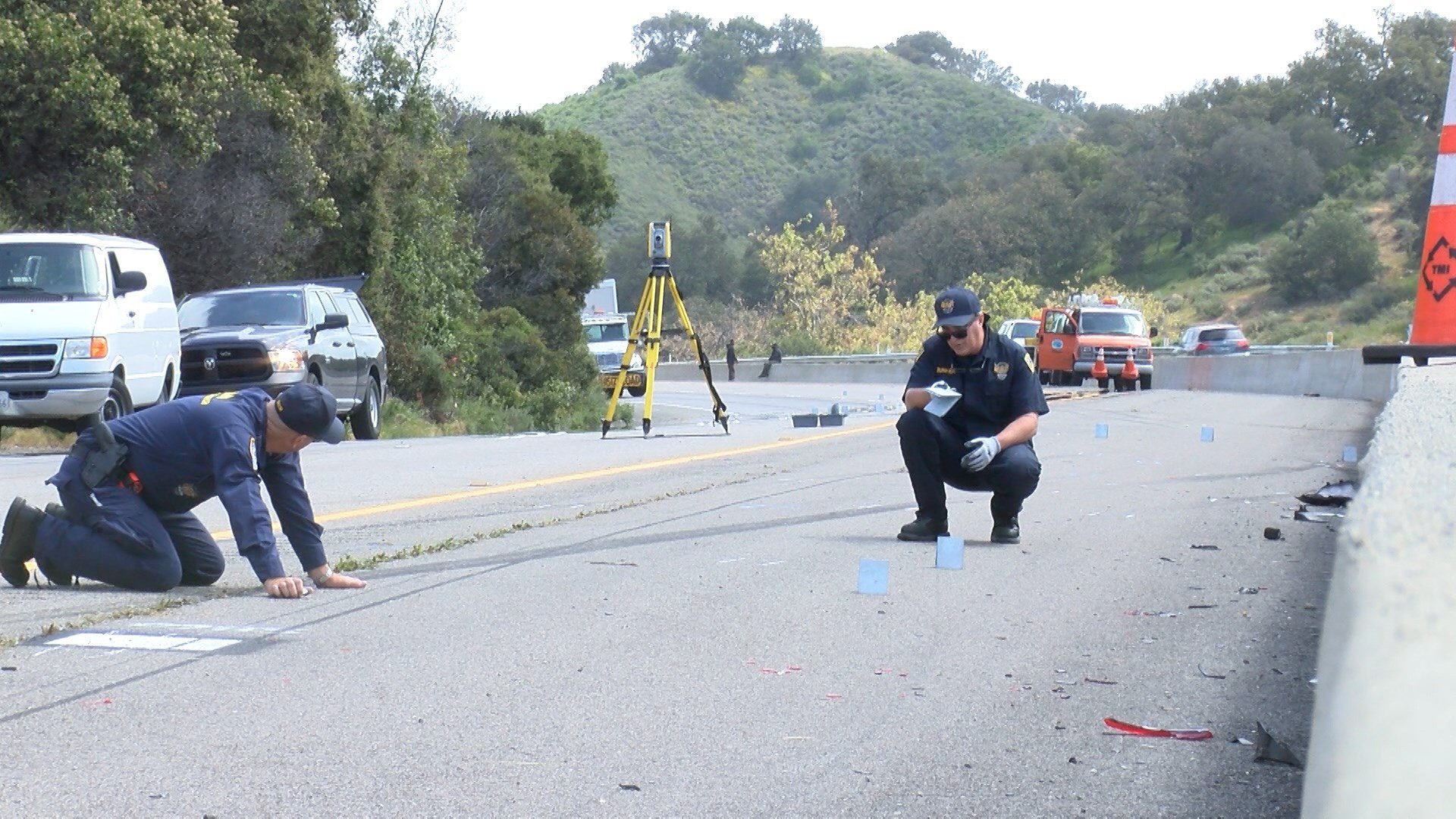 MAIT investigators map out evidence at the scene of a crash on Highway 101 near Buellton. (KSBY photo)
"We have a lot of education, a lot of training. I've been doing MAIT work for over 20 years," Peterson said. "I'm exactly where God has placed me. He's gifted me with a unique set of eyes to see technical things different than a lot of people."
"The police officers on scene may know who hit which car but we get to explain via math and physics exactly how these things took place and explain them in a way that is logical that we can prove on the stand, and there is a sense of justice with it, too," Grindy said.
The MAIT program was funded in 1979. Regular CHP officers go through six months of training at the academy in Sacramento. MAIT members then have to go through 90 hours of basic accident investigation, one week of intermediate accident investigation, two weeks of advanced accident investigation, then six weeks of training just on the math and physics of traffic incident reconstruction.
Following the training, they are then considered apprentices within the MAIT program underneath the guidance of officers. After that, there is yearly training for weeks at a time incorporating new technology.