"What happened on the morning of May 25? What would make my son just vanish?" Those are questions Elizabeth Wilks still has a year after her son went missing.
Zacharey "Taylor" Wilks reportedly left Lompoc May 24, 2017 and was headed for Las Vegas to visit his uncle, but never arrived.

Zacharey "Taylor" Wilks
According to his mom, his cell phone pinged off a cell tower above New Cuyama for six hours before it shut off.
Lompoc police are in charge of the investigation into the now 28-year-old's disappearance. They say there have been no new leads since the original missing person's report was filed last year despite tireless efforts by not only authorities, but also friends and family.
"They've checked the area, they've checked the unincorporated roads in any possible way a vehicle could have driven and they've not been able to find any evidence of a vehicle off the road, vehicle parked, anything like that," Sgt. Kevin Martin with the Lompoc Police Department told KSBY News last week.
Martin says there have been four separate occasions where citizens have reported possibly seeing Wilks' vehicle, a 90's black Honda Civic with a California license plate number of 7SGR202. He says the detective still assigned to the active case has followed up on every single tip, but so far, they have not come any closer to finding the missing man.

There have been no reported sightings of Wilks' car, pictured above, since last May.
Alerts have been sent out to law enforcement agencies throughout the country. Martin says if authorities anywhere in the U.S. were to run Wilks' license plate or VIN number, Lompoc police would be notified immediately, but so far, there have been no hits.
"As a mother, I am broken. The mystery of my son missing is heartbreaking. We still pursue every lead and want someone out there to have a lead. I know there has to be one, no one just disappears," Elizabeth Wilks told KSBY earlier this week.
Friends and family have scoured Highway 166 in New Cuyama by foot, car and even with the help of drones. Last summer, the search also expanded into Maricopa in Kern County.
A gofundme account created to aid in professional search efforts has raised nearly $15,000 over the past 11 months.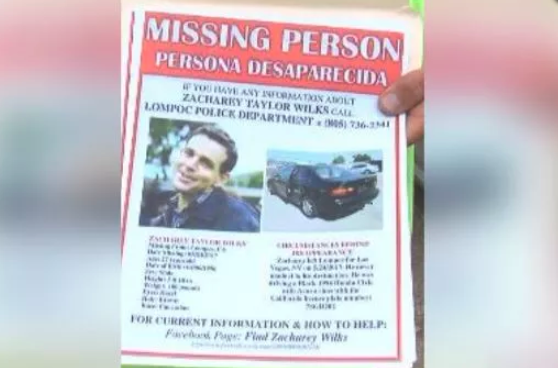 Friends and family last year placed flyers along the route Wilks was believed to have taken.
Anyone with information is asked to call the Lompoc Police Department at (805) 736-2341.
Related:
Search expands for missing 27-year-old Lompoc man
Search continues for Lompoc man, 27, missing for more than 2 weeks