With the holiday weekend ahead, outdoor enthusiasts have another option to explore. The hundreds of trails that were burned by the Thomas Fire have reopened.
However, first responders say there is a legitimate safety concern when it comes to possible search and rescues. Thousands of people used to use these trails, but now they haven't seen hikers in six months. Experts warn many look completely different than before.
In December, the Thomas Fire scorched more than 280,000 acres of land, burning the trails that many people used. Then the rains came in January and the mudslide washed them out.
Ray Ford is an expert when it comes to the Santa Barbara County trails through his work with the Los Padres Forest Association. He's surveyed 90-percent of the trails in the burn area since the Thomas Fire was contained in January.
"There are some places where it was dangerous enough that I didn't get to," Ford said. "Almost every trail has received enough damage to where they are difficult to use unless you use extreme caution."
Most people use the trails for hiking, mountain biking or horse riding.
"There are now steep slopes with no vegetation, which means that if you make any mistakes and you were to fall off the trail, you would get seriously injured," Ford said.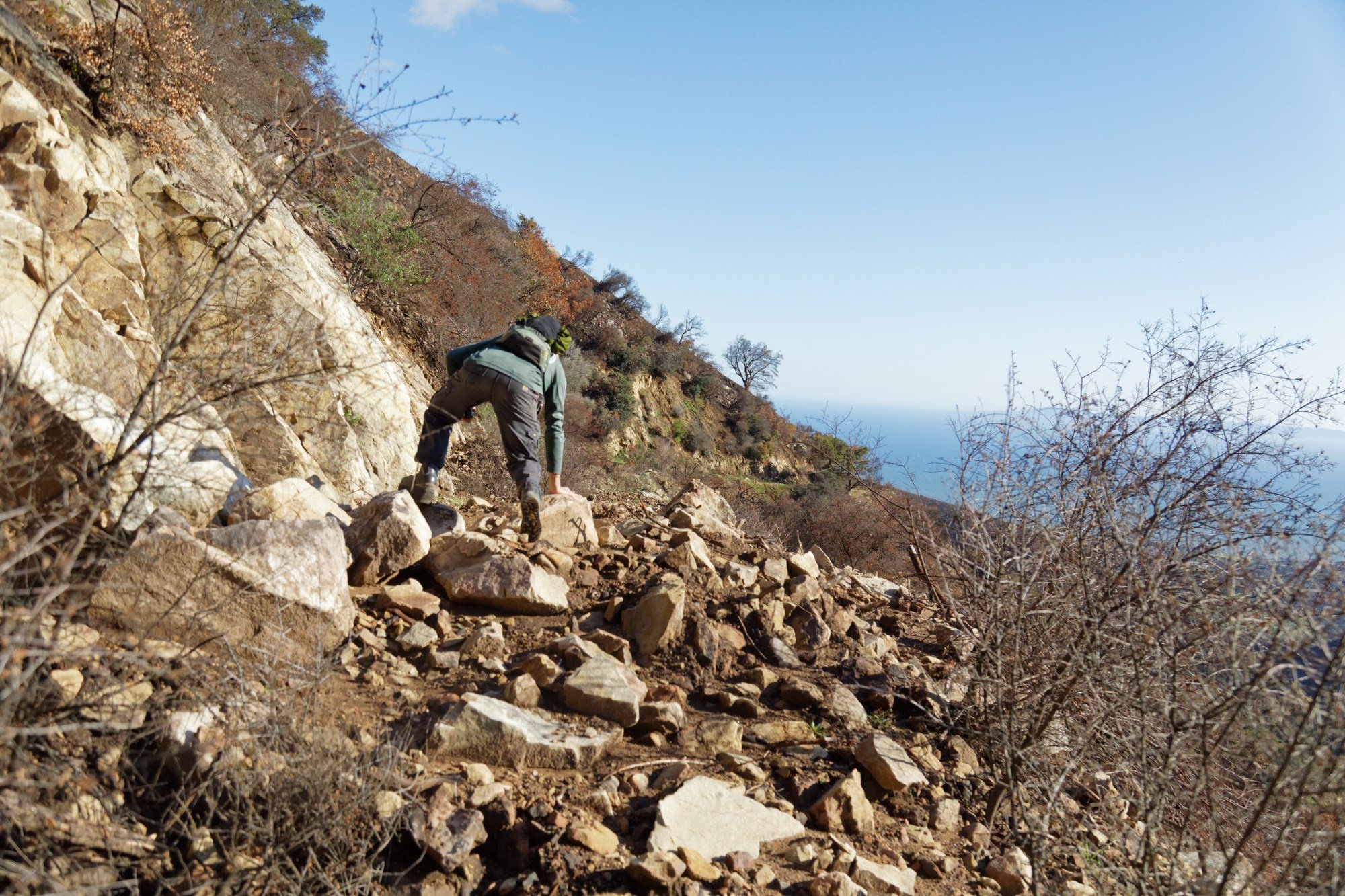 Many trails are covered in debris from the Thomas Fire and Jan. 9 mudslide. (Photo courtesy Ray Ford, Noozhawk outdoor writer)
"One thing is that the trails and slopes are very unstable. We haven't had a chance to get in and clear all of the trails," said Battalion Chief Chip Laugharn, Los Padres National Forest. "So often times the public will find themselves in a spot where there is a complete landslide or something else that we haven't had a chance to mitigate yet."
"There's just a tremendous amount of damage," Ford said. "They just don't look the same and you have to reorient yourself."
He recommends going slow and planning for extra time. Hiking these trails may take twice as long as before.
"It's going to be debris, loose rocks, slide material and lots of soft edges, which means you need to be really careful walking on the trails," Ford said.
"We really don't want to open this area to just more search and rescues so we are relying on the public to make the right decisions," Laugharn said.
They insist that you use the buddy system in case of an emergency. Plus, if you are going through the Montecito area, be cautious of rebuilding efforts.
"Parking is difficult, access to the trailheads is difficult, so you got to take a lot of care and respect the people that live up there," Ford said.
Some vegetation, like Sugar Brush and Rye Johnson Grass, has grown back but it's sparse and very fragile. Ford says not to let the beautiful wildflowers fool you, they don't yet have the full regrowth and rooting.
The Los Padres National Forest encourages people to go to areas like day use sites or campgrounds that were not affected by the fire.
Fire season has arrived and hikers should use additional caution.
"You could be in an area that could become in a fire or you could start a fire so obey our rules and regulations and be a steward of the land," Laugharn said.