School is out for summer, and while it may not be on your mind now, the Santa Maria Police Department is thinking about active school shooting situations.
This summer, Santa Maria police have significantly updated their school shooting response plans. That includes where they will take victims and where parents can be reunited with students.
The plans are very detailed and while we can't tell you everything for security purposes, police want to include the public in some changes they are making.
Police officers recently completed school walkthroughs, canvassing every inch of school grounds, looking for problem areas when it comes to a potential school shooter.
"It's a big responsibility, something we don't take lightly," said Mike Wheeler, SMPD School Resource Officer for the Santa Maria-Bonita School District.
Fence height, blind camera spots, and windows without shades are of concern.
"At the junior high and elementary school levels, we don't have any video surveillance cameras," said Monique Sandoval, SMPD School Resource Officer for the Santa Maria-Bonita School District. "A lot of times at the junior high schools, there's a lot of different fencing, some that are lower, higher, shrubs, bushes, holes in gates, different access hiding points."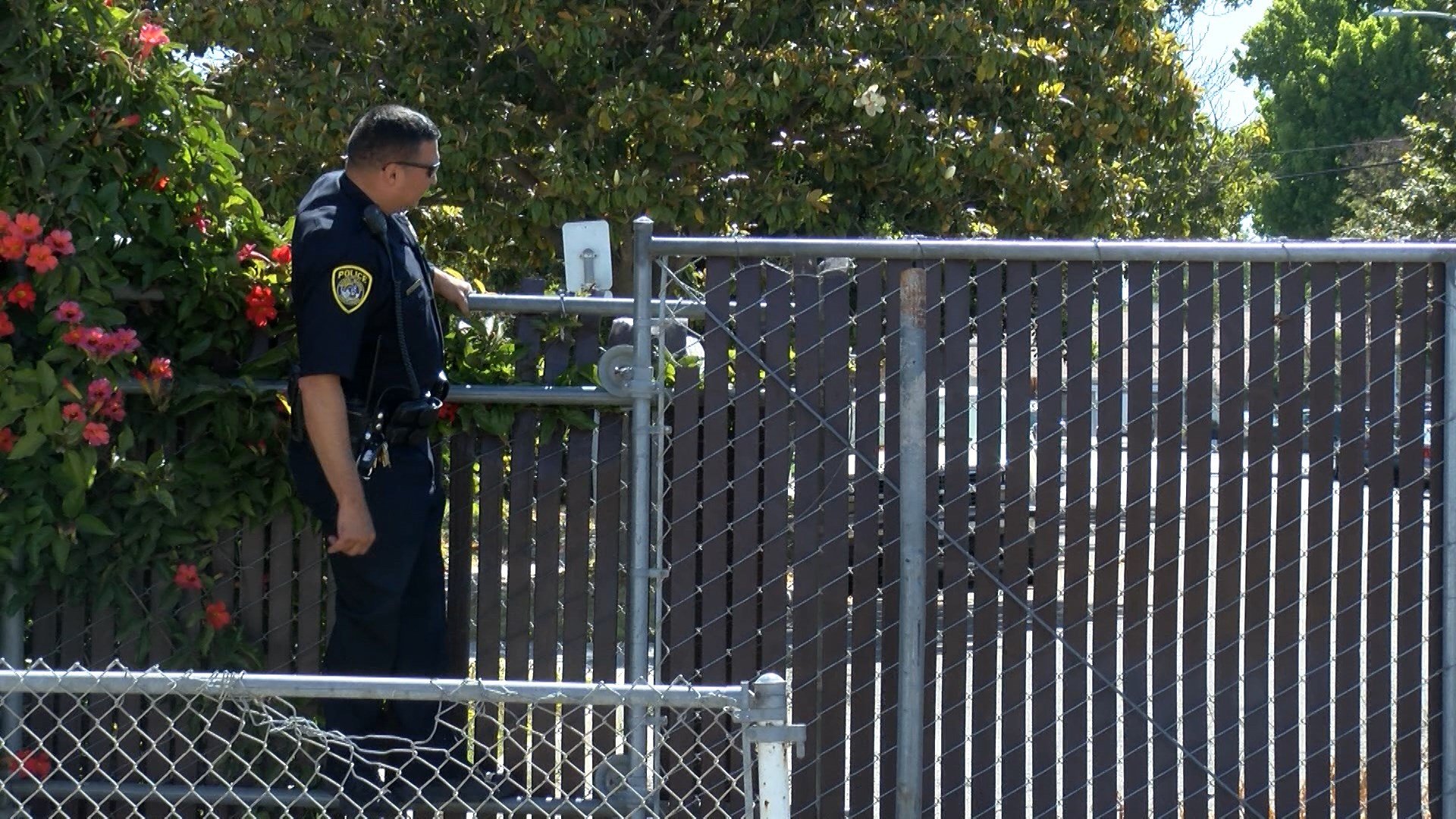 A Santa Maria police officer inspects the fencing at a local school. (KSBY photo)
The school district and police are also working to make sure locks are accessible by first responders. The changes are all in an effort to ensure parents that cops are prepared for the worst come fall 2018.
Plans incorporate city stakeholders. That includes the mayor, public works, city transportation, and parks and recreation.
Santa Maria High School Principal Joe Domingues says there will be more teacher and student active shooter drills each year. In the upcoming school year, they will be inviting parent leaders to the drills.
Police are trying to educate everyone about what to do if a school shooter enters campus. They'll be producing televised public service announcements, utilizing social media and hiring another school resource officer to cover the schools more adequately.
Police also have one main message for parents: "One of the hardest things and most unnatural things for the parents is, don't rush to the school," Wheeler said.
Police say parents should be prepared for streets to close down, blocking drivers' access to the school. Specific reunification sites will be set up elsewhere.
Santa Maria's school resource officers know it's their main job to confront a school shooter.
"My job is to run to the fire as they say," said Rafael Torres, SMPD School Resource Officer for Santa Maria High School.
"Our job is to stop the killing, so we will go address the killer and stop people from dying," said Sam Gwo, SMPD School Resource Officer for Pioneer Valley High School.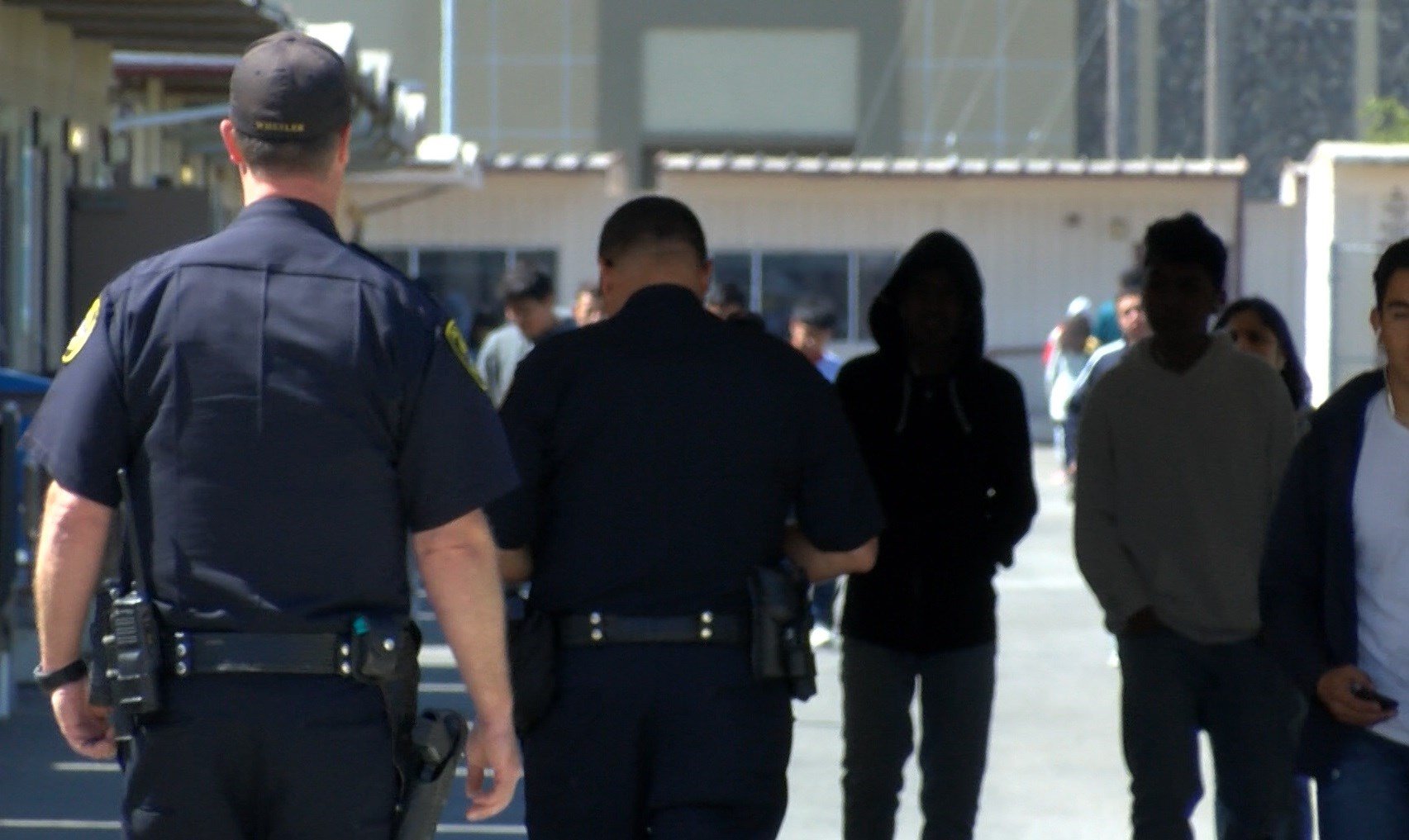 School resource officers walk school hallways in Santa Maria. (KSBY photo)
The school resource officers also want to remind you that they serve many roles while at the schools, such as "guidance counselor, listener, friend, and law enforcement."
"I think of them as my own children," Sandoval said. "The relationships that I've built with them is very strong and I'd do anything to protect them."
When school is back in session, every student is going to come home with a flier about what parents should do when there is a school shooting. They want everyone to be prepared.
Police are also encouraging parents to get social media accounts on Twitter and Instagram, then follow the Santa Maria Police Department's social media accounts. They say it will be the fastest way to get information if an emergency were to happen at one of the area schools.