The mayors of San Luis Obispo County's seven cities joined together Thursday to sign a Code of Civility, a promise to keep public discourse fair and open to different viewpoints.
"Civility is not about surrender or withholding emotion or stifling debate," said San Luis Obispo Mayor Heidi Harmon. "It's about standing up for our deeply held values and ideas."
The chair of the County Board of Supervisors, as well as some council members, also attended the meeting where the mayors signed the code.
The code includes these key principles: listen first, respect different opinions, be courteous, disagree constructively, and debate the policy not the person.
"We need to listen, then encourage people to speak and bring us their views, then listen to those views and consider them," said Arroyo Grande Mayor Jim Hill. "I've never met anyone I couldn't learn something from."
These mayors want the public to participate in community discourse but leave hate at home.
"There is a line, though, that we can create," Harmon said. "There are not two sides to racism, one where it's a valuable point and one where it's not."
Harmon said the public discourse has broken down and she hopes to help change that in this community.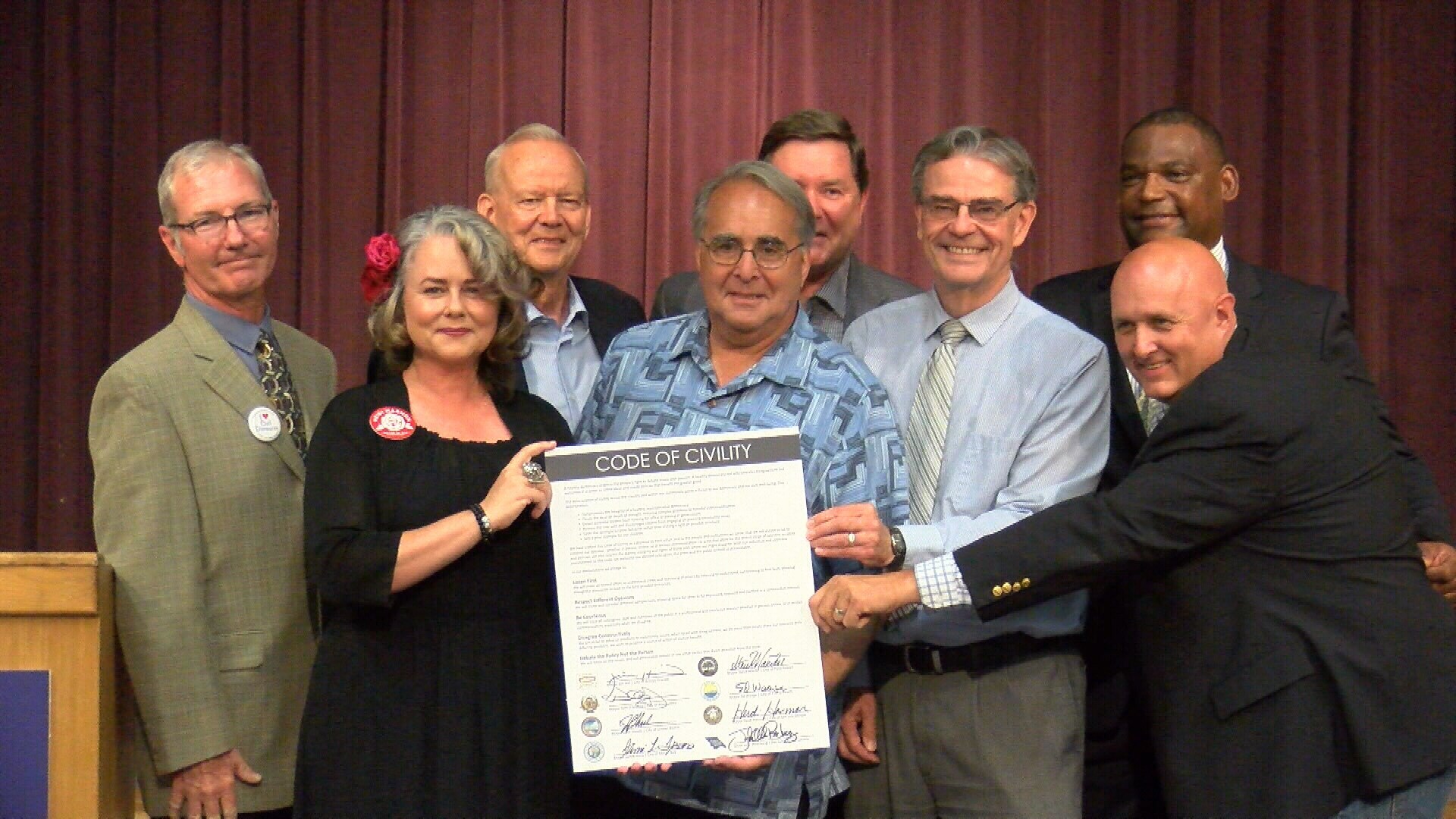 Jamie Irons, Heidi Harmon, Ed Waage, Tom O'Malley, Jim Hill, Steven Martin, John Shoals, and John Peschong pose for pictures after signing the Code of Civility. (KSBY photo)
Grover Beach Mayor John Shoals hopes this promise serves as an invitation for younger citizens to get involved.
"We want to see the new generation come forward and contribute in their communities and to continue to do that in a respectful way," Shoals said.
Harmon said Thursday's event, along with the code, were made public so mayors and elected officials are held accountable.
"Have a dialogue with them and say, 'I'm reading the promise you made and when you did or said this, I'm not seeing alignment with the promise and that concerns me.'"
Harmon said the goal of the Code is to call people up, not out.
You can view the Code of Civility in its entirety here.