Tickets are now on sale for the grand opening celebration for San Luis Obispo's new homeless services center.
Construction on the $5.4 million facility at 40 Prado Road is nearing completion. It's expected to open on Sept. 1.
To celebrate, Friends of 40Prado is hosting an event featuring Festival Mozaic Music Director Scott Yoo. There will also be local food and wine selections.
The celebration will be held on Sunday, July 15 from 3-6 p.m. Tickets are $125 and can be purchased online. Proceeds will go toward the homeless shelter's operational expenses.
The new 20,000 square foot homeless services center will combine the services previously provided through the Maxine Lewis Memorial Shelter and the Prado Day Center.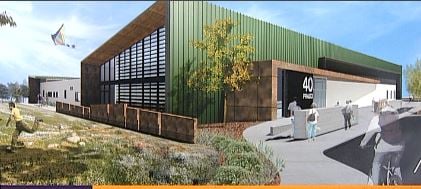 An artist's rendering of the 40Prado homeless services center.