If you've been to Atascadero Lake lately, you've probably seen the algae.
"It's really thick and it's everywhere you look, you see it, which to me is unusual," said Mary Ann Waiton, Templeton resident.
The lake is experiencing an algae bloom and it's raising some questions about the safety of the water.
"This is about the worst I think we've ever seen it with all this algae and scum growth on the lake," said local Gary Johnson.
"Early on in the season, we had a hot spell and that really helped develop some of the algae and once it develops it sticks around for a while and actually expands," explained Nick DeBar, City of Atascadero Director of Public Works.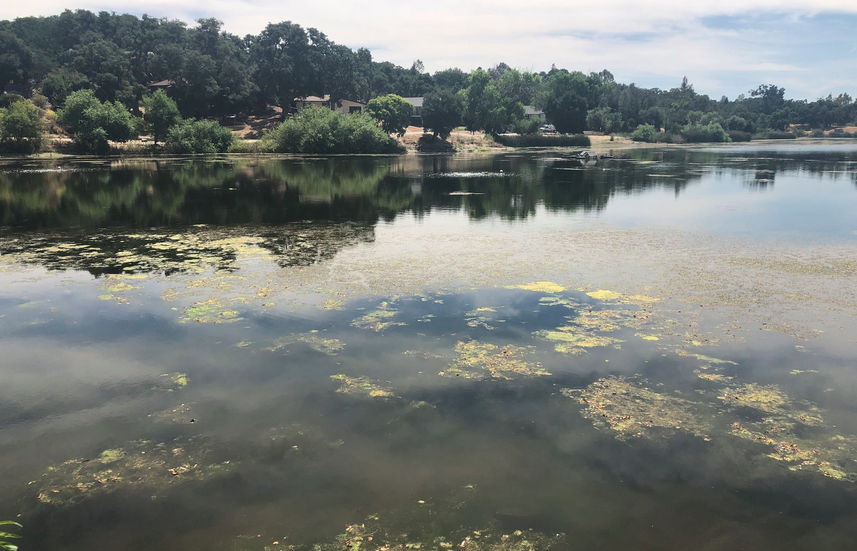 Algae is seen in the water at Atascadero Lake. (KSBY photo)
Located at the foot of the lake, Atascadero Paddleboat opened in the spring of last year. It rents out paddle boats, kayaks and more but has since closed shop due to the algae.
"I wouldn't go out on a paddle boat. I mean, I think it does look gross because part of being on the paddle boat, you're like sliding your hand along the water," Waiton said.
The owner says the algae not only clogs the paddles but it's unappealing.
Friends of Atascadero Lake agree.
"One concern is that it looks terrible but another concern is that it makes it difficult to use the lake," said Paul Murphy, Friends of Atascadero Lake President. "If you go out in a kayak or paddleboat, it's an obstacle course."
The city says it's working on a long-term algae bloom management plan. An aquatic pesticide permit application has been submitted to the State Water Board to treat the lake chemically. The soonest that can be done, if approved, is the fall.
The city is also considering raking the algae to get rid of it sooner, which has been done in the past.
"And you can throw the rake out with a rope on it and pull it in. It's simple," Murphy said.
The city says the process to secure a permanent solution will take a couple of years.
Officials add that the algae is not the toxic blue-green algae that the lake experienced last year.