Bishop Richard Garcia of the Diocese of Monterey died Wednesday morning due to health complications, according to the diocese.
Garcia was diagnosed with Alzheimer's disease in April. He was 71.
Garcia became a priest in 1973. Pope Benedict XVI named him the fourth bishop of the Roman Catholic Diocese of Monterey in December 2006.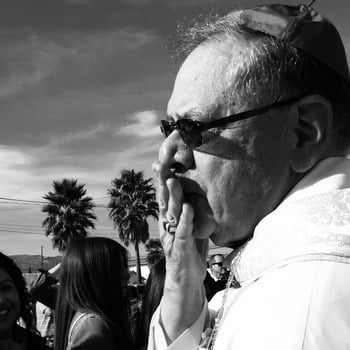 Bishop Richard Garcia (Photo courtesy Diocese of Monterey)
The Diocese of Monterey covers the counties of Monterey, Santa Cruz, San Benito, and San Luis Obispo.
Bishop Garcia's funeral arrangements:
Monday, July 16 – Body lying in repose

Location: San Carlos Cathedral, 500 Church St., Monterey
Time: 2 p.m.-8 p.m.
Time: 7 p.m. Evening Prayer

Tuesday, July 17

Location: Madonna del Sasso, 320 East Laurel St., Salinas
Time: Noon-8 p.m. Visitation
Time: 3 p.m. Rosary
Evening Prayer: 5 p.m. (for lay people, priests and religious from neighboring Dioceses)
Evening Prayer: 7 p.m. (for the general public)

Wednesday, July 18

Location: Madonna del Sasso, 320 East Laurel St., Salinas
Time: Noon-8 p.m. Visitation
Rosary: 3 p.m.
Evening prayer: 5 p.m. (for Diocesan staff, parish staff, school staff, ecumenical representatives, priests, deacons and religious, parish and fraternal organization representatives)
Vigil: 7 p.m. (for general public)

Thursday, July 19

Location: Madonna del Sasso, 320 East Laurel St., Salinas
Funeral Mass: 11 a.m.
Committal: private