Caltrans announced Tuesday that Highway 1 at Mud Creek in the Big Sur area will reopen on Wednesday, July 18, two days earlier than a planned ribbon-cutting event.
The highway will be open to through traffic by 10 a.m., Caltrans reported.
It's been shut down between Salmon Creek and Gorda since a massive landslide wiped out the roadway last year. The May 20, 2017 landslide sent nearly 6 million cubic yards of rock and dirt onto the highway and into the ocean. It was the largest slide ever along California's Big Sur coast and created about 2,400 feet of new shoreline.
Crews have been working to reconstruct a 1/4-mile section of the highway over the landslide. Caltrans says the new highway is buttressed with a series of embankments, berms, rocks, netting, culverts, and other stabilizing material.
Big news: contractor John Madonna made great progress past week so final roadway striping & inspection by our crews is underway. As a result, #Hwy1 at Mud Creek south of #BigSur will RE-OPEN tomorrow Weds, July 18 by 10am, nearly 14 months after massive landslide on May 20, 2017. pic.twitter.com/YOeZGEHy9H

— Caltrans District 5 (@CaltransD5) July 17, 2018
The ribbon-cutting ceremony will go on as planned. It's set to take place at 11 a.m. on Friday at the Ragged Point Inn.
Even after the highway is open, Caltrans says drivers should still expect delays and intermittent lane closures because construction work will continue for some time. Caltrans also notes it will take about two winters for the new slopes along the highway to stabilize.
The project, which has cost $54 million to date, is two months ahead of its initial mid-September estimate for reopening.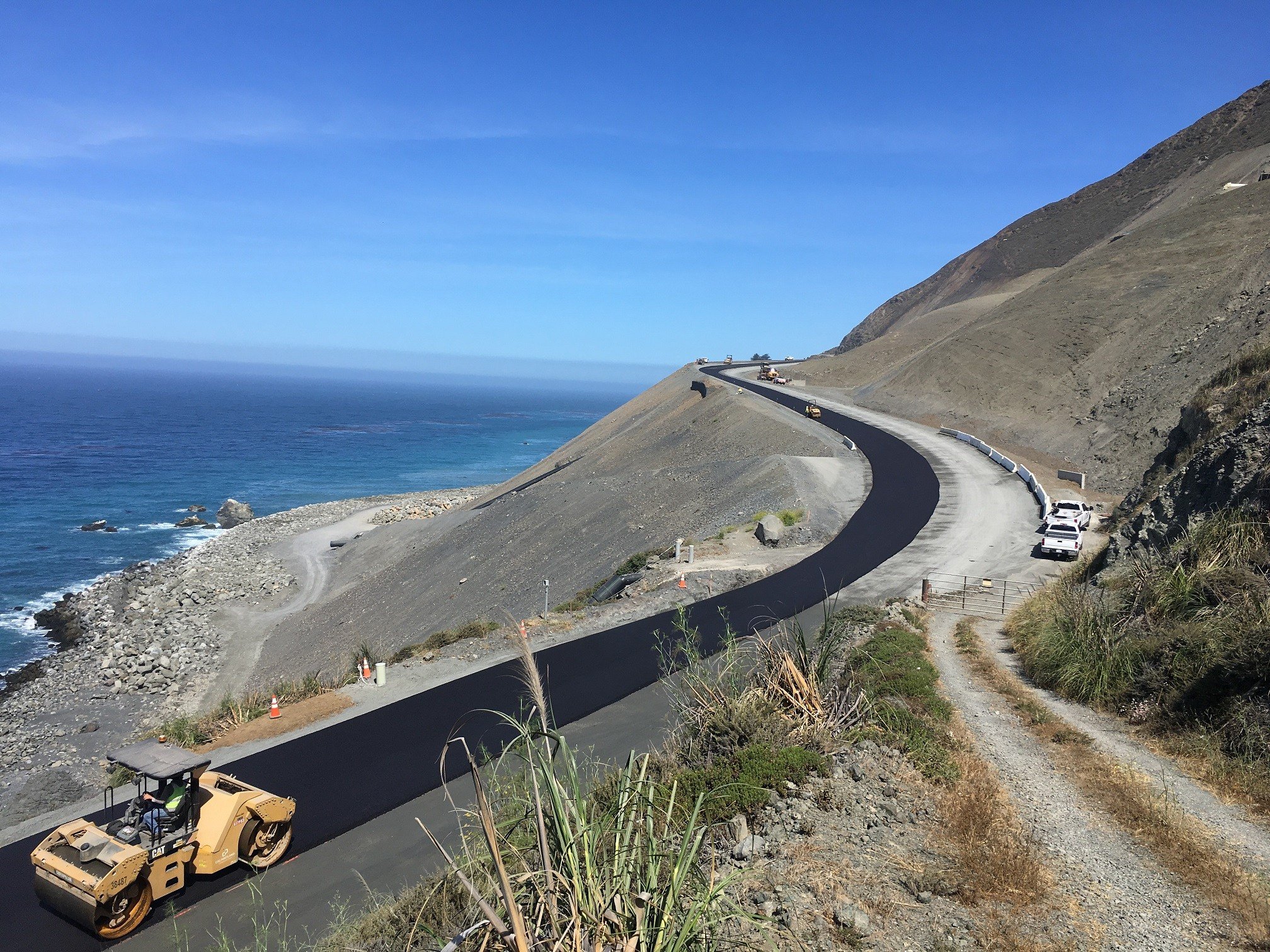 Construction crews work to complete the new 1/4-mile section of Highway 1. (Photo courtesy Caltrans)