The man police say was in the country illegally when he attacked, raped and beat a Santa Maria woman in her home in 2015 leaving her with such severe injuries that she died in the hospital days later has been sentenced to life behind bars without the possibility of parole.
Santa Barbara County Superior Court Judge John McGregor handed down the sentence to Victor Martinez Monday morning in a Santa Maria courtroom filled with friends and family of Marilyn Pharis. Santa Barbara County District Attorney Joyce Dudley was also in attendance.
Judge McGregor said, "This is the appropriate sentence," while also ordering Martinez to register as a sex offender.
Wearing an orange jail jumpsuit and restrained with chains on his ankles and wrists, Martinez did not make eye contact with anyone who took to the podium to speak during the sentencing hearing.
That included Patty Holly, Pharis's lifelong best friend, who said, "For me, my future is now different. I won't be living with Marilyn, traveling, cooking, celebrating our birthdays. I have lost my good friend, my confidant and keeper of memories. I miss Marilyn's laugh. She didn't deserve what happened to her and I still struggle to make sense of what happened to her." Holly continued, "I don't want anyone to be hurt by this man again."
Pharis's sister also took to the podium, but was sobbing so much, it was difficult to make out what she was saying other than, "I don't think I can forgive him."
Pharis's brother, William, told the judge Martinez should be removed from society forever. "Closure is one of the reasons I'm here today. But it's difficult to find closure because my sister, Marilyn, will never rejoin us in this world… Removal from society forever is the only way to ensure he will never abuse anyone."
Martinez was convicted by a jury last month of first-degree murder in the death of Pharis at her home in July 2015.
The jury during the trial also found true special allegations of robbery, burglary, sexual penetration, and use of a deadly weapon (a hammer), but was deadlocked on an additional allegation of torture, which prosecutors moved to have dismissed.
Prosecutors said Martinez had been arrested by Santa Maria police six times in the previous year-and-a-half prior to the attack on Pharis.
A second man, Jose Villagomez, charged in the death of Pharis, pleaded guilty shortly after the trial got underway to first-degree murder and was sentenced July 19 to 25 years-to-life behind bars.
For more on Monday's sentencing, watch KSBY News at 5 and 6 p.m.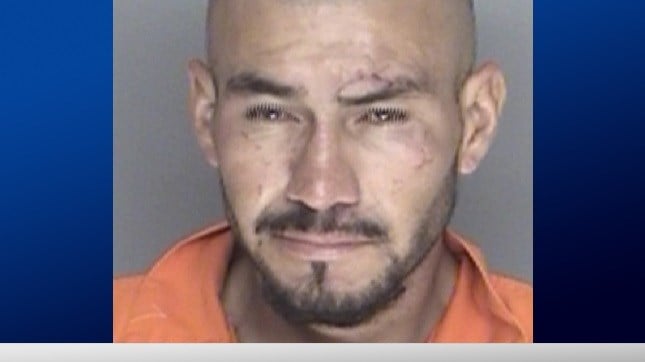 Victor Martinez
Victor Martinez is set to be sentenced today after a jury found him guilty of first degree murder last month in the death of Marilyn Pharis. @KSBY Pharis was badly beaten and raped including the use of a hammer. pic.twitter.com/y6YIUuemTz

— Megan Abundis (@meganrabundis) July 30, 2018
Previous coverage:
Opening statements begin in trial of men charged with rape, murder of Santa Maria woman
Day 2 of opening statements in Marilyn Pharis murder trial
Nurse, neighbors testify in Marilyn Pharis murder trial
Defendant in Marilyn Pharis murder trial changes plea to guilty
Hospital staff testify in Marilyn Pharis murder trial
Jury begins deliberations in Marilyn Pharis murder trial