For the first time, the public is getting a look at the street repair plan that would be implemented if a half-cent sales tax is approved by Paso Robles voters in November.
One road at the top of the list is Jardine Road.
On Tuesday evening, the Paso Robles City Council will vote on that street repair plan.
If the half-cent sales tax is approved later this year, Jardine Road could be repaired as early as next year.
It's a one-mile stretch of rough road that's riled residents for decades.
Earlier this summer, we talked with Don Reynolds who lives along the road.
"It rattles, shakes, sometimes it throws you around depending on how you hit the potholes," Reynolds said during that interview.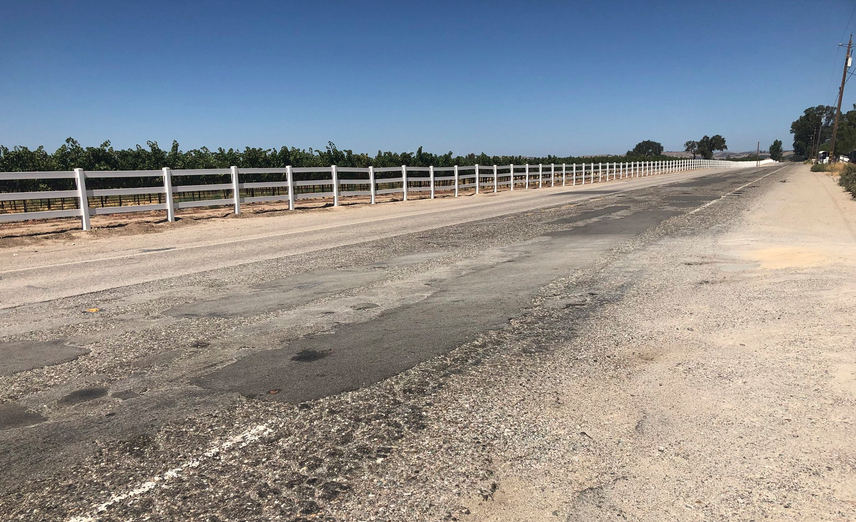 Jardine Rd. in Paso Robles (KSBY photo)
Back in June, we reached out to the City of Paso Robles to find out when the rural road would be repaired but were told there were not enough funds to get it fixed.
Fast forward several months later, and it's on the list to be repaired if a half-cent sales tax is approved by voters Nov. 6.
"Jardine is in such bad shape that there could be accidents caused just by the unfortunate condition of the pavement, so that's why it's relatively high on the list," said City Manager Tom Frutchey.
"They really are living on borrowed time as far as something happening," Reynolds said in another interview with KSBY on Tuesday.
Frutchey says traffic volume and the number of issues were looked at when considering which roads made the list.
Tuesday morning on Jardine Road, our cameras were rolling once again when a pickup driver went on the wrong side of the road to avoid the potholes.
Lucas Colton who has lived on Jardine Road for a decade had a close call like this at night.
"Once I got a little closer, I actually realized that the headlights were in my lane so I immediately pulled off onto the shoulder and they went flying past me," Colton explained.
Cell phone video of the road from Beacon to Tower captured the noise from the repairs some residents have described as patchwork.
"It's just putting patches on top of patches," Reynolds said back in June.
But the road could soon be repaired for good with a $2 million fix from taxpayers.
"I want to vote yes on it before something tragic happens but it's just difficult given their track record, but Jardine this particular road, is at the top of the list so that does give me some comfort in knowing that," Reynolds concluded.
More than a dozen roads within the city are a part of the proposed six-year plan.
"It's really giving them the information so they can make an intelligent choice come November 6," Frutchey added.
The first year of the plan also includes sidewalk upgrades and major repairs to Airport Road.
The new half-cent sales tax would generate $4,750,000 a year for six years.
Related coverage:
Rough road riles residents in Paso Robles
Paso Robles voters will decide on sales tax measure this November
Drivers call for action to fix Paso Robles road; city says plans are in the works