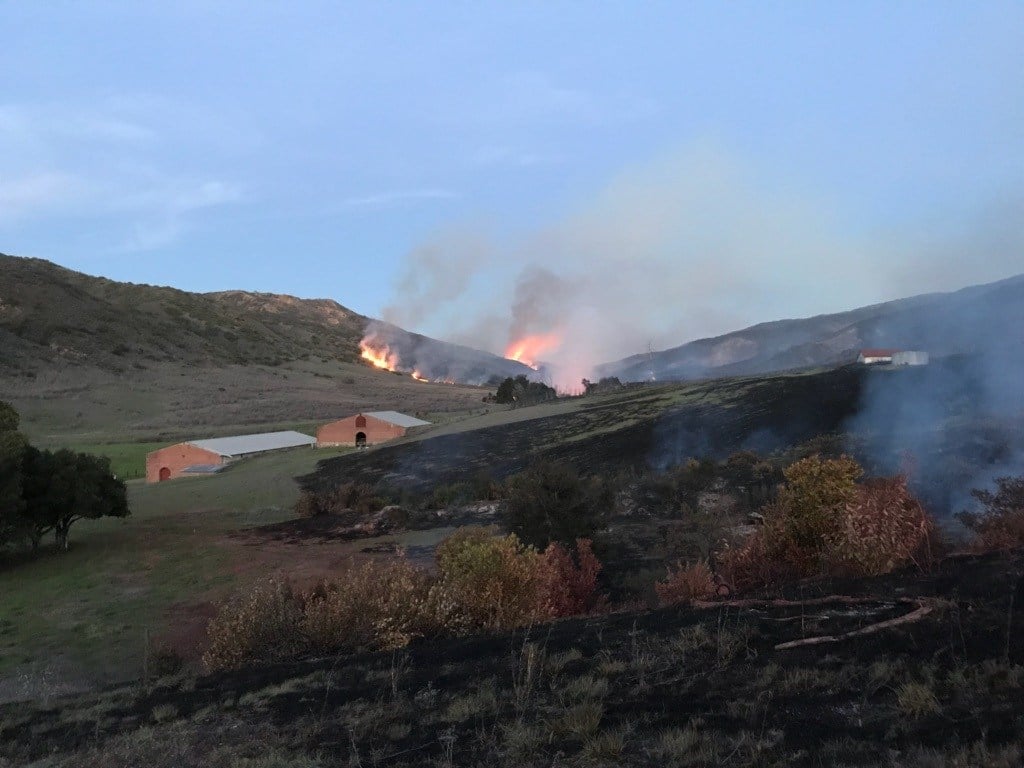 Fire on Santa Cruz Island (Photo courtesy Channel Islands National Park)
UPDATE (Wed., 4:55 p.m.) – Channel Islands National Park representatives say the fire on Santa Cruz Island is holding at 250 acres and fire weather conditions have improved with lighter winds expected through Saturday.
The entire isthmus area of the island is now closed to the public. The western edge of the closure extends from the landing pier at Prisoners Harbor southwest to Willows Anchorage. The eastern boundary is the Montañon Ridge.
Nearly 70 campers are currently on the island. They have been restricted to Scorpion Valley and the Cavern Point and Potato Harbor trails.
---
UPDATE (Wed., 11:30 a.m.) – The fire burning on Santa Cruz Island has grown to 250 acres as of Wednesday morning, according to a spokesperson with Channel Islands National park.
Three air tankers dispatched by the Los Padres National Forest are working to contain the fire along with ground crews from Santa Barbara County Fire and the Los Padres National Forest.
Additional resources have also reportedly been called in, including crews from the Sequoia and Sierra national forests and two hotshot crews.
---
UPDATE (7 p.m.) – The National Park Service says the fire has grown to 100 acres. The growth is being driven by moderately strong winds.
NPS clarified the fire escaped from a prescribed small burn pile fire that had been set earlier this week.
Four air tankers arrived to help around 4:30 p.m. The U.S. Forest Service requested 60 additional firefighters, who will arrive in Ventura Wednesday morning to be taken to the island.
"We are grateful to the U.S. Forest Service for their quick response to suppress this rapidly expanding fire as part of a coordinated federal response," said Channel Islands National Park Superintendent Russell Galipeau.
As a precaution, 30 people, including eight campers, are being evacuated from the following locations:
The main ranch
Santa Cruz Island Reserve
Navy Site
Del Norte campground
Park concessioner Island Packers has canceled all of Wednesday's planned public trips to Santa Cruz Island.
---
ORIGINAL STORY – What began as a prescribed fire on one of the Channel Islands south of Santa Barbara soon burned out of control Tuesday afternoon.
According to the National Park Service, a planned pile burn on Santa Cruz Island took an unplanned turn around 2:30 p.m.
By 4:45 p.m., the fire had burned about 20 acres on the south side of the main ranch, located on Nature Conservancy property.
Park spokesperson Yvonne Menard said 11 hotshot crew members from various federal parks were tasked with burning piles of dead trees that were felled last year. Now those 11 people are fighting this fire on the ground.
The National Park Service requested additional firefighting help from the Los Padres National Forest, which sent three air tankers.
There are no reports of structures at risk at this time, Benard said.
The smoke plume was visible Tuesday afternoon from this webcam on the top of Mount Diablo on Santa Cruz Island: