Controversial conservative speaker Milo Yiannopoulos will return to Cal Poly for another speaking event planned for later this month.
Cal Poly College Republicans and right-wing nonprofit Turning Point USA are hosting a "fake news panel discussion" on April 26.
While this is an all-right-wing panel, the club is encouraging people with all viewpoints to attend.
The last time Yiannopoulos was here was in January 2017. His speech on campus was sold out and prompted protests outside the event.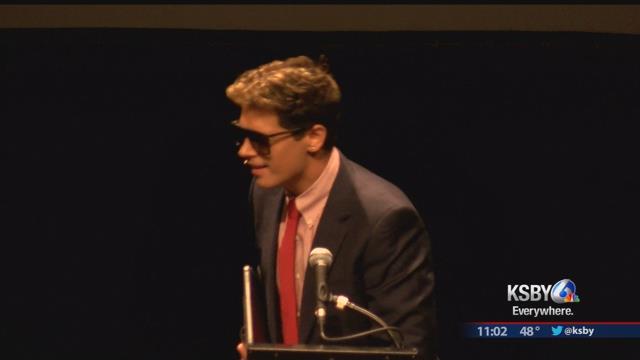 Milo Yiannopoulos speaks to a sell-out crowd at Cal Poly on January 31, 2017. (KSBY)
While the 2017 event at Cal Poly was peaceful, his controversial views have prompted violence at other events across the country.
It cost the California State University system more than $55,000 for police and security measures. Local departments also provided assistance at additional costs.
The university issued a statement Wednesday night about the event:
The university has been informed that the Cal Poly College Republicans Club plans to hold a panel discussion event on campus April 26 that will include Milo Yiannopoulos, Austin Fletcher, and possibly other participants.

The event is being presented by the club, not by the university. For further details on the event itself, please contact the club directly.

The university understands that the participants in the panel discussion are personalities that some members of our campus community may find offensive. However, as a public university, Cal Poly is required to uphold free speech rights and provide an open forum for a variety of opinions, thoughts and ideas – even those that may be distasteful or offensive.

Censoring language and viewpoints violates First Amendment rights and does not represent what Cal Poly stands for as a university. Rather, free speech and the open exchange of ideas and opinions – even those that conflict with our own – is an important part of critical thinking and student growth.

University officials are discussing measures that will be taken in order to maintain a safe and secure campus environment while allowing the club to proceed with its event.
Yiannopoulos along with popular right-wing YouTube personalities Carl Benjamin and Austin Fletcher will be on the April 26 panel. It takes place at Mott Gym at 7 p.m.
A previous event titled "Fake News Panel: What is it and Who Decides?" scheduled at Cal Poly for February 9 was later canceled after most of the groups sponsoring the event backed out following public backlash over the inclusion of conservative commentator Bill Whittle. Only Cal Poly College Republicans vowed to continue, promising to create its own panel, the details of which were revealed Wednesday night.
When asked about the upcoming panel discussion, Katherine Rueckert, Cal Poly College Republican Club president, said, "There was a lot of interest in the original panel (February of 2018) and when it fell it apart, we wanted to move forward with our discussion because we think fake news is a relevant topic."
She continued, "Now more than ever, we need those on the left and right hearing different viewpoints. I think it will be enlightening for everyone. This is not a Milo Show – it's a discussion about their different experiences. Despite the fact we are hosting all right-leaning speakers, we want all people with differing viewpoints to come with an open mind."
Tickets will be available soon through the Cal Poly College Republican Club.
Related content: