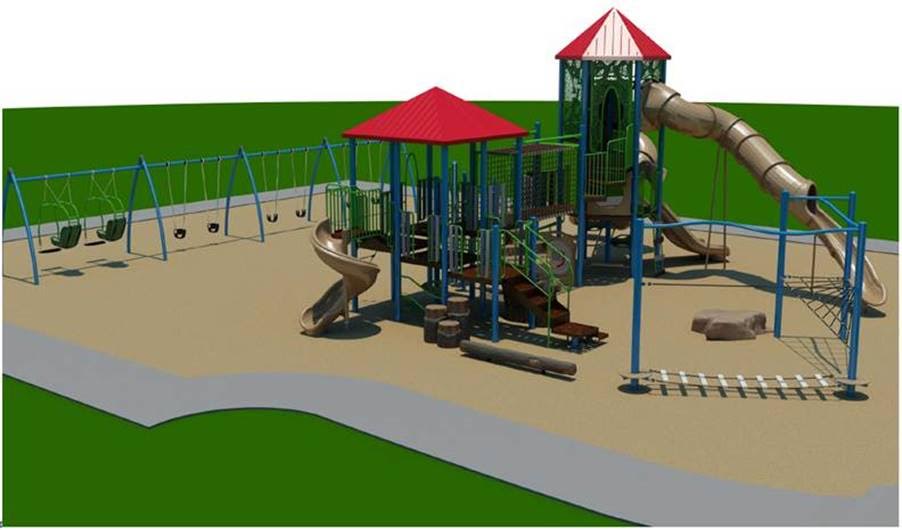 (Courtesy: City of Atascadero)
The City of Atascadero will soon remove most of the Atascadero Lake Park playground and replace it with a brand new play structure and swings.
The existing swing sets and the larger of two existing play structures – the one with slides, a bridge and monkey bars for kids ages 5-12 – will be taken out. They'll be replaced by a two-story play structure with eight new swings: belt swings, toddler swings and swings that allow an adult and child to swing together.
You can also wave goodbye to the sand. The city says a poured-in-place rubberized surface will go in "within the playground perimeter." The city says this will provide fall protection and ADA accessibility.
The existing toddler play structure will stay put, according to Deputy City Manager Terrie Banish.
A groundbreaking ceremony will take place Friday at 10 a.m. Construction will begin on Monday, May 21.
The playground will be closed for about six weeks. A grand re-opening is planned for early July 2018.
The city says funding from the state Housing-Related Parks Program grant made the project possible.
"A second grant of $73,000 provided by the playground manufacturer, GameTime, brings the $333,000 project cost to $280,000," Banish said in a statement.
The city has hired Great Western Recreation of Ventura will bring in and build the playground. Local subcontractors will help with the project.
Related content:
Groundbreaking held for new Joy Playground in Atascadero