Rerouted last year because of the closure of Highway 1, the California Coast Classic Bike Tour will return to its traditional route this September, organizers announced Monday.
This comes after Caltrans announced last week that Highway 1 at Mud Creek in Big Sur would reopen months earlier than originally expected. Construction crews there are currently rebuilding a 1/4-mile section of the highway that was wiped out by a massive landslide on May 20, 2017.
Even before the landslide last year, organizers of the bike tour had to move a portion of the route, which traditionally hugs the coastline along Highway 1 between San Francisco and Los Angeles, inland because Caltrans was rebuilding the Pfeiffer Canyon Bridge in Big Sur.
The bridge was demolished in March 2017 and completed that October. Originally, Caltrans didn't expect the portion of highway at Mud Creek to be complete until mid-September of this year, but now says favorable weather and increased productivity will allow them to reopen the highway by the end of July.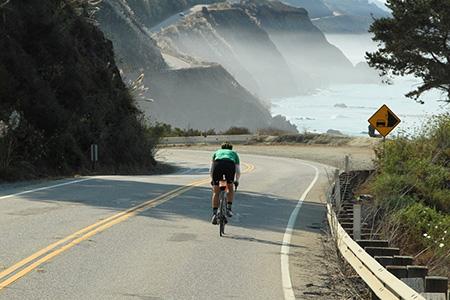 A California Coast Classic Bike Tour cyclist pedals from Big Sur to Cambria during the 2016 ride. (Photo credit John Dlugolecki)
The California Coast Classic Bike Tour, a fundraiser for the Arthritis Foundation, is scheduled for Sept. 22-29. It covers 533 miles and will include overnight stops in Santa Cruz, Carmel, Big Sur, Cambria, Oceano, Buellton, and Ventura.
The tour is open to any cyclists who commit to a $3,500 fundraising goal. Click here for more information and to register.