Highway 1 at Mud Creek will reopen by 11 a.m. on July 20, 2018, Caltrans confirmed on Tuesday.
A ribbon-cutting ceremony will be held at the Ragged Point Inn at that time.
The highway has been shut down between Salmon Creek and Gorda since a massive landslide wiped out the roadway a little more than one year ago. The May 20, 2017 landslide sent about 6 million cubic yards of rock and dirt onto the highway and into the ocean. It was the largest slide ever along California's Big Sur coast and created about 2,400 feet of new shoreline.
Crews have been working to reconstruct a 1/4-mile section of the highway over the landslide. Caltrans says the new highway is buttressed with a series of embankments, berms, rocks, netting, culverts, and other stabilizing material.
Caltrans says the construction is two months ahead of its initial mid-September estimate.
The project cost $54 million.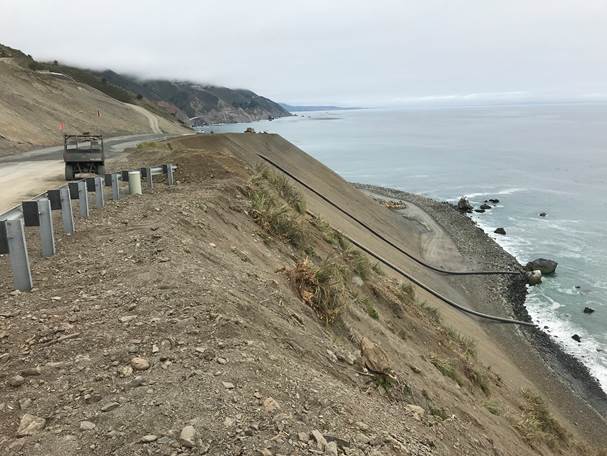 Highway 1 at Mud Creek near Gorda looking south on July 2, 2018. (Photo courtesy Caltrans)
Related coverage:
Early reopening of Hwy 1 is good news forfund-raisingbike ride