UPDATE (5:55 p.m.) – The fire is now 35-percent contained and all evacuations have been lifted.
---
#WindmillFire– Santa Barbara County Fire Dozer 1 works a charred hillside. IC reports fire is holding at 110 acres & 20% contained. All aircraft sans Fire Copter 308 have been released as it continues soaking hot spots. pic.twitter.com/uaaYZzp0Dm

— SBCFireInfo (@EliasonMike) July 21, 2018
---
UPDATE (5:15 p.m.) – Santa Barbara County Fire Captain Dave Zaniboni says forward progress of the fire has been stopped.
The fire has burned 110 acres and is 20-percent contained.
---
UPDATE (4:25 P.M.) – While officials have not yet commented on the cause of the fire, crime scene tape was being put up around a tractor seen near charred ground on private property off Highway 246.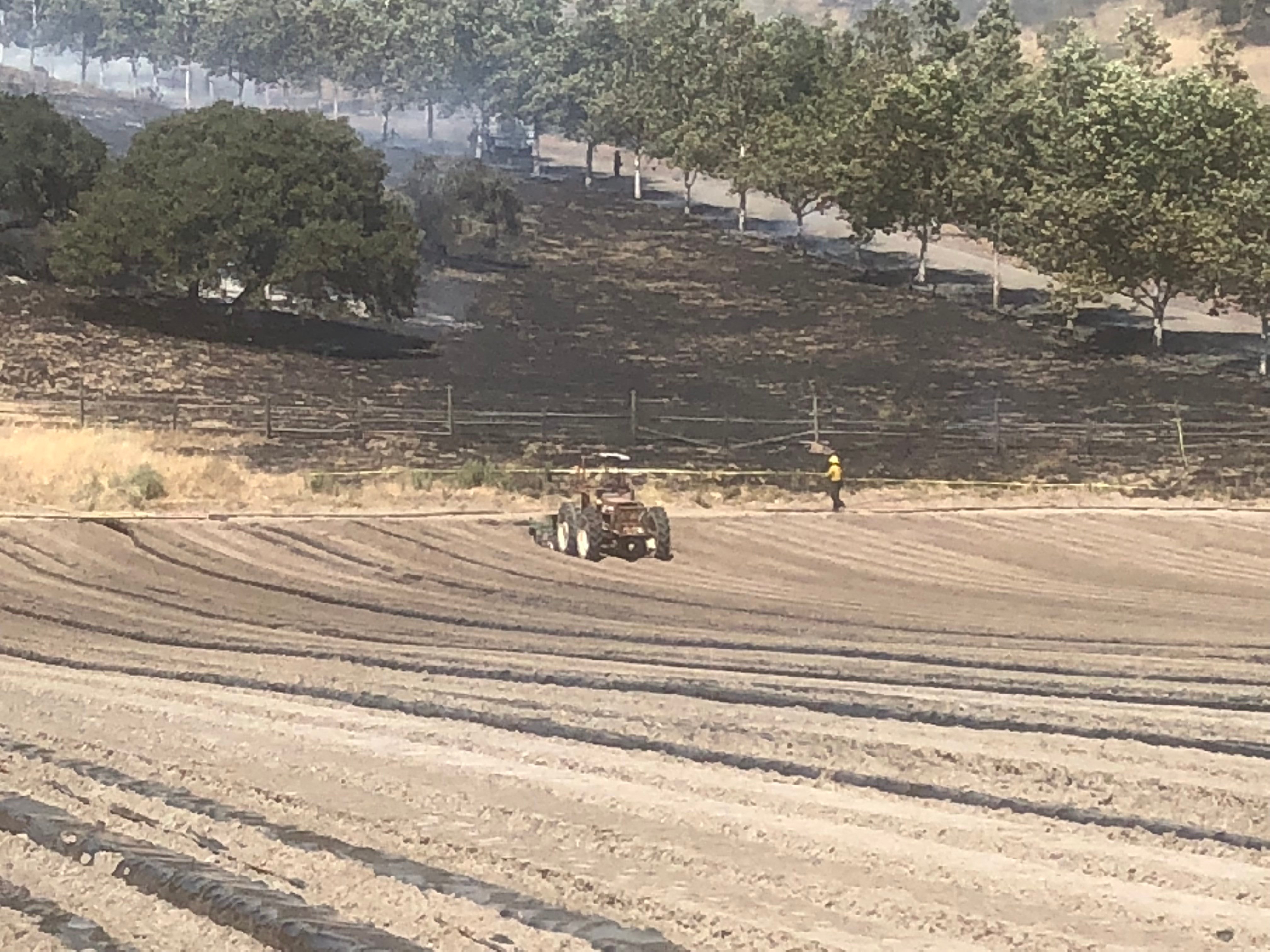 KSBY photo of crime scene tape being put up Friday afternoon near a tractor.
---
UPDATE (4:15 p.m.) – Fire officials say the Windmill Fire has burned about 100 acres and is 20 percent contained as of 4 p.m. Friday.
The fire started west of Buellton at about 2:20 p.m. and is mostly burning in grass and light oaks, according to Santa Barbara County Fire Capt. Dave Zaniboni.
Capt. Zaniboni says the fire is moving at a moderate rate and most quickly across the grasslands.
We are following breaking news out of Buellton – A fire broke out earlier this afternoon and has scorched 100 acres. Fire officials say it's about 20% contained. We will continue to bring you updates on the air, online and on social media. pic.twitter.com/jxujpeFpNF

— KSBY (@KSBY) July 20, 2018
No structures are threatened however, an evacuation warning has been issued for the community of Bobcat Springs off of Bobcat Springs Rd.
Two helicopters, four air tankers, three dozers and four additional engines have been called to help battle the blaze.
The cause of the fire is unknown.
If you are near the #WindmillFire and see or smell smoke, use common sense to protect your health. If you are driving through the area, use your car's recirculate feature to prevent smoky air from getting inside your car. @SBCPublicHealth @countyofsb

— SB County APCD (@OurAirSBC) July 20, 2018
---
UPDATE (3:00 p.m.) – The Santa Barbara County Fire Department reports Bobcat Springs Road near Buellton is under an evacuation warning advisory.
The "Windmill Fire" broke out shortly before 2:30 p.m. along the 1000 block of Highway 246.
Vegetation fire proximally 30 acres 1000 block of Highway 246 Buellton. Call Newsline for info

— Dave Zaniboni (@SBCFireInfo) July 20, 2018
The Santa Barbara County Fire says the wildfire is currently 50 acres and is rapidly spreading in grass and oak.
The Santa Barbara County says residents with large animals or who feel threatened by the fire are encouraged to leave before waiting for an order to be issued.
We are monitoring the vegetation #WindmillFire of approximately 30 acres near 1000 block of Hwy 246, #Buellton. An evacuation warning was issued for nearby Bobcat Springs community. If you feel threatened, need time to evacuate or have large animals, don't wait for an Evac Order

— Santa Barbara County (@countyofsb) July 20, 2018
Crews were fighting the flames from the air and on the ground. Two helicopters, two air tankers have been dropping retardant.
This story will be updated.
---
(Original story) – Firefighters were responding to reports of a vegetation fire near Buellton Friday afternoon.
It was reported at about 2:23 p.m. off of Highway 246 and to the west of Highway 101.
White smoke and flames could be seen coming from the hillside.
This is a developing story and will be updated as information becomes available.