UPDATE (4:30 p.m.) – The Santa Barbara County Sheriff's Office has identified the suspect as Donald Schellinger, 38, a transient from Northern California.
Sheriff's officials say deputies spotted him driving the stolen CAL FIRE truck shortly before noon in Los Alamos. The vehicle had reportedly been associated with a case of shoplifting Friday morning in Pismo Beach in which someone wearing a vest and carrying a radio was seen stealing food from a store.
Deputies spotted the truck about 40 minutes later and began to follow the vehicle. They say when Schellinger noticed law enforcement behind him, he sped off and the pursuit ensued.
The chase covered Highways 1 and 135 between Los Alamos and Orcutt. A sheriff's office helicopter was used to keep track of the vehicle.
The suspect was reportedly stopped when he tried to make a U-turn in the sandy center median of Highway 1 near Graciosa Rd. At that point, Santa Barbara County Sheriff's Lt. Clayton Turner used his vehicle to block the truck from exiting the median.
"The egregious aspect of this is that it's a public safety vehicle," Lt. Turner said. "We have thousands of people that are in peril throughout the State of California right now as a result of fire. It's very disappointing that a fellow member of mankind would steal a fire vehicle that is essential towards helping to protect other people's lives."
Schellinger was taken into custody at gunpoint. He faces charges of felony reckless evading, possession of stolen property, vehicle theft, and a parole violation.
"It appears that besides the stolen vehicle and the shoplift that I'm aware there's a multitude of burglaries and other felonious crimes associated with the one-person crime spree that was going down our coast," Lt. Turner added.
---
One person is in custody after a pursuit involving a stolen CAL FIRE pickup truck.
The vehicle was reportedly stolen out of Monterey County and spotted on the Central Coast early Friday afternoon. The driver refused to stop for law enforcement and a chase ensued.
It ended in Santa Barbara County on southbound Highway 1 just south of the "Y" intersection with Highway 135 between Orcutt and Lompoc.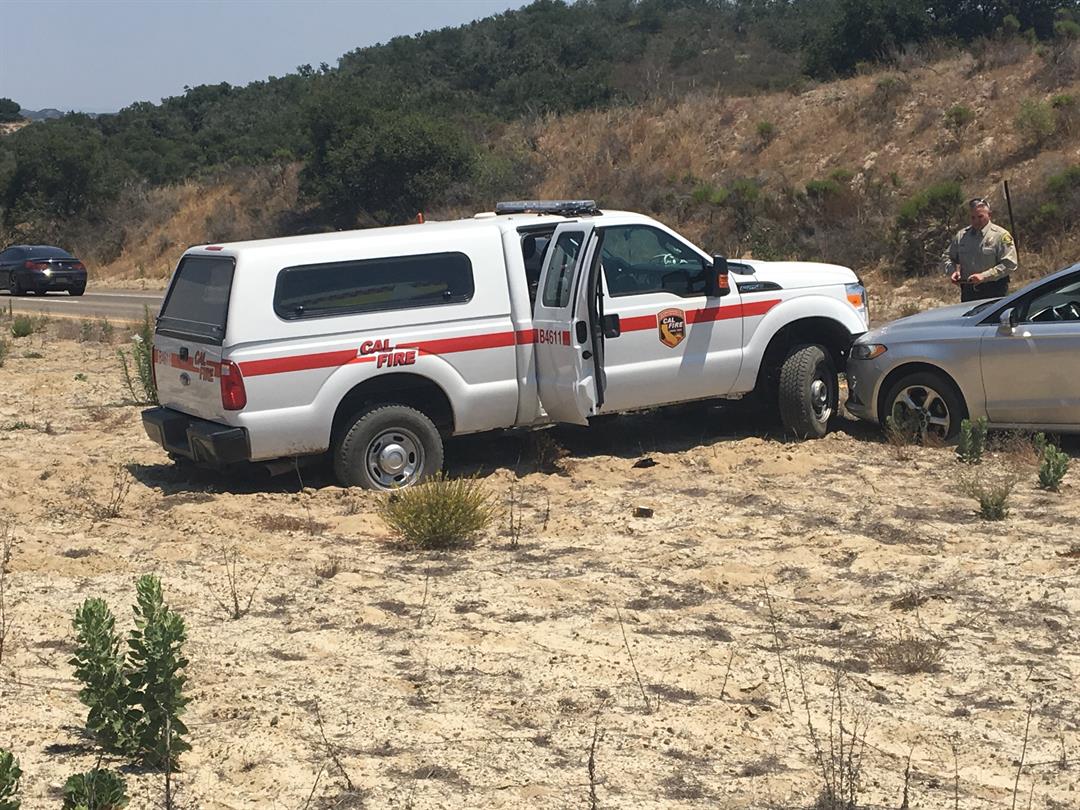 The chase ended on Highway 1 when the vehicle went off the road. (KSBY photo)
This is a developing story and will be updated with new information as it becomes available.