A local wheelchair soccer league is looking for more teammates and donations to play and practice in a bigger facility.
The SLO Dragons, a non-profit funded by United Cerebral Palsy of San Luis Obispo, has been around for ten years. The team, made up of players who are wheelchair-bound, travels to destinations like Santa Barbara and Berkeley to compete in soccer tournaments.
Tony Paradis, the mother of team captain Matthew Green, says the team wants to expand but they need the public's help to do so.
"We were playing at the Ludwick Center but it's too small for the soccer team to play," Paradis said. "If they have more donations, then we can get a bigger place more suitable for the kids to play."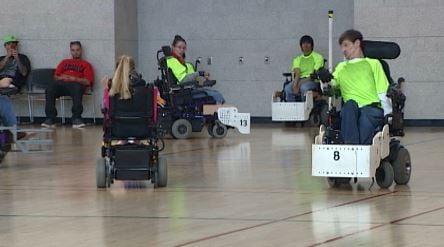 Despite being supported by UCP, Paradis says their funds are limited, which is why they would need more money for a bigger facility. At the same time, the team is looking to increase its number of players and add to the team. Paradis says anyone who is wheelchair bound can play, and the team will provide the proper wheelchair to participate. Plus, it's free to participate and all ages are welcome.
To donate to the SLO Dragons, or to find out how you can join the team, click here.